We prepare a selection with the best bicycle lubricants. Find everything from oils for dry and wet conditions, to ceramic lubricants and waxes.
We have already done all the heavy lifting for you, researching dozens of lubricants and preparing a selection of the best. Find the best one for every condition and use it.
Best Bicycle Chain Lubricants of 2020
The best bicycle chain oils

Squirt Long Lasting Dry Lube 4oz

This chain oil is formulated with wax and water in the form of an emulsion that keeps the chain of your bicycle clean. Provides long durability, prolongs the life of your transmission system, and is 100% biodegradable.
This oil performs well in wet and dry climates, so it can be a great alternative for adventure riders.

Finish Line Wet Lube 4oz. Bike Cleaner

This is Finish Line's strongest and most durable chain oil. Formulated with high viscosity synthetic oils, water repellent polymers, and advanced antiwear additives. This lubricant is water resistant, giving the chain extra protection against oxidation.
Ideal for driving in extreme conditions (cold; snow; coastal, humid and rainy weather). Apt to provide greater smoothness in the changes of your transmission system. Despite being a wet lubricant, it is possible to use it with good results in dry climates, just make sure to clean the excess of the parts to minimize the attraction of dirt.

Muc Off Wet Lube (50ml)

This oil is designed to keep the chain protected during long rides in the most humid and muddy climates you can imagine. It is formulated based on vegetable oil, which makes most of its components biodegradable.
Ideal for MTB, cyclocross or similar riders looking for good performance and chain protection in extremely wet and muddy climates. 

Muc-Off Dry Lube (50-ml)

This is a biodegradable, deep penetrating oil with very good performance. Its formula is designed for use in dry to wet conditions. The Muc-Off Dry is super versatile and will keep your chain protected on the road or in off-road situations.
Its durability and performance make it especially good for the sporty rider, on and off the pavement.

Finish Line DRY Teflon Bicycle Chain Lube

Finish Line has formulated a dry oil based on fluoropolymer Teflon , which forms a synthetic, wax-like film. Helps keep your bike chain free from absorption and free of dirt, grime and dust.
By keeping the chain clean, this lubricant can work very well for urban cyclists, road, mountain or any other discipline.

The Best Ceramic Chain Lubricants


Finish Line Ceramic Wax Bicycle Chain Lube
This is an advanced wax-based lubricant, formulated with ceramic boron nitride nanoparticles and fluoropolymer particles ,  creating a coating with an extremely low coefficient of friction. This coating helps to prevent abrasive wear on moving parts, as well as ensuring greater durability and total cleanliness of the transmission.
Recommended for driving in dry weather, dusty terrain, and off-road, suitable for all types of transmission systems.

Muc Off – 872 C3 Ceramic Dry Bike Chain Lube

Formulated with ceramic nano-spheres and synthetic polymers for total protection against corrosion. It offers a much higher performance than conventional oils. It is biodegradable and its formula is oil-free for the protection of the environment.
This ceramic lubricant offers maximum performance in dry to wet conditions and long life. Which makes it ideal for those who enjoy long tours.

Muc Off C3 Ceramic Wet Bike Chain Lube

Like the Dry version, Muc-Off C3 Wet is formulated on the basis of ceramics, fluoropolymers and boron nitride . It also has ingredients that make it water repellent. This lubricant provides greater durability and protection against corrosion. Ensures very low friction for higher drive chain efficiency, high performance and long durability.
Specifically formulated for driving in wet and muddy conditions. Ideal for all types of transmission chains. It is also 95% biodegradable.

The Best Waxes for Bicycle Chain


Molten Speed Wax, 1lb Bag
It is an ultra clean lubricant, and very durable (more than 800 kilometers with a single application). Highly repellent to dust and reduces friction. Formulated with polytetrafluoroethylene (PTFE),  molybdenum disulfide (dry lubricant) and paraffin. As it is formulated with paraffin, it is friendly to the environment, as its oil concentration is less than 0.1%. A far superior alternative to lubricating a bicycle chain with oil and grease.
Ideal for all types of conditions (dirt and humidity), suitable for all types of chains. For its application, the chain must be disassembled and immersed in the formula. Once the application is made, the chain must be allowed to cool down.

Differences between types of lubricants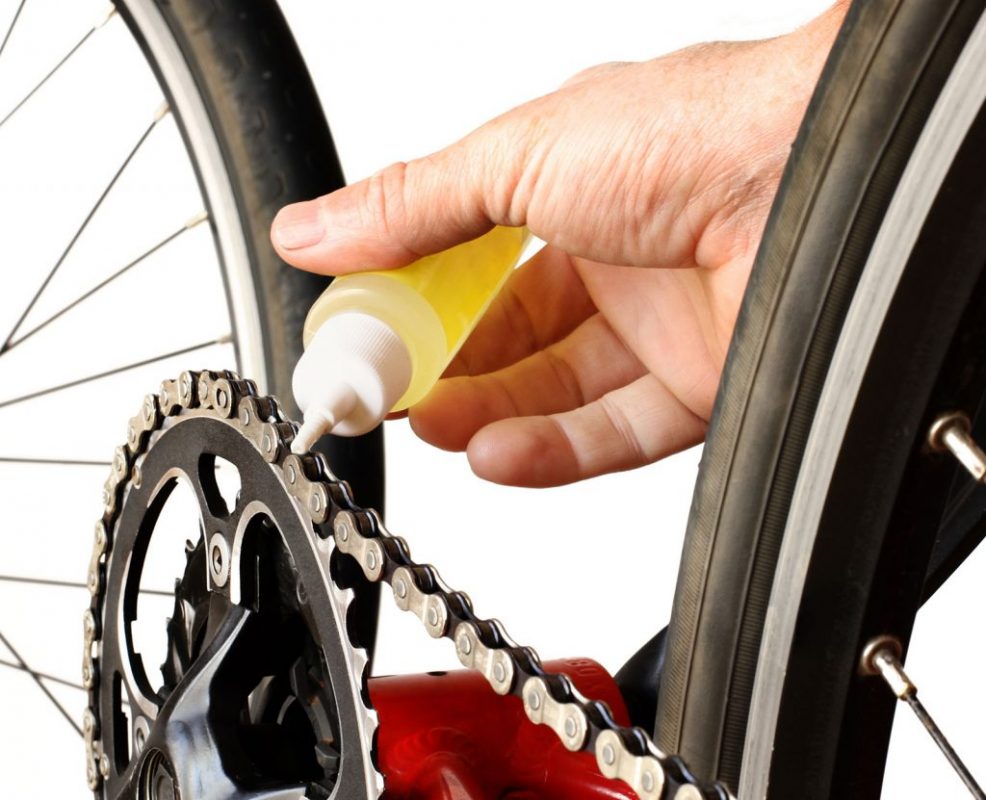 Oils for dry conditions
The dry lubricants , as are often called, have a lighter viscosity . Its formula is composed of some type of solvent, which has the function of transporting the lubricating agent, generally based on wax. After application, the solvent evaporates, leaving a lubricating film on the chain.
These characteristics give a dry finish and less prone to trapping dirt . Hence, its use is recommended in dry conditions or with little humidity, in which dust and dirt rise from the road.
In summary, the advantage of dry oils is that they trap less dust , so you will have a cleaner chain. On the other hand, being of a lighter consistency, the disadvantage is that they wash off faster and will have to be applied more frequently.
Oils for wet conditions
For their part, wet lubricants are formulated to be more resistant to water . For this reason, these types of oils have a higher viscosity and sticky. Unlike dry oils, 100% of the formula has the function of lubricating.
Given their resistance to water, these types of lubricants are optimal for use in rainy conditions or on paths where puddles, river crossings, etc. will be encountered.
The main advantage of wet lubricants is that you will get more miles per application . Being stickier, the downside is that they will trap much more dirt , which builds up and will require deep degreasing more often.
Ceramic lubricants
This is a newer generation of bicycle chain lubricants. Ceramic lubricants are made up of small ceramic nano-spheres , usually boron nitride, which reduce friction between the moving parts of the bicycle chain.
These chain lubricants are manufactured for use in both dry and wet conditions. Its use is recommended for those looking for maximum performance .
The main advantage of ceramic lubricants is that they offer better performance than other types of oils, as well as that they yield more kilometers per application. The downside is that they are often more expensive than conventional chain oils.
Bicycle chain wax
Chain wax is a lubricant based on paraffin or other polymers such as Teflon. Unlike the chain lubricants mentioned, this one comes in a solid state. It is necessary to melt it for its application.
The result is a dry chain , which attracts little dirt. Since it penetrates deeply, it offers very good performance and is recommended for those looking to reduce those seconds in competition.
The advantage is the maximum protection and performance it offers. The disadvantage is obvious, it is necessary to prepare the wax and have a perfectly clean chain for its application.
How to choose the best lubricant for your bicycle chain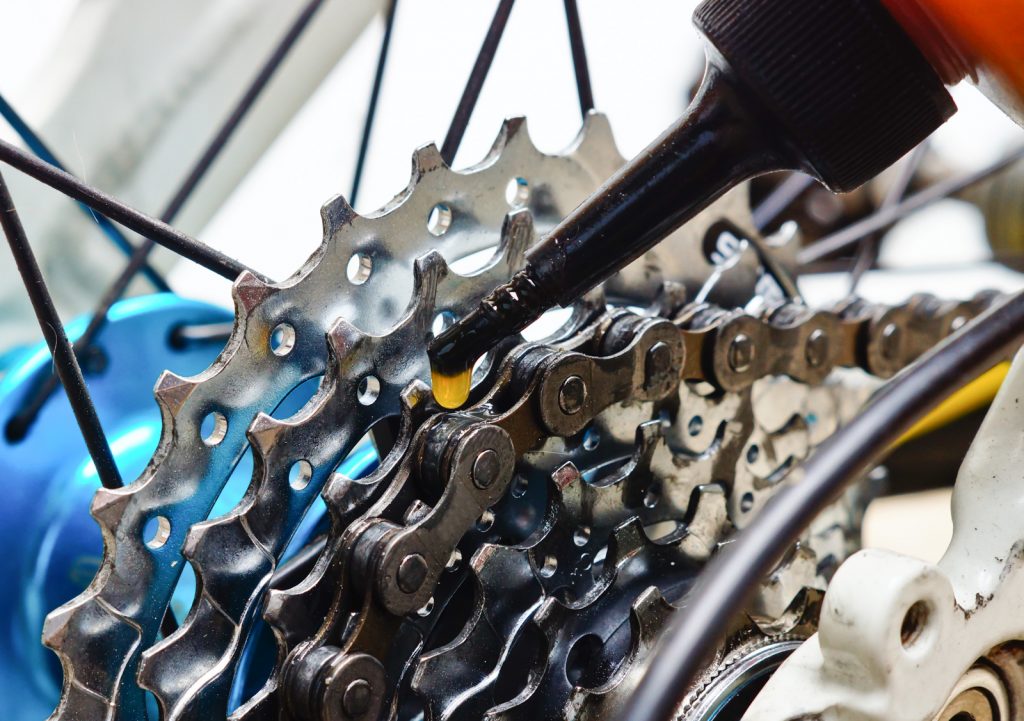 A general rule of thumb that helps you quickly know how to choose the best bike chain lube is what kind of weather conditions you will ride your bike in: use dry lubricants in dry weather conditions and wet lubricants in wet conditions.
Likewise, you should bear in mind that a good lubricant, whatever its formulation, should ensure maximum performance in power transmission; facilitate the transition between sprockets and chainrings when changing gears or gears, smoothly and precisely, as well as preventing chain degradation, protecting it from oxidation caused by the type of terrain on which you drive your bike and external agents.
It is also recommended that you consider the ease with which the lubricant of your choice is applied, as well as the durability of the application and the performance it offers before having to reapply the product. As well as how biodegradable is its formulation (friendly with the environment).