In a very general way, bikepacking is a minimalist way of traveling by bicycle. We could say that it was born from the need of those passionate about adventure cycling, mainly mountain biking, and the insatiable need to travel the roads less traveled. It arises from the desire to forge new trails or travel rural roads, for more than a day, with only the most essential equipment.
Differences between bikepacking and traveling with saddlebags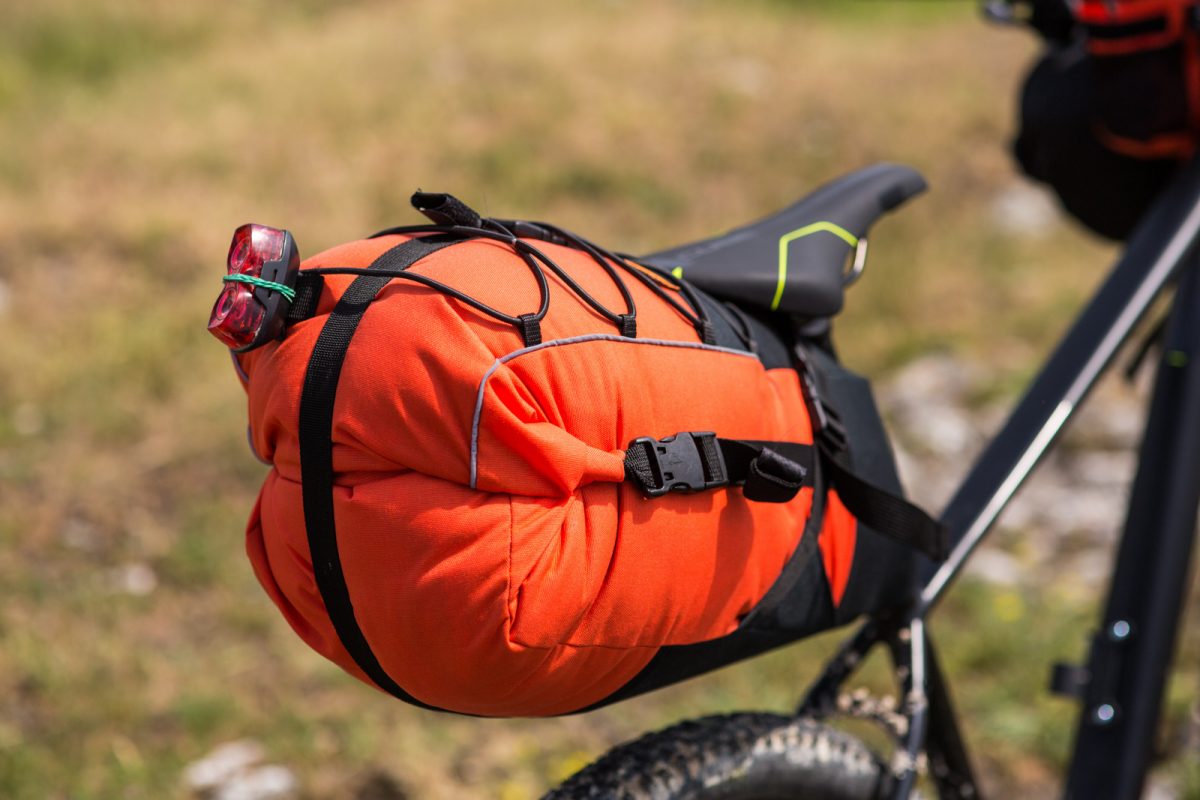 The main differences between bikepacking and touring with saddlebags are the volume of the cargo and the way it is loaded.
Bikepacking systems are designed to facilitate travel on rough and narrow terrain, so they are designed to be compact and align the weight and volume of the load with the cross axis of the frame. To achieve this, bikepacking bags are attached directly to the bicycle frame, seat and handlebars.
This does not mean that you cannot travel the same roads with a bike equipped with racks and saddlebags. They just make it easier.
Advantages and disadvantages of bikepacking systems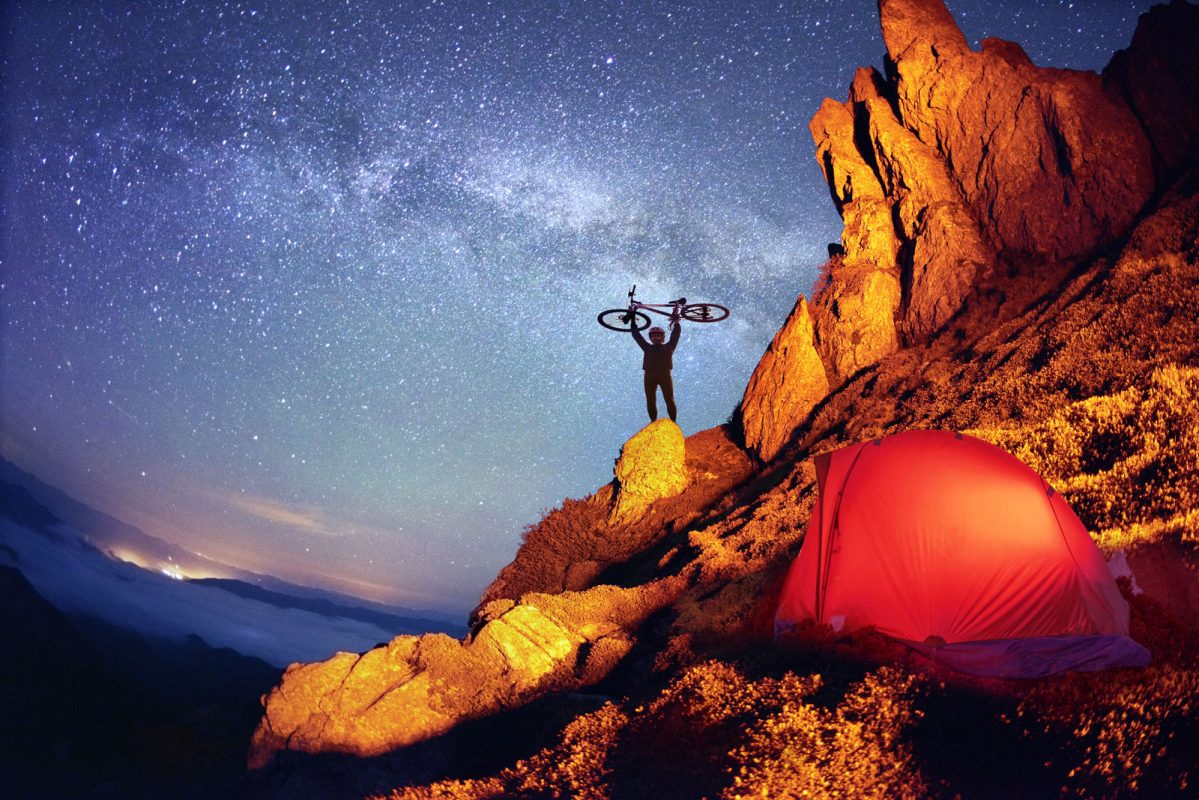 Advantages
You have more control – The dimensions and weight of the load align with the frame so control is less affected when riding with the bike fully loaded.
The lateral dimensions of the bike are smaller – By not having oversize on the sides, it is easier to pedal on narrow paths or single track as they are often called on the MTB.
No need to install racks – By not using a rack, the trip is quieter, plus there is nothing more frustrating than being in the middle of nowhere with a loose rack and not having a suitable screw to secure it.
Disadvantages
Your burden is limited – The total volume of bikepacking systems usually be less than that can be carried in saddlebags.
The trip can be more expensive – Especially on autonomous trips, the limited volume will likely translate into more constant stops to restock food, plus your kitchen and sleeping systems may not be as sophisticated as what you could carry in your saddlebags without invest a little more for more compact and lighter equipment.
You need to plan and organize your luggage better – Unlike saddlebags, in which you can add almost anything and you only need to worry about keeping the weight balanced, with bikepacking systems it is necessary to plan the luggage very well and in which bag it is going go every thing. Nothing that with a little practice you will solve without problems.
3 great genres of bikepacking
Broadly speaking, it is possible to classify bikepacking into 3 genres according to its duration, distances traveled and characteristics of the terrain.
Bikepacking:
Multi-day MTB
Ultra light, race and gravel
Expedition
Multi-day MTB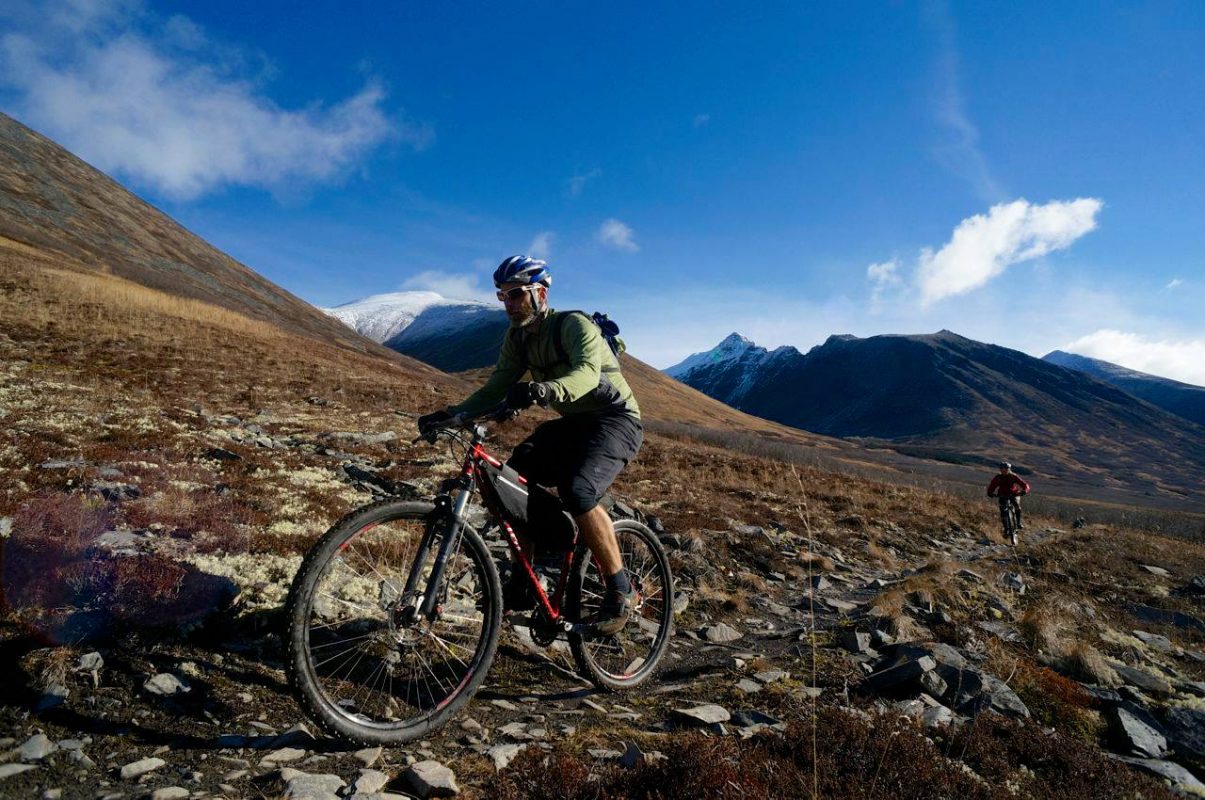 This modality, as its name implies, is for those who want to travel their favorite mountain routes or explore new trails for one or more days without having to return home to continue the next day. The routes can vary in distance and in their characteristics, they can be near your home or even in another country.
These trips can be for the weekend or more days. The luggage is minimal and usually includes what you will need to spend the night. Remember that the routes are in the mountains, so you can use almost any bicycle suitable for the routes you are going to travel.
Ultra light, race and gravel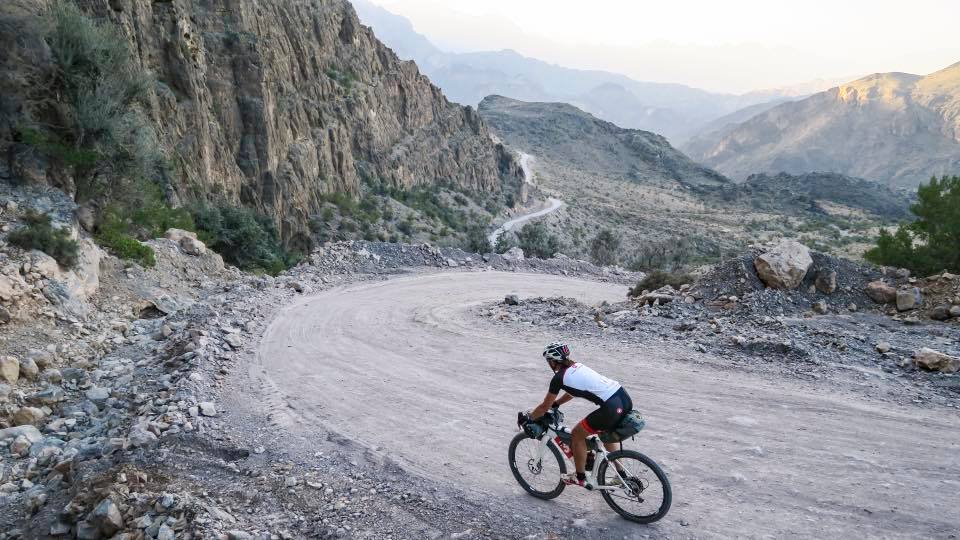 This category is for those who prefer to travel long distances in the shortest possible time, whether on mountain, road, rural roads or mixed roads for several days.
This modality has gradually gained popularity, mainly due to the constant appearance of races such as the Tour Divide Challenge , the Trans Am Bike Race or the Indian Pacific Wheel Race.
The luggage must be minimal to keep the weight as low as possible and to be able to conclude the journey on a self-sufficient route. The bike choice can range from a full suspension mountain bike to a carbon fiber road bike depending on the characteristics of the road.
Expedition
As you can imagine, this category includes those routes that have the purpose of exploring and getting away from the paved roads. These types of trips are ideal for those who plan to travel for several weeks, months or even years in an exotic country or even without going far from home.
As you can imagine, this category includes those routes that have the purpose of exploring and getting away from the paved roads. These types of trips are ideal for those who plan to travel for several weeks, months or even years in an exotic country or even without going far from home.
In this case, weight is not a priority since it is necessary to carry what you need to travel autonomously for several days. Depending on the route you plan, you will need to bring enough food and water to reach the next supply point, a good system for sleeping and cooking.
Although, as in saddlebag cycling, there is the possibility of making a credit card trip, in which you find accommodation in each of your destinations and buy your meals.
The routes can vary enormously. There are those who prefer to cross a country through the mountains and unpaved trails. There are also those who prefer roads that combine rural roads with one or another road or even those who travel through sandy, rocky terrain such as those of the Baja Divide .
Basic bikepacking systems
A basic system consists of bags that are attached directly to the bicycle. Different brands offer different models and versions of different capacities. The size and number of bags should be based on the trip you have in mind.
Most of these bags are waterproof, which means that the load will not get soaked in a light rain or when passing through a puddle. In these cases, to ensure that the content does not get wet, it is recommended to put the important things in plastic bags or dry bags . There is the alternative of opting for 100% waterproof models which are a bit more expensive.
Bikepacking bags
Frame bag
Seat bag
Handlebar bag
Top tube bag
Food pouch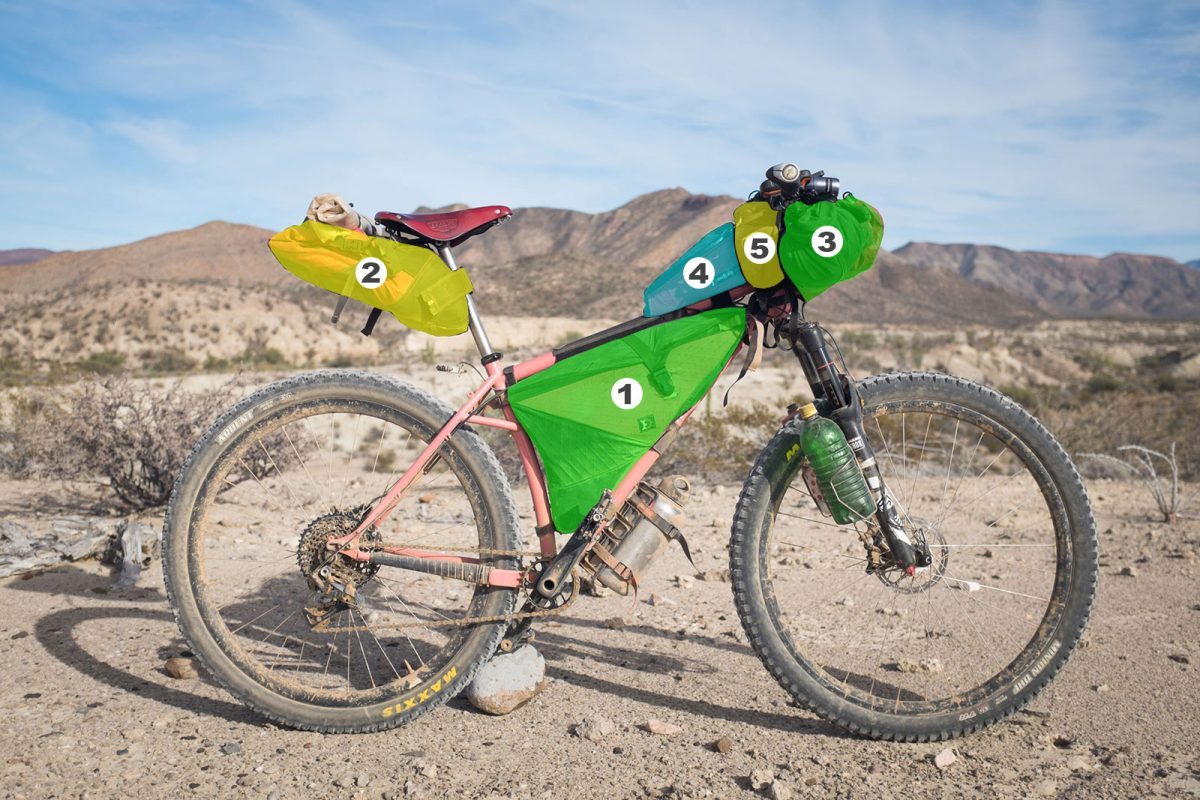 As we already mentioned, the selection of bags will depend completely on your needs. You can build your game, little by little, as you make longer trips. You can combine different brands and there are even those who combine bikepacking bags with rack systems and saddlebags. It all depends on what you need and make your trip more comfortable!
Would you like to prepare your next adventure? What are you waiting for, this way of traveling may be for you!