Winter is just around the corner and in many parts of the world, the cold is already beginning to feel. If the bicycle is your main means of transport, here I share 7 useful tips that will help you enjoy your rides in these winter months.
Proper clothing
1. Use different layers
The most efficient way to keep warm when riding is to do it in layers. The purpose of using multiple layers is to trap and maintain heat while repelling the cold from outside.
The first layer is basically our shirt or shirt. For long trips, in which you may get a little sweaty, I recommend buying a garment made of special materials that absorb sweat from the skin and evaporate it.
The second layer should be a garment with thermal properties. Ideally, a thin polyester vest or sweater is ideal.
The third layer is intended to repel the cold from outside, so a nylon windbreaker is ideal.
2. Don't let your head get cold
About 30% of body heat is released by the head due to the large amount of blood flowing through it. If we keep it warm we will keep it warmer.
Depending on how low the temperature is, we can simply use a band on the forehead or ear covers. If the cold is a bit more extreme we can use a hat.
Another mechanism through which we give off heat is respiration. A Buff is an excellent alternative since we can cover the ears, mouth and neck using it as a mountain pass. If we don't have a Buff we can use a bandana to cover the mouth and nose.
A good pair of glasses is especially useful in the winter months as well as in the rainy season . The cold air above our eyes causes the secretion of tears that can affect our vision. Also, a good pair of glasses will protect our eyes from other particles.
Make sure to look for lenses that not only protect your eyes, but also have good ventilation to prevent fogging.
3. A good pair of gloves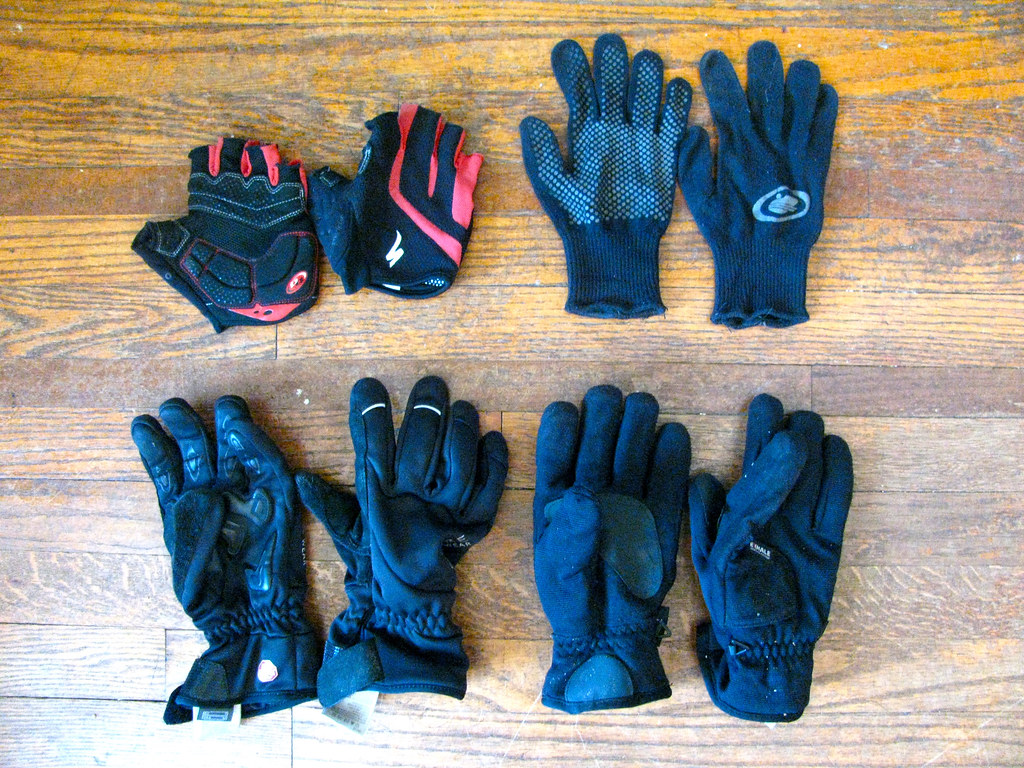 When we go out to ride in the cold it is always a good idea to wear gloves. It is important to make sure that these allow us to brake properly and that they do not affect our grip.

The ideal is to make a good pair of cycling gloves . These gloves have padded palms to guarantee good circulation, protect our palms in the event of a fall and give us a good grip.
During and After the Trip
4. Start slow
You only have to go out with a little cold since with the pedaling you will get warm. Start pedaling slowly to warm up your muscles, as you warm up you can speed up the pace. With low temperatures our muscles are a little stiffer than usual and we can hurt ourselves if we want to go out pedaling at full speed.
It is recommended to have a good cup of coffee or tea before pedaling on a cold morning.
5. Stay visible
Especially on very cold days drivers, for some strange reason, do not expect to see cyclists rolling on the city streets. For this reason it is important to remain visible at all times.
Recommendations:
Wear clothes with bright colors (There are some clothes specially designed for the urban cyclist with reflective motifs)
Use headlights and taillights .
6. Regulate the temperature
Depending on how cold it is, the distance you are going to travel, the type of terrain and the cadence of your pedaling, it is likely that you will have to make some adjustments to your clothing, during the journey, to regulate your body temperature.

If you use several layers this is very simple, just unzip the outer layer to allow some fresh air to enter or remove some of the layers as necessary.
7. When you arrive, do not remove all the layers at once
When arriving at work , school or whatever our destination, do not remove all the layers at once. Due to physical activity our body is hot, if we discover ourselves completely we run the risk of getting sick. The ideal is to keep at least one of the light layers and allow our body to acclimate to the temperature of the place where we are.
The clothing depends on how much the temperature drops in your city. In some cases a simple windbreaker may be enough, however in some cities you will have to cover yourself a little more. I hope these tips are useful for you to ride all year long.