In recent years, cycling is no longer just a leisure activity. This ecological and practical means of transport has integrated the daily life of many. Ideal for getting around town quickly or for cycling, the bicycle is a victim of its success, and unfortunately: it is the subject of numerous thefts. According to an INSEE report published in 2020, 346,000 households declared in 2018 to have been victims of theft or attempted theft of bicycles!
As part of our post on how to choose your bike lock , discover our advice on where and how to attach your bike lock and your eBike to prevent theft.
How to attach your bike lock?
Owning a bike lock is not enough, you still need to know how to attach your bike lock. So, here are the golden rules to answer the question "how to put on your bike lock?" ".
First secure your frame to the fixed support you have chosen (barrier, post, etc.).
Install the anti-theft device preferably at a height with the lock facing down.
Block the front wheel first. It can be removed more easily and quickly than the rear wheel. Use either with a cable or with the bars of your U, if they are long enough. Don't neglect the rear wheel though. You can block it with a frame lock or with a cable.
Minimize the space between your lock, your bike, and the fixed support, in order to limit access to the tools to cut it.
Ideally, secure your bike with a U-lock and cable. Here are several examples of good ways to secure a bicycle:

However, beware of these few common mistakes when attaching your bike lock: always secure the frame of the bike, not just the wheels and the stand.

To prevent your wheels from being stolen, there are also anti-theft nuts . They attach to the axles of your wheels and replace the quick couplers. You can also use a lock to attach your saddle to your bike frame if it is a quick-release system.
Finally, before leaving your precious bike, remove the various removable accessories from your bike such as your lights, your saddle bag or your GPS. Or of course smartphone if you use it on a hanger holder.
Post, barrier, street: where and how to attach your
First, and even "just to buy your wand", always secure your bike to a fixed point with a lock. Make sure the stand is solid and securely attached to the floor. Post (more than 2m high), rigid grid and fixed barrier, will do the job perfectly. Avoid wire mesh and fences with too thin metal rods that can easily be sheared.
For the location, prefer bicycle parking lots , or areas designed for this purpose. Faced with the cycling boom, more and more cities are setting up infrastructure for cyclists so that they can safely attach their bikes. If there is no bicycle parking, choose busy and busy shopping streets – taking care to secure your bicycle so that it does not obstruct the passage. Avoid deserted alleys, popular with bike thieves who can commit theft quietly and out of sight.
Even indoors, bikes are regularly stolen. If you store your bike in a garage, your cellar or a box, install a rack or a bike rack and attach your bike to it with your lock.
Which lock to choose for your bike?
U lock, folding, cable, chain, spiral…, there are several types of bicycle locks. When choosing your future lock, take into account 3 factors:
how long you have parked your bike
the location where you will leave it
the type, price and material of your bike (VAE, VTC, carbon, aluminum, etc.)
For medium or long-term parking (several hours to a day), choose a U-shaped lock, a folding lock or a chain with large links (greater than 8mm). In practice and when we listen to cyclists and specialists, U-locks are the most effective when it comes to securing your bike safely.
The Kryptonite brand has created an indicative table to help you choose your lock. The table was established based on two criteria (location and duration of parking). The brand's locks have different security levels between 1 and 10. Using the table, you can determine the most recommended model.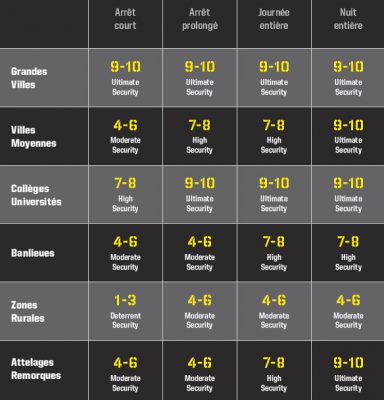 To protect the paint on your frame when you transport your bike lock, choose locks with a fabric cover, or invest in frame protections. Another DIY option: wrap an old inner tube around the parts of your frame that will be in contact with your lock.
A special lock to attach your electric bike (VAE)
There are locks specially adapted for electric bikes. To secure your VAE, do not use spiral cable locks, instead rely on U-shaped locks with keys, folding or rigid . These models offered by leading brands in security such as ABUS or Kryptonite have the highest levels of security .
Many VAE anti-theft devices are also equipped with an audible deterrent alarm which activates in the event of an attempted theft or when the bicycle is moved. This is the case with certain models of U-type bicycle locks or padlocks, such as those from the Oxford and ABUS brands. For technology enthusiasts, the black Abus Smart X smart connected bike lock with its level 15 security can only be opened via your phone's Bluetooth. In the event of an attempted theft, an audible alarm is activated to dissuade the thief from continuing his theft.
Nothing also prevents you from installing a frame lock for eBikes. It is a quick and useful safety solution but should only be used if you still have the bike in view. For example when you have a coffee on the terrace and there is no nearby pole available for your bike.
For electric bikes, it is finally strongly recommended to mark your VAE. Two options are available to you: a bicycode marking code or a QR Code Paravol bicycle marking sticker.
A key lock or a code lock?
These two types of locks each have their advantages and disadvantages. If you can lose the keys to your lock, you can also forget the code. If more than one of you use the lock, a code model will work well. An example ? A code lock will be practical for a child bike that must be unlocked by several parents
On the security side, code locks are known to be less effective than key locks. In general, the most resistant type U locks are equipped with a lock. For a stop of a few minutes and if you have a visual of your bike, use a spiral lock with a code. On the other hand, for longer parking, key locks are preferred.
A tip to avoid losing your bike lock keys? This anti-theft model is generally supplied with 2 or even 3 keys. Ideally, set aside one or two of the supplied keys in a safe place (like your key drawer) in case you lose a game. Putting a special or colored key fob will also allow you to see your key clearly when you unfasten it. your lock. Small and black, the anti-theft keys are often left on the floor. Or lost at the bottom of a bag and found after buying a new lock …