Your sport utility vehicle (SUV) deserves a high-performance tire that provides excellent performance. Of course, it doesn't need to be expensive. Achilles is a "go-to" brand if we talk about budget-friendly tires, so let's look at one of its radial tires, the Achilles ATR Sport.
The Achilles ATR Sport comes with loads of impressive features, including an eco-friendly silica compound molded into directional tread patterns, a 3-D surface block technology, and robust construction. This tire offers comfortable steering, enhanced traction on both wet and dry roads, and fuel efficiency.
This budget-friendly advanced technology radial tire is worth discovering, so read on to find more details about this tire's features and road performance.
Achilles ATR Sport: Overview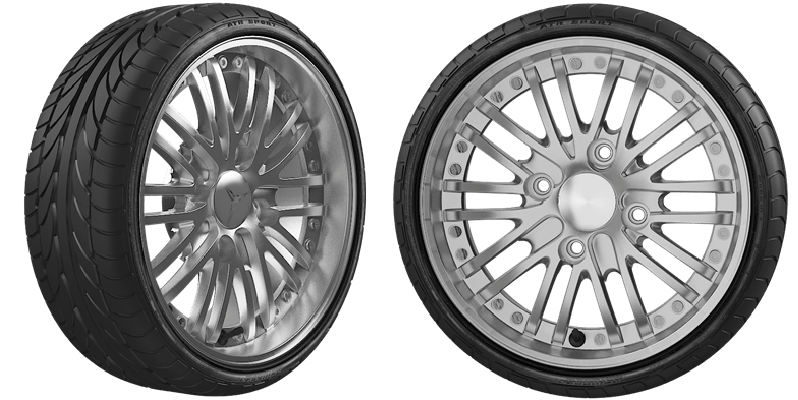 If you are not familiar with the Achilles brand yet, let me help give you some information about it.
Achilles originated from Indonesia, and the company that produced the brand is PT. Multistrada Arah Sarana, or popularly called MASA. The company owns huge plants in East Cikarang.
Over time, MASA has built strong credibility, which allowed it to penetrate the international market producing innovative products.
Now, let's go back to the Achilles ATR Sport and get to know it more.
Eco-Friendly Rubber Compound
Achilles understands the importance of minimizing the carbon footprint of its products. It is the very reason why it uses an eco-friendly silica compound on the Achilles ATR Sport tire.
Eco-friendly tires are less harsh to the environment compared to synthetic rubber tires. They are also generally fuel-efficient, which means that they help the environment enormously. According to National Geographic, the fuel used in cars raises environmental red flags even before use. Thus, this feature of the tire is very significant.
Semi-Slick, Offset, and Directional Thread Design
To further maximize fuel efficiency, the Achilles ATR Sport features an offset and directional tread pattern that ensures better handling on both dry and wet roads. In addition to this, the tire also has semi-slick treads that provide outstanding traction on dry roads.
Furthermore, the tire dissipates heat effectively because of its solid rib and casing. Another added value brought by the tire's tread design is longer tread life.
3-D Surface Block Technology
What does this technology bring to the tire? This 3-D surface technology is responsible for the quiet performance of the Achilles ATR Sport.
Most, if not all, enthusiast drivers would love to install tires on their vehicles that make minimal noise. It just feels a bit comfortable if you don't hear a loud noise when you roll on the road. I will enjoy driving more if the tires on my vehicle don't make annoying noises.
Robust Construction
More than its nice appearance, the Achilles ATR Sport also features a sturdy construction. The tire's internal construction features twin steel belts and a polyester cord body to ensure that the tire is robust and durable.
The tire further features wider ribs and water channeling at the should. These features help the tire deliver excellent traction in wet road conditions.
Superb Handling
The handling ability of a tire is probably among the few features we check first. This tire is very responsive because of its solid continuous center rib. This particular feature also enhances the cornering ability, which is another essential quality we should look for in a tire to ensure it is safe.
Aside from the quicker steering response of the tire, the 3-D surface block discussed above also adds more comfort.
Enhanced Traction
I will assume that you already know the importance of good tire traction. If you don't have a solid understanding of why it is essential, it is simple: It means less rolling resistance and fuel efficiency. Therefore, it means less impact on the environment.
The firm grip of the tire on both wet and dry road conditions is because of the offset and directional tread pattern that helps transfer energy to the road.
Fuel-Efficient
At this point, you must have already connected the dots. The Achilles ATR Sport is highly fuel-efficient because of its unique tread design that delivers enhanced road traction.
The eco-friendly silica compound used in making this tire is another factor why this tire is highly fuel-efficient.
How Does Achilles ATR Sport Perform on Ice/Snow, Wet, Dry, and Off-Roads
By looking at how the Achilles ATR Sport performs on different road conditions, you could make a sound decision if it is the next tire you will get for your vehicle. So, let's go!
How It Works on Ice/Snow
You might have read about the Achilles ATR Sport being an all-season tire, or someone may have told you about it. Knowing that the tire uses an all-season compound, can you trust it on ice or snow driving? The answer is no.
This tire is just not going to work in these challenging winter conditions. Don't compromise your safety by using this tire during winter. If you live in the states with severe winter conditions and hold a record of most fatal winter crashes, don't even think about this tire. If you frequently experience icy or snowy roads, this tire is not for you.
How It Works on Wet Roads
As I may have already mentioned, the tire's performance on wet roads is trustworthy. Its traction and grip on this road condition are very satisfactory. Individual user reviews also suggest that the braking distance of the tire on wet roads is relatively short.
On the other hand, some actual reviews by users who have tested this tire on the watery road report that this tire's hydroplaning resistance is not good. So, probably consider this factor as well before deciding to purchase this tire.
How It Works on Dry Roads
Like how it performs well on wet roads, the Achilles ATR Sport is ideal for dry road driving. The traction performance of the tire should give you peace of mind when you are doing sharp turns.
Individual reviews suggest that this tire delivers more than what you expected in terms of dry road performance. It is definitely worth the price that you pay.
Also, already discussed earlier, this tire is quiet enough for a high-performance tire.
However, when we talk about comfortability, this tire may not compare to the standard touring tires for comfortable driving. If your main criteria for getting a new tire is comfort, you should be looking for a touring tire.
Price Range
This Achilles ATR Sport is a very economical option for your next set of tires. Depending on the size, the price of this tire starts at $60.
Some online stores or may offer occasional or promotional discounts. You just need to shop around and find the cheapest you can get for your vehicle.
Some pre-owned tires may come at a lower price, but I would highly discourage you from getting pre-used tires. Safety is the most important thing when it comes to driving – don't compromise it.
Warranty Terms
A tire's tread warranty is always among the first things we check when we buy a new set of tires. Tread warranty is what assures us that the tire we are buying will deliver its promise.
This tire comes with a 25,000-mile tread warranty. In addition, Achilles also guarantees uniformity for one year or the first 2/32 inches of wear.
What about a warranty for the materials and workmanship? These are warranted for six years and include free replacement during the first year or the first 2/32 inches of tread wear. Then, Achilles provides a prorated amount for the remaining period up to the final 2/32 inches of tread depth.
You can check the complete information about Achilles' limited warranty on its tires here.
Vehicles Achilles ATR Sport Will Fit
Take a look at some of the SUVs that this high-performance and affordable tire would fit. If your vehicle is not on the list below, this website might help. Otherwise, you can always talk to the shop attendant if you check this tire out at a local tire shop.
| | |
| --- | --- |
| BRAND | MODEL |
| Audi | Q3 |
| Chevrolet | Impala |
| Hyundai | Tucson |
| Kia | Soul |
| Mercedes-Benz | GLK-Class |
| Nissan | Juke |
| Subaru | Forester |
| Suzuki | Vitara Brezza |
| Toyota | 4Runner |
| Volvo | XC70 |
Take a look at the different sizes of the tire in the table below. You can see the full list through this link.
RIM SIZE
TIRE SIZE
15″
195/55R15 85V BLK
175/60R15 81H BLK
195/60R15 88V BLK
185/55R15 82V BLK
195/50R15 82V BLK
16″
205/45ZR16 83W BLK
205/50ZR16 91W XL BLK
205/55ZR16 94W XL BLK
215/60R16 95V BLK
215/60R16 95H BLK
17″
215/55ZR17 98W XL BLK
205/40ZR17 84W XL BLK
215/45ZR17 91W XL BLK
215/50ZR17 95W XL BLK
18″
245/45ZR18 100W XL BLK
225/40ZR18 92W BLK
235/40ZR18 95W XL BLK
215/40ZR18 89W BLK
215/35ZR18 84W BLK
19″
225/35ZR19 88W XL BLK
235/35ZR19 91W XL BLK
265/30ZR19 93W XL BLK
245/40ZR19 98W BLK
20″
225/30ZR20 85W XL BLK
275/30ZR20 97W XL BLK
245/30ZR20 90W XL BLK
245/30ZR20 93W XL BLK
Frequently Asked Questions
Is the Achilles ATR sport a good tire?
It is a good tire judging from numerous user reviews you can find online. Many tire users are inclined to repurchase it due to its superb dry and wet traction, steering responsiveness, and fuel efficiency.
Where are Achilles tires made?
Achilles tires are products of the Indonesian company PT. Multistrada Arah Sarana, or popularly called MASA. The company owns huge plants in East Cikarang, Indonesia. The company was established in 1991 and has already collaborated with industry giants like Pirelli and Continental tires.
Is the Achilles ATR Sport good in snow?
This tire is okay for wet and dry road conditions only. Although the silica compound used in the tire is all-season, this tire must not be driven at all on ice or snow to ensure your safety. More than enough reviews prove this, don't try it.
Are Achilles tires made in China?
Achilles originated from Indonesia. Is it better than the tires from China? The answer is it depends. The idea that all tires that China-made tires are low quality is a stereotype. To know the quality and the performance of a tire, look for a detailed review or test yourself.
Conclusion
You have just learned about the features of the tire being reviewed here. Is it decision time? Should you get it for your vehicle?
Like any other tire, it has its advantages and disadvantages. The tire can provide satisfactory performance on dry and wet roads with quick steering and stable cornering performance.
However, you can't use it at all when you drive on ice or snow. It doesn't work on these challenging road conditions. Therefore, this tire is perfect for you if you are looking for a pocket-friendly tire that gives you a bit of performance on dry and wet roads.