Tires usually come to the market with warranties. Warranties assure the user that a tire would last a specific period. However, despite the projected life span of the tire, there are scenarios that a tire would wear out early or would need replacement before the predetermined tread life.
With this fact, it is essential to answer the question: How do tire warranties work?
There are different types of tire warranties that you need to know. Some of these warranties are standard with the tire, and some can be an add-on purchase.
You need to clearly understand the warranties that come with the tires you purchase. Otherwise, you will waste your effort trying to get them replaced when the condition is not covered. Tire manufacturers specify the scenarios that are not covered in the warranty that they offer.
Read on to learn about these warranties and how you can take advantage of them. You will also know the common reasons why you will not qualify for the tire warranty.
Different Types of Tire Warranties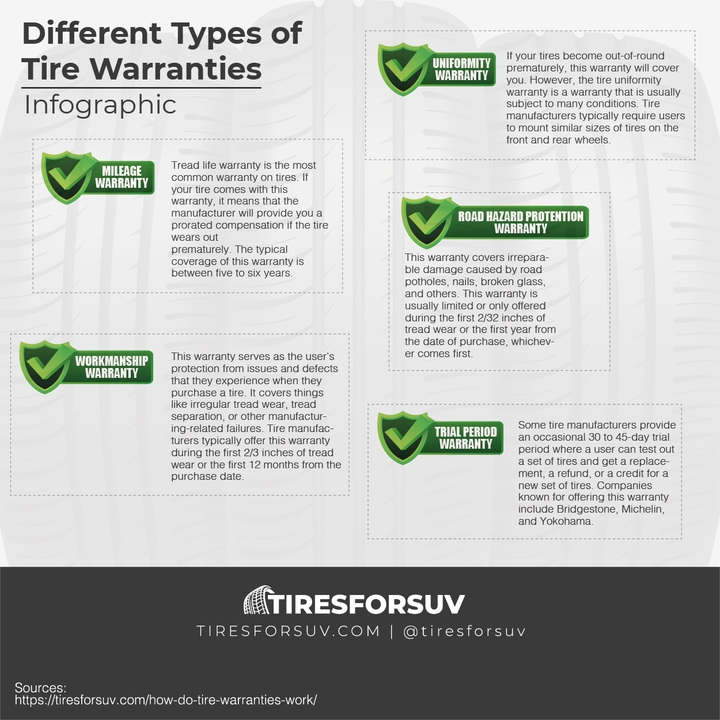 Mileage or Tread Life Warranty
Tread life warranty is the most common warranty on tires. If your tire comes with this warranty, it means that the manufacturer will provide you a prorated compensation if the tire wears out prematurely.
The typical coverage of this warranty is between five to six years, subject to the manufacturer's usage guidelines and specifications. These guidelines may include tire rotations, wheel alignments, and tire inflation.
The usual deal? It is only applicable to original tires, original owner, and original vehicle. It means that you will not qualify if you purchase pre-owned tires or if you mount your tires on another vehicle.
You would be able to avail of this warranty if your tires reach the final 2/3-inches of depth (the widely adopted measurement in the U.S.) before the specified period.
Can you get a cashback from this mileage warranty? The sad answer is NO. A mileage warranty is not a money-back guarantee. I would say that a treadwear warranty is almost useless. How it works is, you will only earn partial credits, which you can use as a discount if you purchase essentially identical tires from the same tire maker.
Workmanship and Materials Warranty
This warranty serves as the user's protection from issues and defects that they experience when they purchase a tire. It covers things like irregular tread wear, tread separation, or other manufacturing-related failures.
Tire manufacturers typically offer this warranty during the first 2/3 inches of tread wear or the first 12 months from the purchase date. Users can avail of a free replacement during this period. However, if the issue happens after this, users can only get prorated compensation.
Uniformity Warranty
If your tires become out-of-round prematurely, this warranty will cover you. However, the tire uniformity warranty is a warranty that is usually subject to many conditions. Users need to ensure that the issue is not because of improper use or maintenance, vandalism, road hazards, and accidents.
Tire manufacturers typically require users to mount similar sizes of tires on the front and rear wheels. Otherwise, users can only get 50% of the offered warranty. Generally, tire companies only cover a single tire because they believe that issues cannot likely occur on multiple tires.
Road Hazard Protection Warranty
This warranty is not very common, but a few brands like Bridgestone, Kumho, Nexen, and Vredestein offer this type of warranty.
This warranty covers irreparable damage caused by road potholes, nails, broken glass, and others. This warranty is usually limited or only offered during the first 2/32 inches of tread wear or the first year from the date of purchase, whichever comes first.
If you know that your tire comes with this warranty, make sure to read the full specifications as they may differ from one manufacturer to another.
The usual deal is that manufacturers, through tire dealers, cover the repair of the tire during the warranty period. If repair is not possible, users will get a prorated amount as a credit on the next purchase.
Some manufacturers sell road hazard insurance at a price ranging between $10 and $20 per tire. Is it necessary to purchase this type of warranty? I guess you can decide on your own. Think about it many times to understand if it is worth it.
Trial Period Warranty
Some tire manufacturers provide an occasional 30 to 45-day trial period where a user can test out a set of tires and get a replacement, a refund, or a credit for a new set of tires.
Companies known for offering this warranty include Bridgestone, Michelin, and Yokohama. How would you know if your tire comes with this warranty? You can ask the tire dealer or store where you usually purchase tires from, and they might be able to assist you.
Common Reasons that Void Warranty
Tire users usually will not be able to claim tire warranties due to improper maintenance. What does this mean? Tire manufacturers usually set the guidelines for inflating the tires, or the wheels should be aligned. If users fail to follow these guides, it will automatically void the warranty.
The rest of the reasons include vandalism, racing, improper use of the tires like using highway tires for off-road, and road damages that are not covered.
Things to Consider When Claiming Warranty
When you purchase your set of tires, it is a must to keep your receipt. A receipt is an essential requirement when you claim a tire warranty. This document is your proof of purchase. Keep the original receipt of your investment at all times.
Always document your maintenance to prove that you followed the manufacturer's guidelines. Keep records of your regular tire alignments and rotations and keep receipts or invoices as proof of the service done on your tires.
Properly inflate your tires to avoid air pressure-related damages. It is ideal to do a regular check of your tire inflation at least once a month.
Always do a regular inspection to discover any damages on your tires and make sure to have them repaired according to the guidelines.
FAQ
Is a screw in a tire covered under warranty?
If a screw is in the tire, it is usually not covered under warranty. Tires are only covered for specific defects, wear, and manufacturers defects. Therefore, a screw in the tire is not usually considered a defect.
How long do tires last on average?
The average lifespan of a tire is around 50,000 miles. However, this number can vary depending on the type of tire, the driver's driving habits, and the climate.
What are some things that are not covered under a tire warranty?
Some things are not typically covered under a tire warranty. These include screws in the tires, normal wear and tear, damage caused by road hazards or potholes, incorrect installation or maintenance, and improper inflation.
Are 5-year-old tires still good?
Tires lose their elasticity and grip over time, so they are not as safe as new tires. However, if the tires have been properly maintained and have not experienced any extreme wear and tear, they may still be in good condition.
What should I do if I have a blowout?
If you experience a blowout while driving, pull over to the side of the road as soon as possible. Do not continue driving on a flat tire, as this can cause further damage to the tire and rim. Once you are safely off the road, call a tow truck to take your car to the nearest service station.
How often should I check my tire pressure?
It is generally recommended to check your tire pressure at least once a month. When the tires are cold (not driven for at least three hours) will give you the most accurate reading.
Conclusion
Tire warranties are beneficial for vehicle owners like us. It serves as our assurance that the tires we purchase will last for a certain period to save us some dimes.
Always remember that claiming these warranties may not be as smooth as we imagine. Tire manufacturers usually set guidelines on tire usage and maintenance, and if you don't follow them, you will not qualify for the warranty.
Thus, you must read the details and specifications of every warranty that comes with the tire that you purchase to ensure that you will follow the tire manufacturers' conditions.