Going off-road is undoubtedly a load of fun and adventure. With the right set of all-terrain tires installed on your vehicle, you would surely feel victorious as you conquer every challenging road. If you are looking for the perfect tire for your next adventure, you are in the right place.
The Kumho Road Venture AT51 provides exemplary performance on both highway and off-road driving. This all-terrain all-season tire boasts an outstanding grip on mud and deep snow. You won't worry if you come across a muddy surface as this tire has a self-cleaning mechanism.
This tire is among the most affordable all-terrain tires you could get in the market that offers exemplary performance. The terrific value of the tire is something that every enthusiast driver should experience.
Read on to discover more details about this tire including, its key features, its construction, and its performance on different road conditions.
Kumho Road Venture AT51: Overview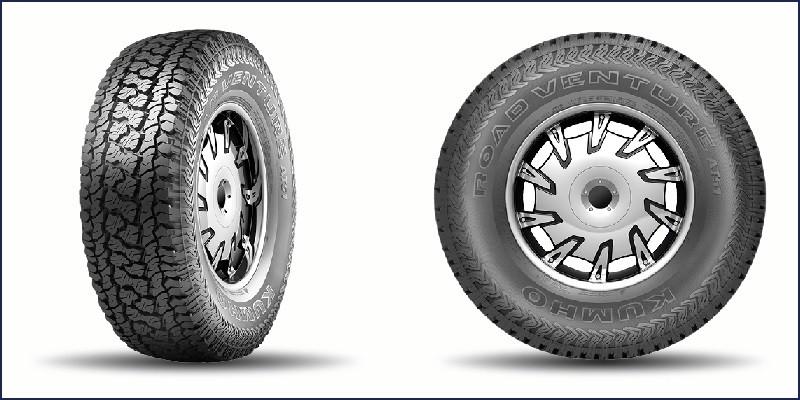 Kumho Tires may not be that famous brand that everybody will talk about, so let me talk a bit about it.
This brand originates from South Korea and has been in the tire industry since the 60s. The company entered the US market in 1993 and has acquired the US Department of Transportation mark in 1966. The headquarters of the company is currently in Atlanta, Georgia.
The company has been playing well in the tire industry. It is currently exporting more than USD 1.8 billion worth of tires annually. The company focuses on continuously improving its brand image based on the technology it has accumulated.
Now, let's go back to the Kumho Road Venture AT51.
This tire is simply a good option if you are looking for balanced on-/off-road driving performance. It is capable of meeting your expectation in both highway and off-road driving.
The Kumho Road Venture AT51's traction on soft terrain is just outstanding. Moreover, this tire does not fall short in giving you satisfaction when you drive in deep snow, muddy roads, and wet roads.
Here are some of the great features of this tire:
It uses a cut-resistant compound
It has an advanced tread design
Its construction is robust
It bears the Three-Peak Mountain Snowflake (3PMSF) symbol
Cut-Resistant Compound
When you go off-road, you are likely going home with a worn-out or damaged tire if your tire is not durable enough to resist sharp objects and uneven surfaces.
To ensure that the tire does not get damaged easily, Kumho Tires has used a cut-resistant dual silica compound. This enhanced compound is what makes this tire superbly strong and allows it to disperse heat quickly. This high-grade compound also ensures strong traction and durability.
On top of the silica compound's ability to disperse heat quickly, it also promotes fuel efficiency and even treadwear.
Advanced Symmetric Tread Design
The Kumho Road Venture AT51 tread design does not only looks elegant but also provides a stellar performance.
The tire features shoulders that are responsible for expelling stones. It also has zigzag center blocks that create a stable patch to promote efficient dry handling and good wet braking.
The tire's full-depth circumferential grooves are responsible for giving it an enhanced off-road grip. On the other hand, its tapered tread blocks give this tire a self-cleaning mechanism for better grip in mud and snow.
Advanced Construction
The internal construction of the Kumho Road Venture AT51 features twin steel belts reinforced with spirally wrapped nylon. It also features jointless bead bundles and a two-ply polyester core body. It is what allows the tire to handle bumps better.
Moreover, the tire also features Kumho's ESCOT Casing Technology that optimizes the tire's sidewall cord tension. The incorporation of this technology results in better steering response and better tread life.
Three-Peak Mountain Snowflake (3PMSF) Certified
This tire bears the 3PMSF symbol, which means that it meets the industry standard for a tire that can handle severe snow conditions. This reputation is a big plus for the tire and makes it a highly sought tire, especially by those who consistently experience extreme winter conditions.
How Does Kumho Road Venture AT51 Perform on Ice/Snow, Wet Roads, Dry Roads, and Off-Roads
Take a closer look at how this tire performs on different terrains. Discover more on how versatile the Kumho Road Venture AT51 is when exposed to these various road conditions.
Performance on Icy/Snowy Roads
The tire carries the 3PMSF emblem of the U.S. Tire Manufacturers Association (USTMA); this tells us that the tire should provide a satisfactory performance on these road conditions.
The advanced silica compound used in this tire works for all seasons. It can resist freezing. When the tire comes in contact with ice or snow, this silica compound creates a firm grip. The advanced symmetric tread design of the tire reinforces its traction on these terrains.
Although the tire offers impressive performance on ice and snow, it may not be as great as the tires made specifically for snow driving. Thus, user discretion still matters. If you experience extreme winter conditions and traverse on severe snow most of the time, you might want to reconsider getting this tire for that particular purpose.
Performance on Wet Roads
Being an all-season tire, the Kumho Road Venture AT51 is sure to provide you with excellent performance on wet roads. It has superior traction and stability on this road condition due to the high-grip compound and the advanced tread design.
The tire is hydroplaning resistant, which means your vehicle can keep a strong patch on the road amidst water. The tire does not quickly lose its traction on wet roads. However, this performance may change over time as the tread wears out.
When it rains, you will experience wet roads and come across muddy roads as the dirt mix up with water. Also, driving on slippery and muddy roads or mushy terrains is expected if you go off-road. So, how does this tire respond to these conditions?
Put your mind at ease when you drive on mud or mush. This tire will provide you the satisfaction you expected. Numerous reviews reveal how this tire efficiently handles loose gravel and dirt.
Performance on Dry Roads
You might be wondering if this tire also works great on dry roads. Well, you can stop wondering because I will tell you that this tire is equally competent on dry roads as it is on wet, mushy, or snowy roads.
You cannot complain about the tire's traction and stability when you drive your vehicle on the highway. The tire simply delivers the performance that any enthusiast driver expects. It provides superb traction and comfortable handling.
How about the noise it makes when you drive your vehicle on highways? Expectedly, all-terrain tires are noisemakers. So, this tire does make a noise as you take the dry roads, and it is evident in the individual user reviews you can find online.
However, the noise it makes is minimal. It is a little noisy, but it is still among the quietest tires in this category. Thus, it probably is worth bearing a little noise for stellar capabilities.
Performance on Off-Roads
I want to highlight how this tire behaves when you go off-road. Off-road driving can be challenging as you will go through many surprises such as rugged rock formations, hills, ditches, sharp gravels, mush, etc.
This tire is for the above-mentioned off-road challenges. The sharp objects you encounter as you take off-road would less likely damage the tire as it uses a robust and cut-resistant silica compound.
The tread design of the tire ensures that its off-road grip is reliable. The tire achieves this firm grip through its full-depth circumferential grooves. The exemplary performance of this tire on off-roads is exciting.
Simply put, Kuhmo Tires was able to balance the on-/off-road performance of the tire. The excellent off-road capability of the tire is what makes it one of the best all-terrain tires.
Kumho Road Venture AT51: Pros & Cons
Price Range
Depending on the size of your tire, the price of the Kumho Road Venture AT51 ranges between $120 to $400.
The prices quoted are based on the tire's online prices.
Warranty Terms
The Kumho Road Venture AT51 comes with 55,000 miles limited treadwear warranty. The warranty is only 50% of the mileage if the front and rear tires are not of the same size.
Kuhmo also provides a 30-day money-back guarantee if the user is not completely satisfied.
In addition, it also comes with a Materials and Workmanship Warranty within the first 2/32″ of tread wear, which means you can ask for a replacement if defects in materials are detected. Then, it has a prorated warranty for the final 2/32″ remaining depth.
Vehicles Kumho Road Venture AT51 Will Fit
Below are some SUVs that the Kumho Road Venture AT51. The list is provided only as a general guide. I would highly advise that you confirm with the store attendant that the tire fits your SUV 100% before paying for it.
| | |
| --- | --- |
| BRAND | MODEL |
| Acura | MDX |
| Acura | RDX |
| Chevrolet | Equinox |
| Chevrolet | Trailblazer |
| Dodge | Durango |
| Ford | Escape |
| Ford | Explorer |
| Honda | CR-V |
| Hyundai | Santa Fe |
| Mazda | CX-7 |
| Nissan | Murano |
| Toyota | RAV4 |
a brief list of Kumho Road Venture AT51 compatible vehicles
Available sizes of the tire:
| | |
| --- | --- |
| RIM SIZE | TIRE SIZE |
| 15″ | 30X9.50R15 31X10.50R15 32X11.50R15 33X12.50R15 LT215/75R15 235/75R15 LT235/75R15 |
| 16″ | LT215/85R16 LT225/75R16 P235/70R16 LT235/85R16 245/70R16 P245/75R16 LT245/75R16 P255/70R16 265/70R16 P265/75R16 LT265/75R16 LT285/75R16 LT305/70R16 LT315/75R16 |
| 17″ | 235/65R17 235/75R17 LT235/80R17 P245/65R17 P245/70R17 LT245/70R17 LT245/75R17 P255/70R17 LT255/75R17 265/65R17 P265/70R17 LT265/70R17 LT275/70R17 LT285/70R17 LT315/70R17 |
| 18″ | 255/70R18 265/60R18 265/65R18 P265/70R18 LT265/70R18 P275/65R18 LT275/65R18 LT275/70R18 LT285/65R18 |
| 20″ | 35X12.50R20 LT265/60R20 P275/55R20 P275/60R20 LT275/65R20 LT285/55R20 LT305/55R20 |
a brief list of Kumho Road Venture AT51 sizes
Frequently Asked Questions
Are Kumho tires good?
Kuhmo tires are pretty competitive when you talk about performance. It is also among the most affordable tires on the market. This brand is probably not as famous as the other brands, but it should be on your list as far as the value you will get is concerned.
Where are Kumho tires made?
Kumho Tires is a South Korean brand that has entered the US market back in the 90s. The company has multiple plants, including the Pyeongtaek, Gokseong, and the Gwanju plants.
The company also has three plants in China, including the Tianjin, the Gaoxin, and the Changchun plants.
Is the Kumho Road Venture AT51 noisy?
Like any other all-terrain tire in the market, the Kumho Road Venture AT51 tire makes a little noise. However, the noise it makes is minimal, making it one of the quietest tires in its class.
How is the Kumho Road Venture AT51 for winter driving?
The tire has made quite a reputation when it comes to how it performs on ice and snow. It bears the Three-Peak Mountain Snowflake (3PMSF) symbol of the U.S. Tire Manufacturers Association (USTMA). Thus, the tire can provide you a satisfactory performance on wintry road conditions.
Kumho Road Venture AT51 Review: Final Thoughts
After knowing the great qualities of the Kumho Road Venture AT51, it is undeniable that the tire is something you should consider for your SUV. The all-terrain capabilities of this tire are so balanced regardless of the road conditions.
The comfort and traction experience on both dry and wet surfaces are equally outstanding, and its off-road performance is just commendable. Moreover, the tire performs well on ice, snow, and mud.
Thus, this tire is quite an option as you can get it without spending much, but with a bunch of excellent value.