Are you mainly driving on highways under different weather conditions? If you do, you deserve to know about the incredible offer from Nexen Tire Co., the Nexen Roadian HTX RH5.
This tire belongs to the Highway Terrain tire category that fits SUVs and light trucks. Among the core qualities of this all-season tire are: better handling and cornering, enhanced stability, outstanding braking performance, and superb traction.
The traction performance of the tire in wet and dry road conditions is highly dependable. The tire can also provide some off-road performance as it has adapted some off-road capabilities. On top of this, the tire also offers reliable traction in lightly snowy terrains.
More to know about this tire, so stick around as I provide more details about the tire's features and behavior in various road conditions.
Overview of Nexen Roadian HTX RH5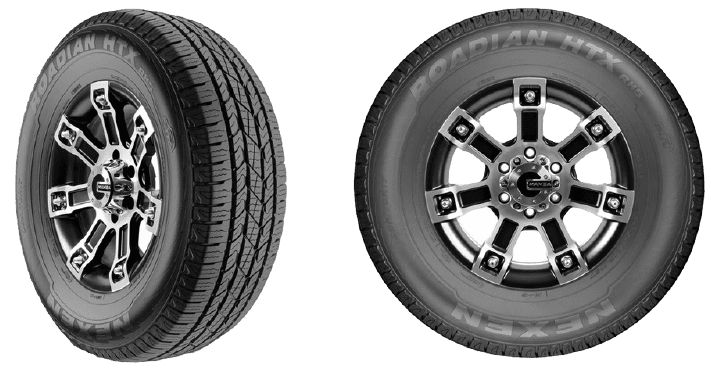 Nexen Tire Co. has been quite successful in the tire industry. The company has received numerous international awards, including the IDEA Design award in the U.S., the IF Design Award in Germany, the Good Design Award in Japan, and the Red Dot Design Award.
The awards mentioned above are the world's top 4 design awards. What makes this company sweep all these awards? The company has been in existence since 1942, so as far as experience is concerned, it has a long experience already.
Alright, so design-wise, I don't think we got an issue. Let us now go back to the subject, which is the features and the performance of the tire on focus.
The Nexen Roadian HTX RH5 is a recipient of the U.S. Good Design Award in 2014. This tire has a lot to offer.
Remarkable Tread Design
We obviously can expect a good design from Nexen as it has been winning good design awards. But let us focus on how the excellent design of the tire contributes to its outstanding performance.
This tire offers excellent all-season performance on wet and dry roads and even on light snow. It features a zig-zag siping sipe-in-groove and a 3D edge design to ensure strong traction and a short braking distance even on muddy puddles.
It further features a thick central tread section around its circumference to deliver stability and handling. Then, it has reinforced shoulders so that it would provide better cornering performance.
Moreover, the tie has four circumferential grooves that make the tire highly resistant to hydroplaning. This is the same feature that allows the tire to handle light ice and snow.
Durable Construction
This tire is very robust because it has a treadwear warranty of up to 60,000 miles . It is pretty impressive for a highway tire.
What makes it durable? The tire's internal structure includes twin steel belts with two layers of nylon that strengthen them. Then it features a durable two-ply polyester casing, which is also responsible for providing a comfortable driving experience.
Smooth and Produces Minimal Noise
The minimal noise that the tire makes when driven on the highway makes it one of the most desired tires in its class. The multi-sequence tread pattern of the tire is responsible for this outstanding performance.
Reviews from individual users confirm this astounding quietness of the tire. This exemplary performance would surely add more comfort as you roll on the road.
Better Stability, and Enhanced Handling & Cornering
This tire can provide better handling and cornering because of the thick central tread section around its circumference, as already mentioned earlier. On top of this, the reinforced shoulder blocks ensure stable cornering.
Superb Traction & Outstanding Braking Performance
The tire's efficient tread design is the secret behind the outstanding traction performance in dry and wet road conditions. The tire can also provide reliable traction on light snow. However, it is not advisable for extremely snowy terrains.
As far as braking performance is concerned, you can be confident that you can stop your vehicle when you desire to stop because the tire has a fairly short braking distance.
Off-Road Ready
As I mentioned earlier, the tire has an off-road capability. It can efficiently keep mud and gravel out of its tread because of the 3D edge design. However, if you go to an extreme off-road adventure, I suggest using a dedicated off-road tire for your safety.
Performance on Icy/Snowy, Wet, and Dry Roads
Let me elaborate more on how the Nexen Roadian HTX RH5 performs in various conditions. This section is critical for you to decide whether to purchase this tire or not.
Performance on Icy Roads
Reliable traction in light ice and snow is among the good qualities of the tire. The all-season silica compound of the tire and the details of the tread design is responsible for delivering this excellent performance.
The tire can provide a firm grip on ice and snow because of its four circumferential grooves you already learned about earlier. Of course, the overall tread design results in the tire's enhanced traction in almost all road conditions.
I need to emphasize that the tire can only handle light snow. Don't make the mistake of thinking this is a dedicated snow tire as this is not. It has an all-season capability. However, if you often drive on terrains covered with deep snow, drop the idea of buying this tire.
Performance on Wet Roads
Hydroplaning is always an issue with most tires. Well, at least, not for the Nexen Roadian HTX RH5. The performance of the tire on wet roads is something you can rely on.
It can efficiently washout water because of the efficient water channeling ability of the tire.
The braking distance of the tire and its handling and cornering capabilities on wet roads is also very reliable. Of course, there is still the risk of skidding, especially during heavy rains. But as this tire boasts, the chance of hydroplaning is relatively low.
Performance on Dry Roads
Oh well, this is a "highway terrain" tire, which means it is for highway driving. As I may have already mentioned, the tire can give you a more stable driving and better maneuvering experience.
Both the traction and the braking performances of the tire are highly reliable on dry roads. You can also expect your vehicle to stay anchored on the road as you take turns.
Another primary issue of a tire when driven on dry roads is the noise it makes. Luckily, this tire is outstandingly quiet. Thanks to the multi-sequence tread pattern of the tire that is responsible for this superb performance.
Pros & Cons of Nexen Roadian HTX RH5
Price Range
You can get this tire from $70 to $180, depending on the size.
Some online tire shops may offer occasional promotional discounts. As I always mention almost every time, the idea of getting your tires at a lower price is brilliant. I mean, come on, who does not want to save a penny?
However, do not be lured to the idea of settling with a pre-owned tire because you might compromise your safety. I am sure the previous owner ditched that tire for a reason.
Warranty Terms
The tire comes with a 40,000 miles tread warranty for its LT sizes and 65,000 miles for the P-metric sizes. I should say, this is already impressive.
Now, if you are worried about how the tire would behave or perform post-purchase, Nexen also offers limited materials and workmanship warranty. Defective tires within the first 2/32 inches of wear, or the first year, whichever comes first, will be replaced without additional charges.
Wait, there's more. After the first year warranty, the users can also take advantage of the pro-rated warranty until six years from the date of purchase.
Another remarkable thing about the Nexen Roadian HTX RH5 warranty is the Road Hazzard Warranty for one year, covering any road damage such as cuts and punctures. Of course, it is free of charge. How cool is that?
Vehicles Nexen Roadian HTX RH5 Will Fit
Below are some SUVs that the Nexen Roadian HTX RH5 would fit on. If your car is not on the list, well, get some actual fitment check when you go to a local shop.
| | |
| --- | --- |
| BRAND | MODEL |
| Buick | Enclave |
| Cadillac | Escalade |
| Cadillac | SRX |
| Chevrolet | Avalanche |
| Dodge | Durango |
| Hyundai | Veracruz |
| Kia | Sorento |
| Land Rover | Range Rover |
| Nissan | Murano |
| Toyota | 4Runner |
brief list of Nexen Roadian HTX RH5 compatible vehicles
The tire comes in various sizes ranging from 15″ to 22″. Take a look at some of the available sizes below and see if it fits your vehicle.
RIM SIZE
TIRE SIZE
15″
225/70R15
235/70R15
35/75R15
265/70R15
31X10.50R15
16″
225/70R16
225/75R16
235/70R16
235/75R16
LT 245/75R16
LT 265/75R16
17″
225/65R17
235/65R17
235/70R17
LT 245/75R17
LT 265/70R17
18″
235/60R18
235/65R18
245/60R18
255/65R18
LT 275/65R18
19″
255/60R19
20″
245/60R20
275/55R20
275/60R20
22″
85/45R22
brief list of Nexen Roadian HTX RH5 sizes
Frequently Asked Questions
1. Are Nexen Roadian tires any good?
Basing on the brand's track record, it has been quite successful and has competitively excelled along with other brands. It has had many quality offers that many enthusiast drivers have satisfactorily used. The Nexen Roadian HTX RH5, for one, is among the many good products of Nexen.Â
2. Who makes the Nexen Roadian HTX RH5?
The Nexen Roadian HTX RH5 is another product of Nexen Tire Co., a South Korean company that has served the tire industry for over 70 years. It has started producing tires way back in 1942 and has strongly stayed competitive.
3. Is the Nexen Roadian HTX RH5 noisy?
The tire produces minimal noise because of its multi-sequence tread pattern that is responsible for this superb performance. It is among the quiet options you can get in its class.
4. How long does the Nexen Roadian HTX RH5 last?
The tire comes with a 40,000-mile tread warranty for the LT sizes and a 65,000-mile tread warranty for the P-metric sizes. It is a pretty impressive warranty for a tire in this class, considering its price.
Final Thoughts
The Nexen Roadian HTX RH5 is a reliable all-season highway tire. It gives you the confidence to drive in both dry and wet road conditions knowing that the traction and braking performance of the tire is trustworthy.
This tire can also cruise light snow, but as I already said, this isn't a dedicated snow tire. So, drop the idea of driving your car in deep snow if you have this tire installed.
I think it is also worth mentioning that the tire can handle light off-road. Just don't expect an optimal performance of the tire on extremely challenging off-road conditions.