Choosing the next set of tires for our vehicle can sometimes be confusing. Many products in the market offer great value and benefit, and some are low-priced. However, if budget is not so much of a concern, a premium tire like the Bridgestone Dueler H/L Alenza Plus is something you should consider.
The Bridgestone Dueler H/L Alenza Plus is another premium all-season offer from Bridgestone that offers quality all-weather performance. This touring tire provides your SUV with enhanced fuel efficiency and improved comfortability.
It further offers excellent traction on dry and wet roads and even on light snow. It also gives you a feeling of being in control because of its improved responsiveness and highway stability.
Read on to discover how the Bridgestone Dueler H/L Alenza Plus achieves the quality performances above. You will also know more details about the tire's unique features and their specific roles.
Overview of Bridgestone Dueler H/L Alenza Plus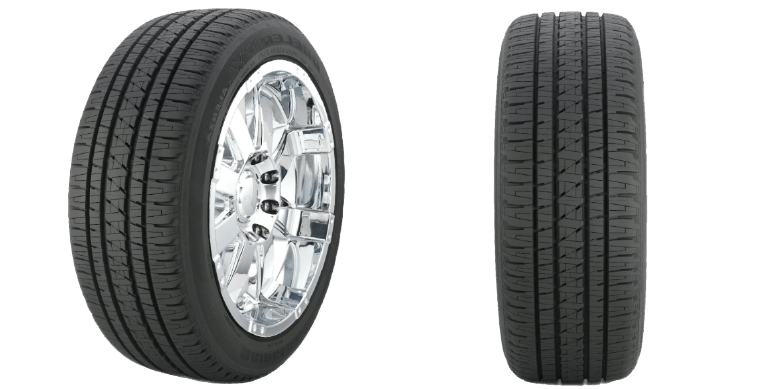 Bridgestone is a brand that enthusiast drivers from all over the world probably know. It is a big name in the tire industry due to its long existence and success. The largest tire manufacturer globally is the fruit of the merger of the American company Firestone Tire & Rubber Company and the Japanese firm Bridgestone Tire Company Ltd.
With the facts stated above, there is no doubt why the brand becomes almost a household name for vehicle owners. Now, we will focus on its Bridgestone Dueler H/L Alenza Plus model.
The key qualities of this tire include fuel efficiency, excellent all-season traction, quietness, comfortable driving experience, enhanced responsiveness, highway stability, and durability. Let's talk about how these exemplary performances are possible.
Excellent Traction
How does this tire achieve solid traction on dry, wet, and wintry roads? It is simple. It is all about the tread design of the tire. The tire's tread features wide circumferential grooves and lateral notches that help evacuate water as soon as it comes in contact with the tire to keep its patch on the road.
It further features sipes that create biting edges to ensure quality traction on dry and wet roads and even light ice and snow.
Quiet Ride
Driving without hearing a loud cabin noise is an added comfort, especially if you go on a long drive. The symmetric tread pattern of the tire effectively suppresses the noise it makes when you drive your vehicle on the highway.
To further ensure a quiet ride, the tire also features a streamlined casing and an excellent footprint design.
Comfortable Driving Experience
In my opinion, comfort is a requirement for a touring tire. I mean, who would want an uncomfortable long drive? I reckon that all touring tires promise a comfortable driving experience. The level of comfort you experience then becomes the deciding factor.
The Bridgestone Dueler H/L Alenza Plus provides premium comfort. The unique tread pattern of the tire is what provides its superior comfort level. You also already learned that the tire produces minimal noise adding to the comfortable experience. Thus, when it comes to comfort, this tire is a champ.
Responsive Steering
The responsiveness of this tire comes from its functional shoulder blocks and center ribs. These features provide premium responsiveness that results in outstanding performance and stability.
Highway Stability
Road stability is crucial as it determines your safety. What is road stability any? Road stability is the ability of your vehicle to stay in the course without skidding when you take corners, drive on challenging terrains or speed up on the highway.
The Bridgestone Dueler H/L Alenza Plus will give you the stability you need because of its notched shoulders and continuous center rib. These features ensure that your driving is safe even if you put extra pressure on your gas pedal while driving on the highway.
The tire's internal structure also contributes to the enhanced stability of the tire. It is because it features a polyester cord that functions as a stabilizer for the sidewalls.
Strength and Durability
The strength and durability of the tire are the results of its ideal internal structure. It features twin steel belts reinforced with spirally wound nylon underneath the tread area.
It further features the polyester cord already mentioned above, which helps the tire deliver and enhance performance. The improved stability of the tire directly results in longer tread life.
How Bridgestone Dueler H/L Alenza Plus Performs on Different Roads
Performance on Snowy Roads
Driving on ice or snow-covered roads can be very challenging. There is the risk of your tires losing grip, and you end up skidding. Luckily this tire provides decent traction on light ice and snow.
Well, we are only talking about light ice and snow. If we are going to talk about severe snow, that is a different conversation. This tire is not a dedicated snow tire, so it has limitations regarding snow performance. Some users report that the braking performance of the tire on snow is also not optimal.
Does this shortfall make the tire inferior? I don't think so. The tire is remarkable for its intended purpose. However, you frequently drive on deep snow, forget about this tire and look for dedicated snow tires.
Performance on Wet Roads
According to this source, rain is among the top reasons for car accidents in the U.S. I think it doesn't take a genius to tell us why. Water interferes with the traction level of the tire. Then there is dirt that mixes up with water, creating a dangerous slippery road surface.
As far as the tire's performance on wet roads is concerned, I could not find any serious concerns over this. As a premium tire, some qualities go with the price you pay. It is but ordinary for the tire to deliver quality performance on wet roads.
The tire's four wide circumferential grooves, lateral notches, and multiple sipes efficiently deliver firm wet traction. The zigzag sipe design ensures that the tire can maintain its road contact despite the presence of water.
Performance on Dry Roads
The dry performance of the tire is excellent. It allows you to feel comfortable because of the tire's ability to respond quickly to the driver's commands.
However, I would like to mention that some users report that the tire's responsiveness still needs enhancement. Well, if you drive high-performance vehicles, your standard for responsiveness can be a little high.
The overall design of the tire is the reason behind the comfort level that it can provide. If you come across bumpy roads or some potholes, you don't need to worry so much because the tire allows you to continue feeling comfortable in these driving conditions.
Traction on dry pavement is exemplary, as well as the braking distance. We also need to mention its reliable cornering performance. The tire possesses enhanced road stability, so you can speed up a little bit when you are taking the highway without worrying so much about losing control.
On top of this, the tire is surprisingly quiet, which adds up to the comfortable experience.
Pros & Cons of Bridgestone Dueler H/L Alenza Plus
Price Range
The price of Bridgestone Dueler H/L Alenza Plus comes with a little bit of cost compared to non-premium brands. The tire's price ranges from $120 to $280. The bigger the tire size is, the higher the price would become.
In buying stuff, I usually don't mind the price if I have a deeper pocket as long as the qualities and attributes that I look for are guaranteed.
If you would like to get some discounts, you can watch out for the seasonal promotions or rebates offered by tire distributors or online shops.
Warranty Terms
Let's take a look at what the Bridgestone Dueler H/L Alenza Plus has to offer when it comes to warranty.
This tire comes with a five-year or 80,000-mile tread warranty. It also has a five-year material and workmanship warranty, including free replacement during the first three years. After the first three years, Bridgestone offers a prorated amount down to the final 2/32 inches of tread wear.
Buyers of this tire also get a 30-day guaranteed trial. During this period, they can request an exchange or a refund if they are not completely happy with the tire's performance.
Cars Bridgestone Dueler H/L Alenza Plus Will Fit
Take a look at the cars that this tire fits on the list below. The available sizes of the tire are also in the table below for your further reference.
| | |
| --- | --- |
| BRAND | MODEL |
| Acura | MDX |
| BMW | X5 |
| Cadillac | Escalade |
| Chevrolet | Tahoe |
| Ford | Everest |
| Ford | Endeavor |
| Honda | CR-V |
| Mitsubishi | Montero |
| Mitsubishi | Pajero |
| Toyota | 4Runner |
| Toyota | Sequoia |
brief list of Bridgestone Dueler H/L Alenza Plus compatible vehicles
Here is a brief list of the Dueler H/L Alenza Plus tires sizes. For the full list go here.
RIM SIZE
TIRE SIZE
15″
P235/75R15 105T OWLP265/70R15 110T
16″
P225/75R16 104T OWL
235/70R16 106H BSW
P245/70R16 106H BSW
P245/75R16 109T OWL
255/65R16 109H BSW
17″
235/65R17 104H BSW
P245/65R17 105H BSW
P245/70R17 108T OWL
255/60R17 106H BSW
P265/65R17 110T OWL
18″
235/55R18 100V BSW
P245/60R18 104H BSW
P255/65R18 109T BSW
265/60R18 110V BSW
P265/65R18 112T OWL
19″
P235/50R19 99H BSW
P245/55R19 103T BSW
255/50R19XL 107W BSW
255/55R19XL 111V BSW
20″
P245/60R20 107H BSW
255/50R20XL 109V BSW
P265/50R20 107V BSW
brief list of Bridgestone Dueler H/L Alenza Plus sizes
Frequently Asked Questions
1. Is the Bridgestone Dueler H/L Alenza Plus a good tire?
Online data shows that buyers are very inclined to repurchase the tire after wearing the first set. This trend proves the premium performance of the tire. The tire will not fail you when it comes to traction performance and driving stability. It offers an enhanced quiet and comfortable ride.
2. Is the Bridgestone Dueler H/L Alenza Plus quiet?
Quietness is among the exceptional quality of the Bridgestone Dueler H/L Alenza Plus. The symmetric pattern of the tire's tread does the magic to minimize the noise that the tire makes. This added value of comfort is what makes the tire highly sought in the market.
3. How long does the Bridgestone Dueler H/L Alenza Plus last?
Durability and longer tread life are among the premium performances that this tire brags. It comes with an 80,000-mile treadwear warranty. Individual users report that the tire usually lasts between three to five years. I would say that is already quite a performance to enjoy from a tire.
4. Are Bridgestone tires good quality?
Bridgestone is the number one tire maker in the world. It is among the pioneers in the industry. These facts assure you that you are getting premium quality and performance. The brand has successfully introduced itself to the global market with a good reputation for quality and excellence.
Verdict
The tire offers outstanding all-season traction, enhanced stability, a comfortable and quiet ride, and long tread life. Aside from its inability to provide optimal performance on severe snow, I think this tire is everything you need.
Considering the overall performance of this tire, this would be a pretty good investment. Of course, if you opt for lower-priced options, this is not for you. However, if your budget is not an issue, I would highly suggest you try to put premium tires on your SUV and see how it performs compared to the more affordable models.