You are probably here because your tires are on their final depth of tread. Kumho tires are gaining popularity because of their affordability factor. If your budget for your tire replacement is a little bit short, learn about the Kumho Solus TA11 all-season touring tire from this brand.
The Kumho Solus TA11 offers excellent all-season traction, exceptional stability, and a comfortable driving experience. It is highly resistant to hydroplaning and is capable of handling light snow.
If you frequently take bumpy roads, this tire is perfect for your SUV because it can minimize the rough feeling and vibration. As an added comfort, this tire effectively reduces the noise you hear as you add force to your gas pedal.
I see that you are getting more interested in this tire. So, read on as I will cover the features of this tire and its detailed performance in various road conditions.
Overview of Kumho Solus TA11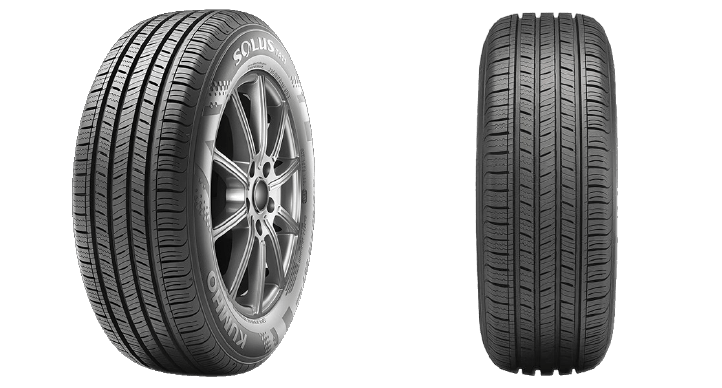 Where is the Kumho Solus TA11 made? Is this another dodgy Chinese product? If you have these questions in your mind, I can't blame you. You probably have had a bad experience with some unreliable brands. Well, let me tell you a bit about Kumho Tires.
The brand is probably not the most famous name in the tire industry, but trust me, the company is the number two largest tire manufacturer in South Korea. It has been in existence for over 60 years. That long existence in the market indeed tells us something.
Kumho Tire has successfully penetrated the global market. It exports more than 1.8 billion USD worth of products to about 180 countries. The company has established multiple research facilities all around the globe, including China, America, and Germany.
Now, we're here to know about the Kumho Solus TA11, so let's go back to the subject.
What makes this tire interesting is the use of an advanced dual silica compound that can cool quickly, resulting in improved fuel efficiency and longer tread life.
The characteristics of the tire's tread include a mildly asymmetric pattern, notched shoulders, four circumferential grooves, and zigzag sipes. I will discuss how these features work in the following paragraphs.
The tire also uses Kuhmo's ESCOT Casing Technology to improve steering response and tread life.
Dual Silica Compound
The compound that a tire uses can sometimes dictate its actual performance. As mentioned earlier, the tire uses a dual silica all-season compound.
This advanced compound ensures that the tire could stand high temperatures because it can quickly cool down. What is more impressive is that the same material is responsible for giving the tire a firm grip on wet or snow-covered roads.
Mild Asymmetric Tread Pattern
The mild asymmetric tread pattern of the tire ensures a comfortable driving experience as it minimizes vibration when you take bumpy roads. This design is also responsible for the minimal noise that the tire makes while it is in motion.
Notched Shoulders
Together with the four circumferential grooves, the notched shoulders of the tire ensure efficient water evacuation to reduce the tendency of hydroplaning by making sure that the tire keeps in contact with the surface.
Four Circumferential Grooves
This particular feature of the tire works hand-in-hand with the tire's notched shoulders to make the tire highly resistant to skidding.
Zigzag Sipes
On the other hand, the zigzag sipes are responsible for creating biting edges so that the tire can establish reliable traction on wet and wintry roads.
This feature effectively works to allow your vehicle to maintain its road contact despite the presence of water and light snow.
ESCOT Casing Technology
This Kumho-exclusive technology enhances the comfort level of your ride. It acts as a shock absorber when you experience uneven road surfaces. Another benefit of this technology is it allows the tire to provide a quicker and more accurate steering response. It also prolongs the life of the tire.
Internal Structure
This tire can offer high-speed stability because its internal structure features twin belts reinforced with spirally wrapped nylon edge layers. It further uses jointless bead bundles that help isolate bumps and vibrations.
This internal structure setup is the reason for the tire's longer tread life. The tire boasts a 75,000-mile treadwear warranty.
How Kumho Solus TA11 Performs on Different Road Conditions
How It Performs on Icy/Snowy Roads
If you live in an area that frequently experiences extreme wintry conditions, this section would be interesting for you. You surely would want to find out how this tire fares on snow-covered roads. Let's talk about it.
Being an all-season tire, the Kumho Solus TA11 will perform dependably on ice and snow. The tire's tread design ensures that it can deliver reliable traction on these terrains. It has multiple biting edges that make this happen.
However, don't expect that this tire will conquer deep snow or severe wintry road conditions. This model is just not for that kind of road condition. You can trust this tire for light ice and snow driving, but drop the idea of using the same for deeply snow-covered roads. It is not worth the risk.
How It Performs on Wet Roads
A wet road can be a dangerous terrain you can take. If your tires are incapable of establishing solid traction, you would likely encounter an accident. Water can indeed affect the traction level of a tire, especially if your tires do not have a working traction mechanism.
Luckily, you can trust this tire on wet roads as it can efficiently disperse water due to its notched shoulders and four circumferential grooves. The tendency of hydroplaning is very minimal. With this assurance of safety, you can go out anytime, even when it rains.
In addition, the tire features tiny waffle sipes on its tread blocks that enhance traction on wet surfaces. You can drive at moderate speed in the rain without worrying so much about skidding. Because of the tire's excellent wet traction, cornering becomes very safe.
How It Performs on Dry Roads
Dry road driving can be exhilarating because you can speed up with minimal risk compared to what you can do on wet roads and snowy roads. The feeling of comfort and control are things that enthusiast drivers usually look for in a tire.
This tire provides exemplary performance on the dry pavement. For average speed, this tire feels like a high-performance tire. It delivers outstanding traction, accurate steering, and enhanced handling. It will give you a feeling that you are in control of everything.
On top of the massive performance of this tire on dry roads, its noise level is also commendable. The tire's quietness is possible because of the mild asymmetric tread pattern. Thus, driving this tire on dry roads means comfort.
Price Range
The Kumho Solus TA11 is among the most affordable tire in its class. Its price ranges from $50 to $140, depending on the size. The quoted price is just an estimate, and prices may vary from one store to another.
If you want to get some discounts, you can always look for seasonal discounts or promotional offers. Online tire sellers usually offer them.
Warranty Terms
The Kumho Solus TA11 comes with a 75,000-mile tread warranty. This warranty becomes 50% if the front and back tire sizes are not the same.
It also offers a guaranteed uniformity for one year or the first 2/32 inches of tread wear.
Added warranty is the materials and workmanship warranty that is good for six years. Users can request a free replacement during the first year of the first 2/32 inches of tread wear. Then, a prorated for the remaining period or down to the final 2/32 inches of tread depth.
Moreover, the brand offers a road hazard warranty during the first year or the first 2/32 inches of wear. It is, of course, subject to some guidelines. The road hazards covered include unrepairable cuts and punctures.
Vehicles Kumho Solus TA11 Tires Will Fit
Below are some SUVs that the tire would fit. If your vehicle is not on the list below, check with the tire shop where you are purchasing if it is compatible with your car. Or, if you know your tire size requirement, you can refer to the available sizes in the table below.
| | |
| --- | --- |
| BRAND | MODEL |
| Buick | Enclave |
| Chevrolet | Tahoe |
| Chevrolet | Blazer |
| Chrysler | PT Cruiser |
| Dodge | Durango |
| Ford | Everest |
| Hyundai | Grand Starex |
| Land Rover | Range Rover Velar |
| Mitsubishi | Pajero |
| Peugeot | 3008 |
| Volkswagen | Tiguan |
brief list of Kumho Solus TA11 compatible vehicles
A full list of available sizes of the tire can be found here.
RIM SIZE
TIRE SIZE
13″
175/70R13 82T BSW
185/70R13 86T BSW
155/80R13 79T BSW
14″
175/65R14 82T BSW
185/65R14 86T BSW
185/70R14 88T BSW
195/70R14 91T BSW
215/70R14 96T BSW
15″
185/60R15 84T BSW
195/60R15 88T BSW
205/60R15 91T BSW
205/65R15 94T BSW
215/65R15 96T BSW
205/70R15 96T BSW
215/70R15 98T BSW
16″
205/55R16 91T BSW
205/60R16 92T BSW
215/60R16 95T BSW
225/60R16 98T BSW
235/60R16 100T BSW
215/65R16 98T BSW
17″
215/60R17 96T BSW
225/60R17 99T BSW
235/60R17 102T BSW
18″
235/65R18 106T BSW
brief list of Kumho Solus TA11 tire sizes
Frequently Asked Questions
1. Is the Kumho Solus TA11 a good tire?
It is a very responsive tire, and the cornering and stability are also exceptional. It works like a high-performance tire on dry pavement. Driving your vehicle on wet roads would not be much of a concern because it is hydroplaning resistant. It can also perform well on light snow.
2. Where are Kumho tires made?
Kumho Tire is a company that hails from South Korea. It has multiple manufacturing facilities in Korea, including the Pyeongtaek Plant, the Gokseong Plant, and the Gwangju Plant. This Korean-made brand is making its success in the U.S., with 20% of its sales coming from the North American market.
3. Who makes the Kumho Solus TA11?
This tire is a product of Kumho Tire, one of the tire giants in South Korea. It is currently the second-largest manufacturer in South Korea. Kumho Tire is a subsidiary of the Kumho Asiana Groups, which started operation back in the 1960s.
4. Is the Kumho Solus TA11 noisy?
This model is surprisingly quiet because of the mild asymmetric tread pattern that helps suppress road noise. Individual users who had experience with the tire confirm that it is indeed a superbly serene tire. This added value is among the reason why the tire provides a comfortable driving experience.
The Verdict
With all the qualities of the Kumho Solus TA11 that we've covered so far, I would say that this model is worth trying. It possesses all the essential attributes of an ideal tire, from traction to handling.
You can drive your car confidently in the rain because the tire is hydroplaning resistant. You can enjoy comfortable dry road highway driving because the tire offers a high-performance-like capability.
The only shortfall of the tire is its inability to provide optimal performance in severe ice and snow. Well, we should not expect that kind of performance from this category of a tire.