Are you a spirited driver looking for your next set of ultra-high-performance tires? If you are, you have just found yourself a good read because you are about to meet the Goodyear Eagle Exhilarate from the Goodyear Tire & Rubber Company.
The Goodyear Eagle Exhilarate is a perfect tire for your power vehicle that is sure to deliver high-speed traction and enhanced handling in dry road conditions. It can further offer secure road grip in harsh weather conditions such as wet roads and light snow.
This all-season ultra-high-performance tire comes with Goodyear technologies, including ActiveBraking Technology, ActiveGrip Technology, and ActiveStrength Technology.
There is more to discover with this excellent tire, so read on and learn about the tire's unique features and exemplary performance. We will also take a look at how this tire fares in different road conditions. Additionally, we will explore the warranty terms of this tire.
Overview of Goodyear Eagle Exhilarate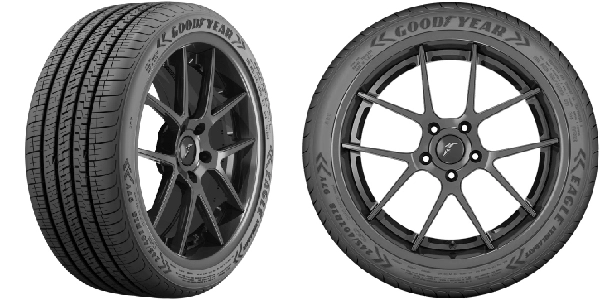 The Goodyear Eagle Exhilarate succeeded the Eagle F1 all-season tire, another ultra-high-performance offer from Goodyear. Goodyear has been in the industry since the 80s, so no wonder it is among the most sought brands in the market.
The Goodyear Eagle Exhilarate results from more than three years of research and testing by Goodyear to produce a tire that will target passionate and well-informed drivers. It boasts a bold appearance style that compliments consumer vehicles.
As mentioned earlier, this tire features some of Goodyear's innovations. I will discuss these technologies in the following sections and highlight the tire's unique features and performance.
ActiveBraking Technology
This technology is responsible for ensuring a solid tire-road contact during hard braking. It can do it because of the innovative tread block design. The ActiveBraking Technology provides enhanced handling and exceptional braking traction in dry and wet surfaces.
It is indeed giving the tire an ultra-high-performance quality. If you are a spirited enthusiast driver, you would understand very well why the tire's contact with the road must be reliable. It gives you a feeling of control over your vehicle resulting in more precise handling.
ActiveGrip Technology
ActiveGrip Technology, on the other hand, is the technology that ensures even distribution of pressure in the footprint. This mechanism is crucial for the stability of the tire's structure.
Moreover, this is also critical to promote even tread wear and increase the life of the tire. It is also essential to understand that the even distribution of pressure in the footprint directly influences how quickly and accurately the tire responds to the driver's commands.
ActiveStrength Technology
To deliver even more improved and confident handling, Goodyear incorporated its ActiveStrength technology. This technology is responsible for the robust and lightweight construction of the tire. The tire features eight built-in wear bars through the tread to enable users to measure tread depth and vehicle alignment easily.
The tire's internal construction features a two-ply polyester cord casing and lightweight, high tensile strength steel belt, and two polyamide reinforcement plies. These features make the tire very lightweight and highly capable of providing excellent high-speed performance.
Tread Design
The tire is using a high-silica compound to ensure outstanding all-weather traction. The silica-based compound makes the asymmetric tread that comes with unique features for enhanced performance.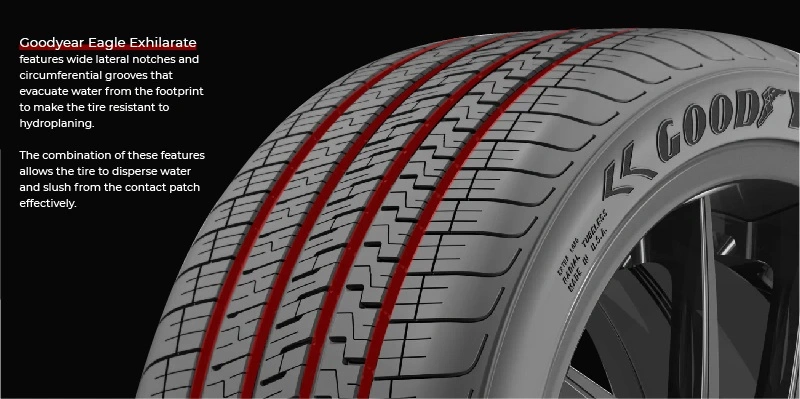 The tire's tread has a three-rib pattern to provide reliable grip on slippery and dry surfaces. It also features sipes that strengthen the tire's traction in wet, ice, and light snow.
Moreover, the tire also features wide lateral notches and circumferential grooves that evacuate water from the footprint to make the tire resistant to hydroplaning. The combination of these features allows the tire to disperse water and slush from the contact patch effectively.
Treadwear Indicator
The Goodyear Eagle Exhilarate comes with a wear gauge so that that the user can easily identify the tire's wear and vehicle alignment. This feature allows the vehicle owner to know when to replace the tire to ensure safety.
The treadwear indicator is strategically placed in eight locations around the tire so that the user can quickly check it.
Performance Highlights
The tire promises to give your premium high-speed vehicles excellent traction and grip in various road conditions. In addition, it can deliver a shorter braking distance to ensure a safe stop. The handling is also outstandingly impressive, even on challenging road surfaces.
Control and stability are also optimal, even at high speeds. The steering accuracy of this tire will allow you to feel that you are in total control. This tire is indeed a good option for you.
How Goodyear Eagle Exhilarate Performs on Different Road Conditions
Icy/Snow Roads
The tire's tread pattern promotes strong traction on light ice and snow. The braking distance of the tire on this road condition is also very reliable. The sipes on the tread of the tire help the tire achieve a firm grip on slippery surfaces.
The handling and control capabilities of this tire in light snow are also positive. Do these excellent capabilities of the tire make this tire an ideal snow tire? Obviously, NO. The brand indicates it can provide decent performance in light ice/snow conditions only.
Most, if not all, all-seasons tires boast some snow capabilities. Some would even claim to be able to handle deep snow. However, dedicated winter tires are still the best option if your area is frequently experiencing severe winter.
Wet Roads
Driving on wet roads is something we cannot avoid. So, the tires we install on our vehicles must be capable of providing us with a safe drive. It should efficiently provide a reliable contact patch to avoid instances of skidding. Furthermore, the braking distance should also be trustworthy to ensure a safe stop.
The Goodyear Eagle Exhilarate is more than capable of providing the expected performance that you need to drive your vehicle on wet surfaces. Its five-rib pattern ensures a firm grip not only on dry pavement but also on slippery surfaces.
The sipes on the tire's tread also help the tire's traction in wet road conditions. The tire can efficiently disperse the water from the footprint because of the wide lateral notches and circumferential grooves. These features are what make the tire resistant to hydroplaning.
Individual users laud the quality handling and control of the tire on wet surfaces. In addition, the braking distance on wet surfaces is also reportedly shorter to ensure that your vehicle stops as you command it to stop.
Dry Roads
There is a lot to like about how this tire performs on dry roads. If you love speeding up, this could be the tire for you. The tire can provide an outstanding grip on dry roads. This reliable traction allows the tire to be more responsive to the driver's command.
This ultra-high-performance tire will give you a sporty feel. It gives you excellent handling and enhanced comfort on dry roads. Cornering performance is also very reliable. Thus, you can be confident that you will have a safe drive with this tire.
On the other hand, some users report that the braking distance of the tire on dry surfaces is only average. Well, as for me, so long as the braking distance is decent enough to keep my drive safe, I can compromise a bit.
The tire may produce a bit of noise. Some users report it is a bit noisy, especially during speed driving. However, it is not the noisiest tire in its class. I would still say that the tire is one of the best options if you want to get an all-out performance tire at a reasonable price.
Price Range
Depending on your size requirement, you can get this tire from $150 to $360. However, the price may vary from one store to another.
If you want to get this tire at the lowest possible price, you can window shop or watch out for some seasonal discount or rebates.
Warranty Terms
Knowing the tire's warranty terms is essential because it allows us to estimate how long the tire would last on our vehicles. Driving conditions directly influence the tire's tread life.
The Goodyear Eagle Exhilarate comes with a limited warranty of 6 years or 45,000 miles, whichever comes first. However, if the rear tires are different in size than the front, the warranty is only 50%.
The tire also comes with a uniformity warranty of 1 year or the first 2/32 inches of tread wear.
Goodyear also offers a Material and Workmanship warranty for six years in which users can get a free replacement during the first year or the first 2/32 inches of wear. Then, it provides a prorated amount until the final 2/32 inches of tread wear.
As part of Goodyear's commitment to providing 100% satisfaction, it also offers a 30-day trial period where buyers can test their selected tires and request a new set if they are not satisfied.
Vehicles Goodyear Eagle Exhilarate Fits
Below are some SUVs that the Goodyear Eagle Exhilarate would fit. The list is not complete, so if your ride is not listed, you can refer to the available sizes of the tire in the following table.
| | |
| --- | --- |
| BRAND | MODEL |
| Chevrolet | Captiva Sport |
| Holden | Captiva |
| Honda | CR-V |
| Hyundai | Tucson |
| Kia | Sportage |
| Mitsubishi | Outlander |
| Mitsubishi | Mitsubishi |
| Subaru | Forester |
| Volvo | XC40 |
| Volvo | XC70 |
Available sizes:
| | |
| --- | --- |
| RIM SIZE | TIRE SIZE |
| 17″ | 215/45ZR17 91W225/45R17 94W245/45ZR17 99Y |
| 18″ | 225/40R18 92Y225/45ZR18 95Y225/50ZR18 95W235/40ZR18 95Y245/35R18 92Y245/40R18 97Y245/45ZR18 100Y255/40R18 99Y275/35R18 95Y |
| 19″ | 225/45R19 96W235/40R19 96Y245/40R19 98Y245/45ZR19 102Y245/50R19 105W255/40ZR19 100Y275/35R19 100Y |
| 20″ | 245/40R20 99Y275/30ZR20 97Y275/45R20 110Y |
Frequently Asked Questions
Is the Goodyear Eagle Exhilarate tire good?
The tire boasts outstanding all-season traction brought by the technologies it bears, including ActiveBraking Technology, ActiveGrip Technology, and ActiveStrength Technology. It is a good option if you are looking for a high-performance tire to provide you an enhanced handling and cornering performance with superior braking capability.
Can the Goodyear Eagle Exhilarate tire perform in ice/snow?
The tire can perform in light ice and snow only. It possesses outstanding grip and traction, and the handling is also very reliable. However, this tire is not ideal for severe snow. This tire is not a dedicated snow tire; it cannot provide optimal performance as proper snow tires do.
Is the Goodyear Eagle Exhilarate tire noisy?
Users report that they hear a bit of noise from the tire's tread. Some users also suggest that even though it produces noise, it is still among the quietest tire in its class. Despite this, the tire is still among the best ultra-high-performance tire for your power vehicle.
What is an ultra-high-performance tire?
Ultra-high-performance tires that can handle up to a maximum speed rating of 100 mph or higher. These tires have very high levels of grip on dry and paved roads. Some brands of these tires possess excellent grip on wet roads. These tires are usually more expensive than standard tires.
Final Thoughts
This tire is quite an option if you are a spirited driver searching for an excellent ultra-high-performance tire for your power vehicle. It is capable of providing outstanding traction and grip even at high speed. Additionally, you will experience enhanced handling and control when you mount this tire on your vehicle.
To ensure the delivery of the performance you need, Goodyear puts its latest innovations in the making of this tire. Its all-weather performance is quite impressive as well.
The tire does have some disadvantages, like the minimal noise it produces and the average braking distance on dry roads.