Imagine yourself doing regular highway driving, then the thought of going off-road for a quick adventure just popped up. Then you realize that your tires are not capable of handling off-road terrains. It would be a bit frustrating for sure. If you love going off-road, you must know about the BFGoodrich All-Terrain T/A KO2.
This all-terrain tire comes with loads of great features and benefits. It offers outstanding off-road performance. It has excellent traction on hardpacked surfaces as well as on mud and snow. It further provides a good highway and dry road driving experience.
The enhanced performance of this tire is due to the unique features and technologies employed in its production including, the specially formulated rubber compound, the CoreGard™ technology, the computer-aided tread design, efficient shoulder blocks, 3D Active Sipe Technology, and a lot more.
Read on to discover the BFGoodrich All-Terrain T/A KO2 further.
Overview of BFGoodrich All-Terrain T/A KO2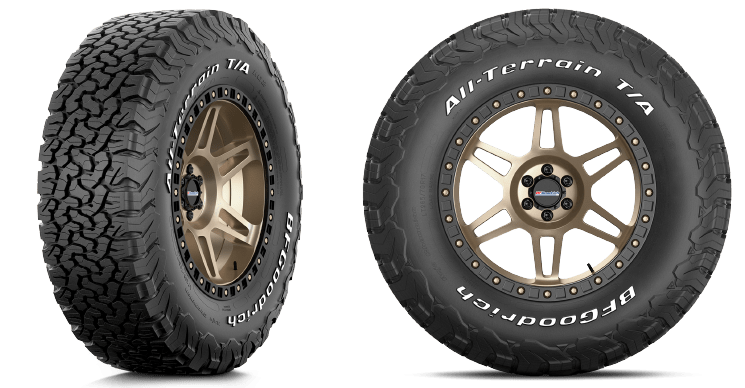 BFGoodrich has had tremendous success in the tire industry. It has won several competitions including, 28 victories at the Baja California Competitions and 13 wins at the Paris-Dakar Rally.
The company is leading the production of the toughest off-road tires. It is the first company to produce the first all-terrain 4WD tire back in 1976. So, as far as reputation is concerned, BFGoodrich is above the charts.
The BFGoodrich All-Terrain T/A KO2 is an all-season all-terrain tire that provides drivers the on-/off-road confidence and control. As the name of the tire suggests, it offers "key benefit on-/off-road" (that is what KO means; the "2" indicates it is a second-generation).
Let's take a closer look at the materials of this tire and the distinct features that help it deliver exemplary all-season and all-terrain performance.
High-End Tear Resistant Compound
BFGoodrich employs a potent compound that effectively resists cuts and tears. This tear-resistant compound allows the tire to have longer tread life and less prone to damages, especially during off-road challenges.
The Tread Design
The high-grade compound then becomes an aggressive tread design. With the help of computer technology, a high-void all-terrain pattern with interlocking tread blocks came about. The tire's tread also features 3D siping technology for superior traction performance.
Robust Construction
The tire's internal structure features twin steel belts reinforced with spirally wrapped nylon on top of the TriGard (3-ply polyester cord sidewall construction). This setup results in a robust and durable tire.
The tire further features a single strand of bead wire that is continuously wrapped multiple times to achieve the desired strength and enhanced fit for an improved riding quality.
Tough Sidewalls and Serrated Shoulder Design
The tire features a thick and rigid sidewall and a Serrated Shoulder Design. These two features work hand-in-hand to deliver additional traction in deep dirt, sand, or rocks during an off-road adventure. The tire's sidewall also uses the CoreGard™ Technology.
CoreGard™ Technology
This race-proven and race-winning technology are responsible for providing the tire a superior and split-/bruise-resistant sidewall. The CoreGard™ Technology ensures that the tire's sidewall will not fail during extreme off-road encounters. Because of this technology, the tire's sidewall can deflect protruding objects and minimize the chances of snags.
Longer Tread Life
This tire utilizes a specially formulated rubber that can withstand harsh road conditions. The interlocking tread design gives the tire an improved lifespan as it enhances tread block stability for more even tread wear.
Moreover, the tire features a stone rejection mechanism that protects the tire against stone drilling.
Outstanding Mud and Snow Traction
This tire is rated M+S by the Tire and Rubber Association of Canada (TRAC). It exceeded TRAC's severe snow traction requirements, which tells us that this tire's mud and snow traction is very advanced.
Responsible for this excellent performance are:
The tire's protruding sidewall rubber blocks – this feature improves traction over mud and snow
The raised bars in the shoulder tread – this feature helps release compacted mud
The staggered shoulder blocks – this feature allows maneuverability in soft soil and deep snow
3D active sipes – this feature provides more biting edges to enhance snow traction further
There is more to talk about this tire, but we will now switch to the actual performance of the tire in various road conditions. We will see if this tire satisfies your preferences for an all-season all-terrain tire.
How BFGoodrich All-Terrain T/A KO2 Performs on Different Road Conditions
How It Performs on Ice/Snow
I don't think I need to elaborate further on how this tire provides exemplary performance on snow. It comes with loads of features that ensure superior traction on ice and snow. However, this tire may not perform best on roads covered with solid ice. We must not forget that this is not a dedicated winter tire.
The tire bears the M+S rating of TRAC; it has exceeded TRAC's requirements. So, as far as how it performs in snow-covered terrains, you can be confident that this tire will give you satisfactory performance.
Some users report that the tire is highly reliable, even on deep snow. But of course, this is not a dedicated snow tire, so we must not compare its performance with actual winter tires.
How It Performs on Wet Roads
Driving your vehicle on wet surfaces is not so much of a concern if you have the BFGoodrich All-Terrain T/A KO2 because the tire provides all the performance levels you need.
The tire's performance on wet roads is also awe-inspiring. It is highly resistant to hydroplaning due to its large grooves that ensure a solid road grip. On top of this, the tire offers outstanding wet road traction that results in a stable and safe cornering.
How It Performs on Dry Roads
The expected shortfall of a hybrid tire like the BFGoodrich All-Terrain T/A KO2 is its ability to provide a reliable highway performance. Well, not for the case of this model. BFGoodrich has overcome this challenge as the tire can give commendable performance even on paved roads regarding handling and braking.
High-speed directional stability is also not a concern. Thus, this tire can still be ideal for your daily highway driving. However, if you speed up, expect to hear a slight growling noise because of the tire's tread design.
How It Performs on Off-Roads
I should say that off-road is the home of this tire. The BFGoodrich All-Terrain T/A KO2 can confidently handle hardpacked surfaces such as dirt and gravel.
Do you think about large off-road rocks? I thought about that too. Surprisingly, it is not an issue with this tire. It can manage large stones because of its rugged and durable construction.
You should also not worry if you come across muddy terrains as this tire is more than capable of handling mud. You will still achieve maximum mud traction because of its ability to release compacted dirt and to continue functioning even in soft soil.
Pros & Cons of BFGoodrich All-Terrain T/A KO2
Price Range
The BFGoodrich All-Terrain T/A KO2 ranges from around $150 to $500, depending on your tire size.
You can watch out for occasional rebates that some tire stores may offer to avail of it at a discounted price.
Warranty Terms
This tire comes with a 50,000-mile treadwear warranty, which is impressive in this category. It also provides a uniformity guarantee for the first 25% of tread wear.
If further offers materials and workmanship warranty for six years, users can request a free replacement during the first 25% tread wear. After the first year, BFGoodrich gives a prorated amount for the remaining period or the final 2/32 inches of tread depth.
Vehicles BFGoodrich All-Terrain T/A KO2 Will Fit
See if your vehicle is on the list of cars that the tire will fit. You may also refer to the size table below and match your rim size.
| | |
| --- | --- |
| BRAND | MODEL |
| Chevrolet | Silverado |
| Chevrolet | Tahoe |
| Dodge | Durango |
| Ford | Escape |
| Honda | CR-V |
| Mitsubishi | Montero |
| Nissan | Xterra |
| Toyota | Tacoma |
| Toyota | 4Runner |
| Toyota | Land Cruiser |
brief list of BFGoodrich All-Terrain T/A KO2 compatible cars
A full list of available sizes can be found here.
RIM SIZE
TIRE SIZE
15″
LT215/75R15/C 100S BSW
LT235/75R15/C 104S RWL
30—9.50R15/C 104S RWL
31—10.50R15/C 109S RWL
33—10.50R15/C 114R RWL
16″
LT215/65R16/D 103S BSW
LT235/70R16/C 104S RWL
LT245/70R16/D 113S RWL
LT255/70R16/E 120S RWL
LT265/70R16/E 121S RWL
LT275/70R16/D 119S RWL
17″
LT225/65R17/D 107S BSW
LT245/65R17/D 111S RWL
LT265/65R17/E 120S RWL
LT275/65R17/E 121S RWL
35—12.50R17/E 121R RWL
37—12.50R17/D 124R RWL
18″
LT255/55R18/D 109R BSW
LT265/60R18/E 119S BSW
LT285/60R18/D 118S RWL
34—12.50R18/E 121R BSW
35—12.50R18/E 123R RWL
20″
LT275/55R20/D 115S BSW
LT285/55R20/D 117T BSW
LT305/55R20/E 121S BSW
LT275/60R20/D 119S BSW
brief list of BFGoodrich All-Terrain T/A KO2 sizes
Frequently Asked Questions
1. Is the BFGoodrich All-Terrain T/A KO2 worth the money?
There is no doubt that it is worth your investment. Its balanced traction performance on mud, wet roads, dry roads, off-roads, and snow is a big deal. If you use your vehicle for daily highway driving, the tire won't fail you as it is very stable on paved roads.
2. Is the BFGoodrich All-Terrain T/A KO2 suitable for snow driving?
The tire exceeds the mud and snow (M+S) rating requirements, so it means this tire can provide exemplary performance in snow. The tire's protruding sidewall rubber blocks, staggered shoulder blocks, and 3D sipes ensure the delivery of superior snow traction.
3. Is the BFGoodrich All-Terrain T/A KO2 quiet?
This tire produces minimal noise due to its tread design. It is typical for an all-terrain tire with an aggressive tread design to make a little road noise. However, this does not outweigh the overall excellent performance of the tire.
Conclusion
The BFGoodrich All-Terrain T/A KO2 offers a balanced all-terrain and all-season performance. This tire is something you should seriously consider, especially if you always go on various road conditions.
Its most vital asset is the off-road ability. It can handle off-road conditions with no worries. However, highway driving stability is also very remarkable. You can safely speed up this tire, but you would have to bear a little road noise.
Moreover, its performance on wet roads as well as on snow-covered roads is outstanding. The level of traction it achieves on these terrains will give you a feeling of safety.