New season, a new set of tires? It is quite a hassle, isn't it? Changing tires every now and then is probably not a very easy task to do for most of us.
So, choosing a tire that performs under different road and weather conditions is the wisest and the most economical decision you could ever make.
When you have an all-season tire like the Primewell PS890 Touring, you can drive any day you want in any season without worrying about mileage and safety.
Stick around to discover the great features of this high-quality all-season tire, and learn how it works on different terrains.
Primewell PS890 Touring: Overview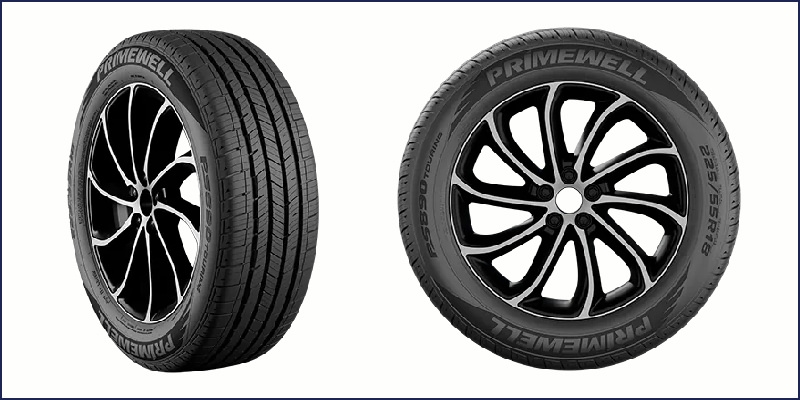 Before we talk about the basic features, let's talk a little bit about who made it and its background.
The Primewell PS890 Touring is made by Primewell Tires, a company that prioritizes high-quality and safe driving experience and has been in the tire industry since 1951. Primewell Tires is probably not a household name, but its long worldwide existence is definitely a statement.
As far as the company's reputation is concerned, Primewell Tires is not behind. It boasts its high-quality control systems, environmental conservation efforts, and meticulous and complex production process.
Now, let's get back on track.
What you are about to discover is a tire that has excellent all-weather traction capability, upgraded, controllability, and high driving comfortability.
This tire's overall package is set to handle tough road conditions like wet and snowy surfaces. It boasts its water evacuation channels that help prevent skidding in wet conditions.
The large blocks and tread stiffness of the Primewell PS890 provide improved handling and cornering performance. Because of these large blocks, the driver's steering is faster and more precise. They keep the vehicle cemented on the road when cornering to ensure that the driver is in constant control.
Take a further look at the detailed key features of this tire listed below. These details should inform you about how efficient and effective this tire is.
Material and Technology
Using the best materials, machines, and the process is among the many things that Primewell Tires is proud of. This is anchored on its top priority of providing high-quality and safe products such as the Primewell PS890 Touring. A meticulous process of mixing, building, curing, and testing is done for every tire it produces.
Just like any recipe, the exact compound used in production is top-secret. However, one thing is obvious, the silica compound used for this tire provides less rolling resistance and more grip at the same time.
Moreover, the silica tread compounds improve mileage by reducing your vehicle's rolling resistance.
Tread Design
The Primewell PS890 Touring has symmetrical grooves on the tread along with biting edges. These features ensure that its performance is not affected by different weather conditions.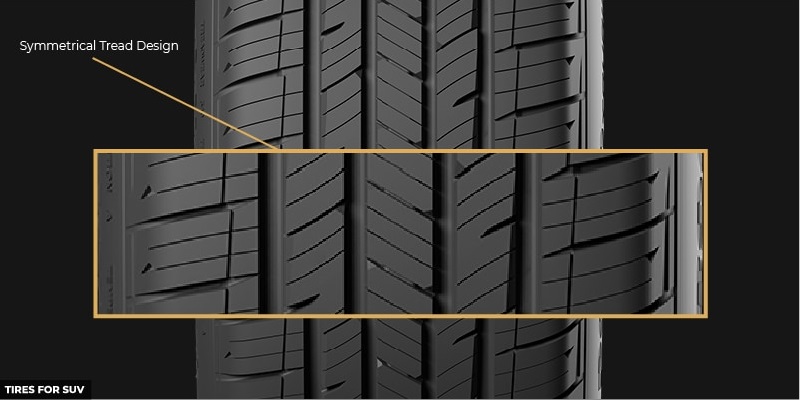 Its large shoulder blocks add extra stability to the cornering performance. Your vehicle needs to stay stable and firmly cemented on the road when making sharp turns to avoid accidents. This tire provides nothing less in ensuring that the driver's maneuvering is smooth and safe.
As mentioned earlier, it has water evacuation channels that allow the tire to keep rolling without skidding when driving in wet conditions. Because of these evacuation channels, the tire keeps its contact on the road as it evacuates the water as soon as it gets in contact with the tire. This means safety.
It also has full-depth tread sipes that improve traction performance. Traction is the resistance between the tire and the terrain in reaction to the engine force. Good traction performance is essential to ensure mileage and safety when applying brakes.
You probably experienced driving very uncomfortably due to the noise your tires make, or you may have heard from friends who have experienced it. The noise your tires make can be very annoying especially when you travel long distances.
I am going to tell you good news.
The tread pattern ensures a comfortable ride as it includes a changeable phase angle the minimizes the noise you hear while driving. It does this by generating a special sound frequency that cancels out the sound waves created during the drive. Amazing, isn't it?
Another thing that commonly annoys us while driving is the vibration due to poor tire performance. This is not the case for the Primewell PS890 Touring, as it features a ribbed pattern tread. The ribbed pattern of the tread lowers the stress level while driving as it helps in reducing road vibrations. Now, you can go for miles without the stress caused by driving vibrations.
The Primewell PS890 has a Uniform Tire Quality Grading (UTQG) treadwear rating of 540, which translates to 150,000 miles of travel distance.
UTQR is a set to provide standards for passenger car tires that measure a tire's treadwear, temperature resistance, and traction based on government-specified tests.
Traction
You have already read how important traction is when you are driving. Let's talk a little bit more about it and what this tire has to offer.
Because of the tire's top-of-the-line silica compound composition and its full-depth tread, it got an 'A' UTQG traction rating, which is the second-highest rating. This rating is obtained by testing the tire's ability to stop the vehicle on wet pavement and is based on the braking traction test.
The manufacturers did not highly point out the traction capability of the tire on ice and snow. However, user reviews on the tire's traction performance reveal that it delivers the expected performance on these surfaces.
Temperature
When it comes to temperature handling, cast your worries away. The Primewell PS890 Touring graded perfect in handling high temperatures.
Temperature increases as you speed up when you are driving, and this may cause the tire to degenerate quicker and even lead to sudden tire failure.
The National Highway Traffic Safety Administration and the Department of Transportation (NHTSA) reported that over 700 people die every year due to accidents caused by motor vehicle tire failure.
This data is probably the reason why Primewell Tires did not settle for less. This particular tire got the highest UTQG rating for temperature or a rating 'A'. This fact will ease your mind when you are speeding up in hot conditions.
How Primewell PS890 Performs in Different Road Conditions
When we talk about tire performance, we need to consider the tire's maximum speed capability, maximum load capacity, and tread life.
How is the PS890 faring on these aspects?
The Primewell PS890 Touring has a minimum 'H' speed rating, which means it is approved for speeds up to 130 mph under optimal conditions. The speed rating will increase as the tire size increases.
As for the tire's tread life, it has a 50,000 miles treadwear warranty. Although this is a bit short compared to the other tires in the same category, this is already a perfect tread life for its price. The wear and tear of the tire's tread also vary depending on the type of terrain you frequently take.
Regarding the tire's load capacity, the PS890 has a minimum 'SL' or standard load rating. However, the load capacity increases as the tire size increases.
As you already discovered, the PS890 is an all-season tire and is expected to provide your expected performance irrespective of the road condition.
Now, take a look at how this tire performs in various road conditions below.
Performance on Ice
If you constantly drive on ice, this section will be of your interest. You probably wonder if the Primewell PS890 Touring really works well on ice.
Because of its effective traction performance brought by the features already mentioned, the PS890 can be expected to work well on icy terrain. The combined tread features ensure that your vehicle stays stable even on ice.
The chewing gum-like special rubber tread formula of the tire ensures an improved grip, traction, and braking performance at low temperatures. With these facts, you can be confident that your ice driving is safe.
Performance on Snow
You probably have heard on the news about cars hydroplaning when driving on snowy roads. This, for sure, is a scary and life-threatening situation.
So, how does it handle this difficult terrain?
The biting edges of the Primewell P890 allow the tire to deliver superb performance even on snow. These edges hook the tire on the snow to keep you safe when driving on a snowy road.
To even upgrade this snow performance, the tire also features large shoulder blocks that work hand-in-hand with the biting edges to keep your vehicle steady and stable during sharp turns.
Just like how the tire performs on ice, the special rubber tread formula will keep you in your course.
Performance on Wet Roads
You probably understand at this point now how this tire performs in wet conditions.
To further elaborate on its great performance, the Primewell PS890 Touring performs very well on wet roads because of its water evacuation channels. These water evacuation channels minimize skidding accidents as the water is evacuated when the tire comes into contact with wet conditions.
This is indeed an essential feature as we commonly encounter wet roads. This feature also allows you to keep your mileage even when driving on watery roads.
Performance on Dry Roads
When driving on dry roads, the usual problem is the tire's rising temperature as you travel longer. The longer you drive, the higher the risk of your tire heating up, leading to failure.
Luckily, this is not a problem you should worry about when you use the Primewell PS890 Touring, as this tire is designed to stand high temperatures.
With its 'A' UTQG rating, you can drive on dry roads for as long as you want without worries that your tire would fail.
The traction and the grip level on dry roads are as excellent as it is on the other surfaces. It is the reason why this is branded as an all-season tire, as the basic features of the tire works irrespective of the road conditions.
Price Range
To get the PS890, be prepared to spend between $50 to $150. This is not a bad deal for a high-quality all-season tire at all.
Prices may vary depending on where you shop. You can also find cheaper slightly-used Primewell PS890 Touring online if you do your search, such as what you can find here.
Warranty Terms
Now, let's talk about the Primewell PS890 Touring's warranty terms.
Though the PS890 includes great features and offers excellent performance, it has a limited warranty compared to other tires of the same category. It only has 50,000 miles mileage warranty, which is a bit short compared to others.
It does not offer any other warranties other than the mileage warranty specified above. This means fitness or merchantability warranties are not covered.
However, brand new or factory defects in which the tire has not been mounted or driven on can be availed.
Does this make this tireless desirable? I don't think so. Its price is reasonably affordable and the features you get are undoubtedly great. I have looked on the web to find any warranty issues related to this tire.
Guess what? I could not find any substantial evidence of situations that require the tire to be replaced. This could mean that the PS890 delivers its promise to consumers.
What Vehicles Will Primewell PS890 Touring Fit
The Primewell PS890 Touring fits on various SUVs.
Provided on the table below are some of the SUV brands and models where the PS890 would fit. If your vehicle is not on the list, it is best to check with local tire dealers and enquire if this high-quality tire would fit your ride.
| | |
| --- | --- |
| BRAND | MODEL |
| Acura | MDX, RDX |
| Audi | Q5, Q7 |
| Cadillac | SRX, XT4 |
| Ford | Edge, Flex |
| Honda | Breeze, CR-V, Odyssey, Pilot |
| Land Rover | Freelander 2, Range Rover Evoque, Discovery Sport |
| Mercedes | GLE-Class, GLC-Class |
| Suzuki | Grand Vitara, Grand Normade |
quick list of Primewell PS890 Touring tires compatible vehicles
The PS890 comes in various sizes that make it fit on various SUVs.
Check out the different sizes of the PS890 from the table below and find the size that would fit your vehicle.
| | |
| --- | --- |
| RIM SIZE | TIRE SIZE |
| 15" | 185/60R15, 195/60R15, 195/65R15, 205/65R15, 215/70R15 |
| 16" | 195/50R16, 205/55R16, 205/60R16, 205/65R16, 205/70R16, 215/55R16, 215/60R16, 215/65R16, 225/60R16, 225/65R16, 235/60R16, 235/65R16 |
| 17" | 215/60R17, 215/65R17, 225/50R17, 225/55R17, 225/60R17, 225/65R17 |
| 18" | 225/60R18, 235/45R18, 235/50R18, 235/55R18, 235/60R18, 235/65R18, 245/60R18 |
| 19" | 235/55R19 |
| 20" | 245/45R20, 245/50R20, 255/50R20 |
Primewell PS890 sizes
Verdict
The Primewell PS890 Touring all-season tire offers superb performance under different weather conditions at a very affordable price. If you want to ensure safety and peace of mind when you travel with your SUV, this could be the perfect tire for you.
Its tread design and high-grade silica compound make it the ideal tire for your vehicle.
The tire's asymmetric ribbed pattern increases its grip capability in dry, wet, and winter weather, while the compound assures the tire's flexibility and performance in changing temperature levels.
The PS890 also ensures a quiet and comfortable experience while driving because of the variable phase shift along its tread area and its ribbed patterns that minimize vibration.
Control and stability are also top features of this tire because of its larger blocks that increase cornering and maneuvering performance.
Summing up all the features discussed here, the PS890 is a tire worth investing in. You can eliminate the hassle of worrying about your tires as the weather changes.
This means peace of mind and a safe year-round driving experience for you and your family.