Finding the right touring tire is always an issue as there are many things to consider, including mileage, ease and comfort, and above all, safety. Are you looking for some ideas around this? You are definitely in the right place.
Read on as I will give you a detailed review of Michelin X Tour A/S T+H, a high-quality all-season tire from Michelin.
The Michelin X Tour A/S T+H could be a perfect choice if your priority is fuel efficiency, quality, comfort, and safety.
When driving on different road conditions, we ask the typical questions: Will the tire last long? Does it prevent skidding on wet roads? Does it not make annoying noise while driving? Etc.
Michelin X Tour A/S T+H: Overview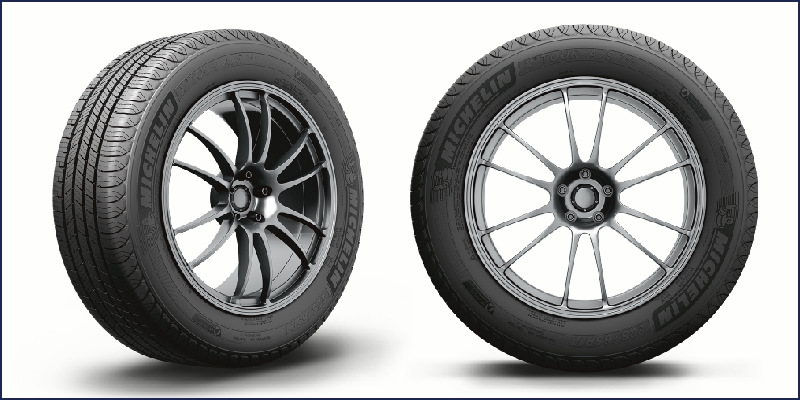 Michelin is, of course, known for producing tires for any vehicle. As the second biggest tire manufacturer, the company always strives to provide high-quality and high-performing products – the Michelin X Tour A/S T+H is yet another quality output.
Like any other all-season touring tires in the market, the Michelin X Tour A/S T+H offers exceptional performances, including longer tread life, smooth and quiet ride, excellent safety. It sounds like it fixes all your touring tire worries.
When we talk about safety, the tire's traction performance is something you should not miss. Of course, Michelin did not miss this as it employed the unique siping design of the IntelliSipe Technology. This technology ensures excellent all-weather traction.
Now let's talk more about the particular features of the Michelin X Tour A/S T+H.
InteliSipe Technology
Michelin has successfully developed some technologies to ensure the safety and reliability of the tires it produces. The InteliSipe Technology™ is a breakthrough technology that enhances grip and braking performance brought by the tire's optimized number of sipes. SUV owners know how important these features are.
The zig-zag sipes on the tire create more biting edges compared to the usual straight sipes. This results in improved grip performance of the tire on ice, snow, and wet roads.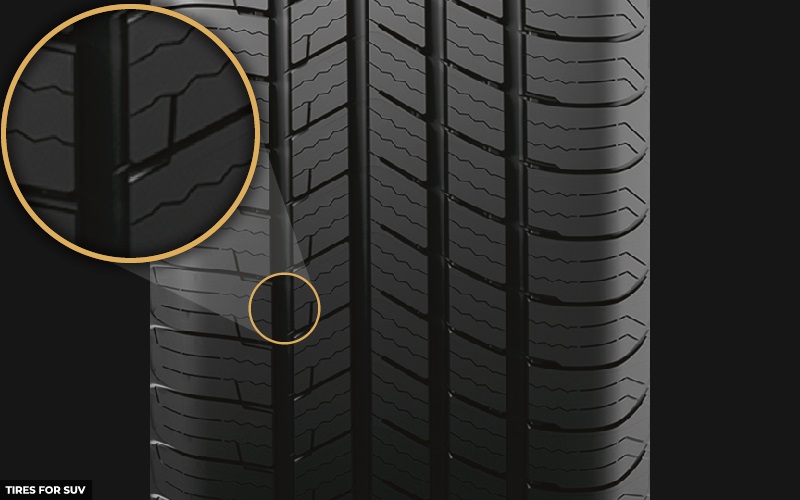 Of course, you must not compare the performance of the all-season tire with a snow tire. The snow tire performs better as it is engineered explicitly for snow driving.
However, the tire's zig-zag sipes create more biting edges than waved or straight sipes, which improves snow traction and braking and helps in rainy conditions. These biting edges are responsible for keeping your vehicle anchored on the road despite a rough situation.
With this technology, you can be confident that your SUV has got a tire with enhanced tread features to ensure your safety when driving.
MaxTouch Construction
The technology used in the product of the tire on focus is not only the InteliSipe Technology. Let me tell you about another technology used by the company in the production of its tires.
The MaxTouch Construction™ is another Michelin trademark used in its tires that adds to the fantastic performance of the tires it produces. This technology optimizes the tire's contact on the road, which results in reliable traction and longer tread life. The tread will last longer because the tire's touch on the surface is even.
It is indeed commendable. I would love to get a tire like this – something that has longer tread life. The warranty this tire offers is 80,000 miles – it is just exceptional. However, you must note that your tire's tread life may vary due to the terrain you frequently take and your driving style.
Does this MaxTouch Construction technology help in maximizing mileage? The answer is yes. A good traction performance always results in good mileage. Michelin boasts that this technology will help you save more fuel gallons than other leading tires in the market.
The MaxTouch Construction™'s internal structure includes twin belts with polyester. This composition made the tire more robust and more reliable, along with an extended tread life.
Long Tread Life
As you just learned, the fusion of the InteliSipe Technology™ and the MaxTouch Construction™ technologies gives longer tread life to the Michelin X Tour A/S T+H. I am not sure if you admit it, but in most cases, changing your SUV tires is not a thing you will always look forward to doing.
To reiterate, the MaxTouch Construction™ evenly distributes the tire's force as it gets in contact with the road. Wait, evenly distributed tire force? It is amazing! So, this means that you don't need to worry so much about tire rotation. This further means that the chance of the tire wearing faster is less. Lastly, it means saving!
Smooth & Quiet Ride
Who doesn't love a smooth and comfortable ride? Every driver's dream is to have a quiet ride on the road to enjoy the driving experience. But does the Michelin X Tour A/S T+H take care of this for you? Oh yeah, it does.
I don't know if tire noise matters to you when you are driving. It does matter to me, to be honest. Luckily, you can listen to your favorite playlist with the featured product while driving without the tire noise singing along. It will be a wonderful carpool karaoke experience for you and your family if you love music while driving on the roads.
The silica compound's asymmetric tread is remarkable. It reduces the tire's noise when you hit the road. The tire's tread blocks also reduce the vibration you feel while driving, which means comfort.
But can you still be comfortable when you are driving on snow or wet roads? Yes, you can. As previously stated, the zig-zag sipes in the tire's tread blocks create more biting edges that improve traction as you drive on these harsh surfaces.
Also read: Michelin CrossClimate 2 Review
How Does Michelin X Tour A/S T+H Perform in Different Road Conditions
Performance on Ice
The Michelin X Tour A/S T+H works very well on ice because of its excellent traction performance. How does it do this? The mechanism on how it works on wet roads is the same. The tire's biting edges will handle the enhanced traction to make sure that you keep rolling while driving on ice.
Some reviews say that the tire's ice and snow traction performance is not as good as the other tires in this category, but of course, you can still be confident that the tire will deliver its expected performance.
If you frequently drive on ice, you might want to have a look around the all-season tire market and find out which of the products offer exceptional performance on the ice. As for me, so long as safety is guaranteed, it doesn't matter that much.
Performance on Snow
Should you worry when you drive on snow? No, you should not. Does this tire work well on snow as well? Of course, yes! The biting edges created by the zig-zag sipes of the tire's tread will do the magic.
Have peace of mind. The Michelin X Tour A/S T+H is an all-season tire; therefore, comfortable snow driving is already part of the package.
However, you must not expect your regular all-season touring tire to surpass the snow tires' performance. We already covered that. As a wise person once said, "you can't use grass scissors to cut hair."
Performance on Wet Roads
Oh, wet roads! We always encounter this when driving, and it is normal to feel a bit nervous while approaching wet roads due to the risk of hydroplaning. Skidding is probably among the common reasons for vehicular accidents, and this usually happens while driving on ice, snow, or wet roads.
Luckily, Michelin's tread design features four wide circumferential grooves that reduce the chance of your vehicle hydroplaning on wet roads. The tire's sipes help evacuate water as it comes in contact with the tire, maintaining the tire's road traction while you are on the move.
Performance on Dry Roads
When we drive on dry roads, we tend to speed up. Is it the same case for you? I would advise you not to get tempted. Do you want to know why? Fast driving is not for the Michelin X Tour A/S T+H – it is the simple reason. The tire is a "standard all-season" tire; so, it is only best within the touring category.
As far as acceleration on dry roads is concerned, this tire is excellent. On top of this, the braking performance is also top-of-the-line. It is important to note that this tire's braking distances are among the best in the category regardless of the surface you drive.
Moreover, the tire is said to work great on both the highway and over uneven surfaces. This fact is just fascinating. It is always a good feeling to drive your vehicle in almost every terrain you encounter.
Price Range
The price of the tire varies depending on its size. Online data shows that this tire's price starts at around $170 and can go up to $1000. Online shops usually do not display the price for this tire.
If you want to spend less, you can opt for the pre-owned tires, but you would need to make sure that it is still in good condition for safe driving.
It is important to note that the price mentioned here were available during the writing of this article.
Warranty Terms
Michelin offers excellent warranty terms.
The Michelin X Tour A/S T+H offers 80,000 miles mileage warranty and a standard limited warranty of 6 years.
It further offers a 60-day satisfaction guarantee, in which if you are not 100% satisfied with your new tires, you can bring the tires back and the original receipt within 60 days from purchase for a replacement.
Michelin also offers a 3-year road assistance program covering flat tire changeout, free towing up to 150 miles, battery jumpstart, etc.
Vehicles Michelin X Tour A/S T+H Will Fit
Below is the list of SUVs that the tire would fit. To generate the list, I used the standard rim size of the mentioned SUVs.
| | |
| --- | --- |
| BRAND | SUV MODEL |
| Ford | Escape 2020 |
| Ford | Bronco 11 |
| Ford | EcoSport 2021 |
| Ford | Ford Mustang Mach-E 2021 |
| Ford | Mustang Mach-E 2020 |
| Honda | CR-V 2016 |
| Honda | CR-V 2015 |
| Mercedes-Benz | Mercedes-Benz 190E |
| Mercedes-Benz | Mercedes-Benz 190D |
| Mercedes-Benz | Mercedes-Benz 240D |
| Suzuki | Suzuki Vitara |
| Suzuki | Suzuki XL7 2021 |
See the available tire size per rim size below. Use the information below to see if the Michelin X Tour A/S T+H fits your vehicle.
| | |
| --- | --- |
| RIM SIZE | TIRE SIZE |
| 15" | 185/65R15 88H BSW 195/65R15 91H BSW 205/65R15 94H BSW 215/70R15 98H BSW |
| 16" | 205/55R16 91H BSW 205/60R16 92H BSW 205/65R16 95H BSW 215/60R16 95H BSW 215/65R16 98H BSW 225/60R16 98H BSW |
| 17" | 215/60R17 96H BSW 225/60R17 99H BSW 225/65R17 102H BSW |
Frequently Asked Questions
1. Is Michelin X Tour A/S T+H a Good Investment?
Investing in a comfort-oriented, fuel-efficient, and safety and high-quality all-season tire is always worth it. It may come a little pricey, but hey, safety driving is always a significant investment.
2. What do T and H mean?
T stands for 'terrain,' while H stands for 'highway.' Compared to all-terrain (AT) tires, T+H tires have lower rolling resistance, but they are more fuel-efficient. T+H tires differ a lot compared to the AT tires. If you want to know more about their differences, you may check this website out.
3. What does A/S mean?
It simply means all-season. So, A/S tires are all-season tires.
4. Is it suitable for off-road driving?
The answer is yes. It would be best to be careful when driving on wet and muddy surfaces as your vehicle might get stuck.
Verdict
The Michelin X Tour A/S T+H offers the basic features you can look for in an all-season tire. It has outstanding traction performance, which increases fuel efficiency and ensures short-distance braking performance.
You can have peace of mind that your vehicle will not hydroplane when driving on wet roads. Hydroplaning resistance is one of the essential features you must not miss on an all-season tire. It would be an awful experience if your vehicle skids on the road while driving because of poor tire performance.
Related Articles
Michelin X Tour A/S T+H Review