If I were to choose the next tire for my SUV without worrying about my budget, I would select premium brands. It is the confidence that premium brands give us that matters. I am sure you would also prefer premium tires over low-end tires. For this reason, I will cover a great offer from Yokohama Tire Corporation.
The Yokohama YK740 GTX touring all-season tire can be the next tire you install on your vehicle for premium performances. This tire offers enhanced all-weather traction, better handling, a comfortable driving experience, and longer tread life.
This tire features Yokohama's environment-friendly End-Locked Silica (ESL) oil compound to ensure the all-season performance of the tire. This silica compound boosts the tire's grip on dry roads, wet roads, and even light snows.
Let me present this Yokohama tire model's detailed features and performance to help you make a comprehensive assessment.
Overview Yokohama YK740 GTX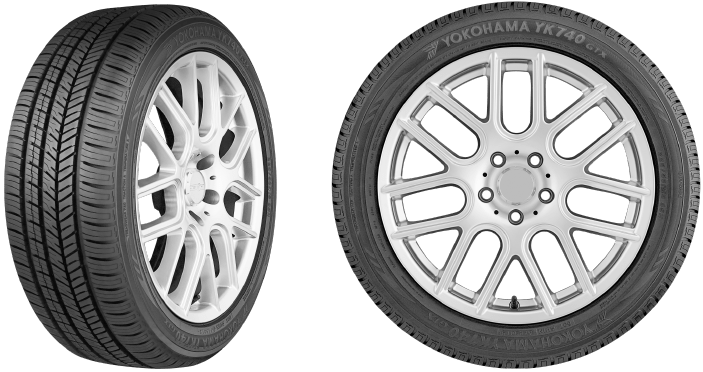 Yokohama's philosophy centers on enriching its consumers' lives by offering outstanding product benefits using its advanced technologies. That dedication had started way back in 1917 when it started producing tires at its plant in Japan.
It has become almost a stereotype that every Japanese product comes with excellent quality and performance. Let's see if it is true in the case of the Yokohama YK740 GTX.
Let's first take a brief look at the tire's tread design. This tire features a symmetric tread pattern that facilitates wear and smooth performance. It further features a variable tread block design and a center twin rail rib, which both assist in giving the tire remarkable quietness.
Then, the four circumferential grooves and the crisscross traction sipes of the tire are responsible for evacuating water and slush to ensure a firm grip on wet roads and light snow.
Now, let's take a closer look at the tire's other distinct features and characteristics, including the ESL oil compound, enhanced all-weather traction, better handling, reliable cornering, and longer tread life.
End-Locked Silica (ESL) Oil Compound
For me, the rubber material used in a tire is the primary determinant of whether the tire would provide excellent performance or not. It is the main actor. That is why tire companies spend a lot of research and effort to discover an advanced material like the ELS oil compound used in the Yokohama YK740 GTX.
The ELS doesn't harden in cold temperatures, and it can stand high temperatures. Because of this versatility, the compound ensures that the tire's performance is not compromised regardless of the weather conditions.
Enhanced All-Weather Traction
We were talking about the ESL compound that helps the tire provide all-season flexibility and grip. The compound alone is not enough to achieve the excellent traction of the tire. The unique tread design of the tire assists the ESL compound in gaining enhanced traction.
The features that help the tire provide excellent traction include the four circumferential grooves and the crisscross sipes. When you drive in the rain or on wet roads, the tire needs to disperse the water to maintain a firm road contact. This situation is where the tapered four circumferential grooves come into action.
The crisscross traction sipes work together to ensure an exceptional traction level. They bite the road surface and ensure that you can safely control your vehicle even in challenging rod conditions.
Better Handling
How does the Yokohama YK740 GTX deliver better handling performance? Enhanced handling and steering is a given characteristic of the tire because of its wide flat contact patch and comfortable sidewall that effectively absorbs road vibrations and shocks.
The tire can offer maximum handling stability even at higher speeds because of the unique tread pattern and wider tread profile. Steering ease will provide drivers with extra road comfort because it gives them a feeling of control.
Reliable Cornering Stability
Cornering performance is not a concern if you talk about the Yokohama YK740 GTX. Cornering stability is very trustworthy, even on wet road surfaces. This quality performance is because of the already-mentioned tread design of the tire that ensures a solid road patch.
The tire possesses excellent traction on dry and wet roads and even on light snow. This ability is the reason behind the safe cornering performance of the tire. The tire can maintain strong traction even when you take sharp turns.
Longer Tread Life
As far as the tire's tread life is concerned, you can expect this tire to shine in this area as well. It boasts up to a 60,000-mile tread warranty, which is quite impressive.
How Yokohama YK740 GTX Performs on Different Road Conditions
How It Works on Icy/Snowy Roads
Being an all-season tire, the Yokohama YK740 GTX can give you a reliable performance on ice and snow. However, I would like to insist that you do not consider this tire for deep snow or severe wintry roads.
This tire is only for light snow conditions. Some users also report that the tire's acceleration and braking performance in snow are not optimal.
How It Works on Wet Roads
You can cruise puddles and waterlogged roads with this tire on your SUV without worrying about hydroplaning. It is capable of effectively evacuating water away from the tire so that the road contact is maintained.
The traction level of this tire on wet roads is remarkable. Thanks to the wide circumferential grooves and the crisscross sipes of the tire that make this happen. Because of this outstanding level of traction, stability is not a concern even when you drive in the rain.
Braking on wet surfaces is also not a concern for this tire. Yokohama nailed down the braking wet road braking performance of the tire. The tire has a relatively short braking distance that allows you to stop your vehicle any time you need to.
How It Works on Dry Roads
This tire is very smooth on dry roads. Its driving stability is superb, allowing you to experience an enhanced level of comfort. You will not be disappointed with the responsiveness of this tire. You can take corners aggressively without affecting the tire's traction. Of course, it is always better to do a controlled cornering for safety purposes.
This tire absorbs vibrations and shocks effectively, so if you take the dry highway and experience some bumpy roads, you don't need to worry so much. Plus, this tire is one of the quietest and the smoothest in its category.
The variable tread block designs and the center twin rail rib of the tire are the reason for the tire's excellent quietness level.
I think it would be worth mentioning here that the tire cannot deliver optimal off-road performance. It is not rugged enough to topple down off-road challenges.
Price Range
The Yokohama YK740 GTX is a little pricey because of its premium offers. The price of this tire ranges from $100 to $150, depending on the size of your rim.
The price may vary from one store to another, so you need to be resourceful if you want to save some bucks. You can watch out for some promotional discounts or rebates that tire stores sometimes provide.
Warranty Terms
The tire comes with a 60,000-mile tread life warranty. It also offers a uniformity warranty for the first 2/32 inches of wear for all sizes.
Materials and workmanship are also warranted. Users of the tire will enjoy a five-year warranty, and what is remarkable is that company offers free replacement during the first year. Then, it provides a prorated amount for the remaining period or down to the final 2/32 inches of tread depth.
You can check the company's warranty terms here for you to see the detailed warranty inclusions and exclusions.
Vehicles Yokohama YK740 GTX Will Fit
Below are some SUVs that this tire would fit. If your vehicle model is not on the list, you may refer to the available sizes of the tire below and match it with your rim size.
| | |
| --- | --- |
| BRAND | MODEL |
| Acura | MDX |
| BMW | X5 |
| Buick | Encore |
| Chevrolet | Tracker |
| Holden | Trax |
| Honda | CR-V |
| Kia | Sorrento |
| Land Rover | Range Rover |
| Mahindra | Marazzo |
| Mazda | CX-30 |
| Mitsubishi | RVR Roadest |
| Nissan | X-Trail |
| Subaru | Tribeca |
| Volvo | XC60 |
brief list of Yokohama YK740 GTX compatible cars
Available sizes of the tire are below. For the full list please visit the official Yokohama website.
RIM SIZE
TIRE SIZE
15"
175/65R15 84H BW
185/55R15 82V BW
195/60R15 88H BW
195/65R15 91H BW
16"
185/55R16 83H BW
195/45R16 84H XL BW
195/50R16 84H BW
195/55R16 87H BW
205/55R16 91H BW
17"
205/45R17 84V BW
205/50R17 93V BW
215/50R17 95V XL BW
215/55R17 94V BW
225/50R17 94V BW
18"
215/55R18 95H BW
225/45R18 95V XL BW
225/50R18 95H BW
225/55R18 98H BW
225/60R18 100H BW
235/45R18 94V BW
19"
225/55R19 99V BW
235/40R19 96V XL BW
235/50R19 99V BW
235/55R19 105V XL BW
245/55R19 103H BW
20"
235/55R20 102H BW
245/40R20 99V XL BW
245/50R20 102H BW
brief list of Yokohama YK740 GTX tires sizes
Frequently asked Questions
1. Is the Yokohama YK740 GTX a low rolling resistance tire?
The tire uses the environment-friendly End-Locked Silica (ESL) orange oil compound to ensure low rolling resistance. The low rolling resistance of the tire is the reason behind the 60,000-mile treadwear warranty.
2. Are Yokohama tires good?
Yokohama is a name that can be trusted when it comes to quality. The company has been in the industry since 1917 and has successfully beaten the odds. Its philosophy focuses on providing consumers with great benefits, so you can trust that it produces good quality tires.
3. Is the Yokohama YK740 GTX quiet?
This Yokohama tire is among the quietest tire in its class. This outstanding performance is because of the tire's variable tread block design that effectively suppresses the noise as you roll your vehicle on the road.
Final Words
The Yokohama YK740 GTX is a high-quality touring tire that provides outstanding all-season performance. It offers high-end handling and stability on wet and dry roads. The cornering performance of the tire makes your ride safer as you take turns.
This tire takes comfort to the next level because it absorbs road vibrations and shocks. On top of this, the tire features a variable tread block design that minimizes road noise.
It is a little expensive, but the price is more than reasonable for the benefits you will get. I would say that purchasing this tire is still a worthy investment.