If you are thirsty for excellent traction and road control, you need to try a high-performance tire on your vehicle. Of course, we commonly see performance tires on race cars. However, enthusiast drivers now embrace performance tires for daily driving activities because of loads of benefits.
Michelin is among the known producers of performance tires. In this review, we will examine the Michelin Pilot Sport A/S 3+. This ultra-high-performance tire provides excellent summer grip and control. In addition, it is highly resistant to hydroplaning and has a very short braking distance.
The tire features the Helio+ Technology by Michelin, which provides a high-quality winter grip. This technology boosts up the all-season capabilities of the tire.
There is more to discover about the Michelin Pilot Sport A/S 3+. In the following sections, I will discuss the fantastic performance and distinct features of the Michelin Pilot Sport A/S 3+. So, read on.
Overview of Michelin Pilot Sport A/S 3+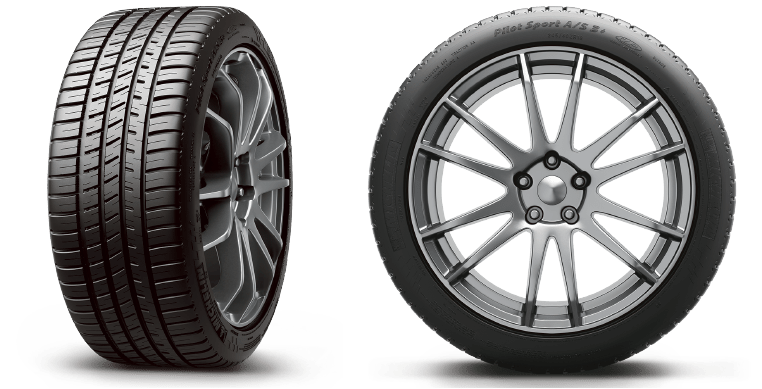 High-performance tires like the Michelin Pilot Sport A/S 3+ give you a "sporty feeling" as you maneuver your vehicle. This feeling is possible because these tires provide and quicker response and more accurate steering. Added to it is the superb road grip that performance tires offer.
High-performance tires are low-profile in general, which is the reason behind their excellent responsiveness. However, these tires are usually deficient in handling bumpy roads due to their low sidewalls.
Now, back to the Michelin Pilot Sport A/S 3+, what makes this tire extra special?
Helio+ Technology
Michelin infuses a higher amount of silica into this breakthrough technology to mold an aggressive asymmetric tread pattern responsible for providing the tire's enhanced year-round traction and handling.
Variable Contact Patch 3.0 Technology
Another unique feature of the tire is the Variable Contact Patch 3.0 Technology that acts as a heat diffuser. This technology helps the tire's tread in ensuring an enhanced cornering grip and responsiveness even at higher speeds.
Responsive and Accurate Steering
When you use this tire on your SUV, you would see the difference in responsiveness. This tire quickly reacts to the driver's commands, and it communicates with the driver very well.
The tire's responsiveness is coming from its generally low profile reinforced by its superb traction and grip. Of course, the Helio+ Technology and the Variable Contact Patch 3.0 Technology also play a massive role in the tire's ability to deliver excellent response and steering accuracy.
Outstanding Cornering Stability
The cornering ability of a tire is critical for the safety of the driver. The common issue you encounter when you take turns is the loss of traction. Well, not for the Michelin Pilot Sport A/S 3+ because of its tread design.
The tire's performance-oriented design includes rigid blocks of the outboard shoulders. These blocks enhance the lateral grip and the dry cornering performance of the tire.
Superb High-Speed Stability
Traction is everything when we talk about driving stability. The high level of traction that this tire provides results in an outstanding high-speed ability. Those who got the chance to install the tire on their vehicle attest that the tire provides a summer-like stability performance even at higher speeds.
Exceptional Traction and Braking on Wet Roads
The tire has an excellent level of traction on wet roads because of the four wide circumferential grooves. These grooves result in exceptional traction on wet surfaces as they evacuate water efficiently.
The 3-D sipes of the tire help prevent the chances of hydroplaning. In addition, the groundbreaking Extreme Silical+ compound of the tire is responsible for maintaining a grip on wet surfaces.
Good Acceleration on Snow
Michelin boasts the tire's ability to provide good acceleration performance even on ice or light snow. The company is confident about this performance because of the Helio+ Technology that allows the tire to provide a firm grip on cold conditions. The tire also features biting edges that efficiently grab snow for faster starts and stops.
Balanced Performance
One of the most notable characteristics of the Michelin Pilot Sport A/S 3+ is its balanced performance. The company assures consumers that this tire delivers outstanding performance in all areas without compromising another.
As the company proudly narrates, it delivers lasting excellent performances to ensure that customers can enjoy the full potential of the tire throughout its lifespan.
How Michelin Pilot Sport A/S 3+ Works on Different Road Conditions
Performance on Icy/Snowy Roads
As mentioned earlier, the tire offers outstanding performance on ice and snow. It has the necessary biting edges that allow this to happen. It further features the silica compound with the ability to establish a high-quality grip in cold temperatures.
Michelin boasts that the tire can give you the speed even when you traverse on roads covered with ice and snow. However, this excellent snow capability is only for mild conditions.
This tire will never perform well in deep snow or severe wintry roads. If you ask why I will give you a straight and simple answer: This is not a dedicated snow tire. Get a snow tire if you experience longer and extreme winter weather conditions where you live.
Performance on Wet Roads
This tire is rain or water-friendly as it is highly resistant to hydroplaning. The tire continues to be responsive despite the presence of water on the road. There will be no cases of understeering or oversteering when you drive this tire on wet surfaces.
What is more impressive is that the tire can maintain its stability even if you accelerate in the rain. As a result, you can drive aggressively with this tire on your vehicle.
Braking distances in the rain are remarkable. Plus, you can take corners without worries as the tire never loses grip quickly. This tire is just safe to use on wet roads.
Performance on Dry Roads
The dry road steering response of the tire is exceptional. It is quick and accurate, giving the driver a feeling of total control. Some users consider this tire as one of the best all-season ultra-high-performance tires in the market.
The tire's level of traction and grip on dry pavement is highly reliable. In terms of stability, the tire will never fail you. It is outstandingly stable even if you put a little pressure on your gas pedal.
Pros & Cons of Michelin Pilot Sport A/S 3+
Price Range
The price of this Michelin model starts at a whopping $130 and can go up to $600. The price is, of course, depends on the size of your rim. The cost of the tire also varies from one tire shop to another. Some stores may price this tire higher than the quoted range.
Some tire stores do offer rebates and promotional discounts. It will save you some dimes if you take advantage of these promotions.
Warranty Terms
The Michelin Pilot Sport A/S 3+ comes with a 45,000-mile tread warranty. However, this warranty is reduced by half if the front and the rear tires are not the exact sizes. Michelin also guarantees tread uniformity for the first year or the first 2/32 inches of wear.
The tire also comes with the standard limited warranty, which covers materials and workmanship. During the first year of the warranty period, users can get a free replacement for covered scenarios. Then, a prorated amount is given for the remaining period or down to the final 2/32 inches of tread depth.
Vehicles Michelin Pilot Sport A/S 3+ Will Fit
Below are SUVs that the Michelin Pilot Sport A/S 3+ would fit. If your vehicle is not on the list, I am sure that you know the size of your rim. So, refer to the size table and see if this tire fits your ride.
| | |
| --- | --- |
| BRAND | MODEL |
| Acura | MDX |
| Acura | RDX |
| Audi | Q5 |
| BMW | X4 M |
| Dodge | Durango |
| Honda | CR-V |
| Hyundai | Santa Fe |
| Hyundai | Tucson |
| Kia | Sportage |
| Land Rover | Discovery Sport |
| Mitsubishi | Outlander |
| Subaru | Forester |
| Volvo | XC40 |
| Volvo | XC70 |
brief list of Michelin Pilot Sport A/S 3+ compatible tires
The size range of the tire is briefly given below. The full list can be found through this link.
RIM SIZE
TIRE SIZE
16â€
225/50ZR16 92Y BSW
205/55ZR16 91Y BSW
17â€
245/40ZR17 91Y BSW
255/40ZR17 94Y BSW
205/45ZR17 84W BSW
215/45ZR17/XL 91W BSW
225/45ZR17/XL 94Y BSW
235/45ZR17/XL 97Y BSW
245/45ZR17/XL 99Y BSW
18â€
245/35ZR18/XL 92Y BSW
255/35ZR18/XL 94Y BSW
265/35ZR18/XL 97Y BSW
275/35ZR18 95Y BSW
285/35ZR18 97Y BSW
205/40ZR18/XL 86W BSW
215/40ZR18 85Y BSW
19â€
275/30ZR19/XL 96Y BSW
285/30ZR19/XL 98Y BSW
225/35ZR19/XL 88Y BSW
245/35ZR19/XL 93Y BSW
255/35ZR19/XL 96Y BSW
265/35ZR19/XL 98Y BSW
20â€
285/30ZR20/XL 99Y BSW
255/35ZR20/XL 97Y BSW
275/35ZR20/XL 102Y BSW
brief list of Michelin Pilot Sport A/S 3+ tires sizes
Frequently Asked Questions
1. Is the Michelin Pilot Sport A/S 3+ a good tire?
The tire provides a balanced performance. It offers excellent all-weather traction and superb controllability. It further provides safe cornering because of its outstanding level of traction and grip that keeps your vehicle cemented on the ground as you take sharp turns. This tire is clearly one of the best high-performance tires available in the market.
2. Where is the Michelin Pilot Sport A/S 3+ manufactured?
Michelin manufactures the Michelin Pilot Sport A/S 3+ at its North American production facilities. The company has multiple plants in North America, including the Dothan and Tuscaloosa plants in Alabama and the Fort Wayne, Indiana facility.
3. Is the Michelin Pilot Sport A/S 3+ quiet?
Being a high-performance tire, the Michelin Pilot Sport A/S 3+ is not the quietest tire you could get. However, it is also not the nosiest tire in its class. The tire is not overly noisy, but it does make a noticeable cabin noise, which I think is typical for a high-performance tire.
Conclusion
The Michelin Pilot Sport A/S 3+ is not your typical go-to tire if you have a slim budget. It is not an affordable option. However, if you are looking for a high-performance tire for your SUV, give this tire a try to enjoy the balanced performance that it offers.
The tire's ability to provide a quick and accurate steering response is very desirable. The tire also maintains exceptional stability even on wet roads and at high speeds.
It further provides all-season traction and grip. The tire can even handle light snow without acceleration issues. That is an impressive performance.