So, you are probably looking for the best brand option for your next set of tires. When it is time to replace your tires, there are two main things to consider: the company's reputation that makes the tire and the tire's actual performance.
The Indonesian company Multistrada Arah Sarana (MASA) has been in the tire industry since 1991. The company has collaborated with big players in the tire industry, such as Pirelli and Continental Tires, to produce high-quality vehicle replacement tires three years later.
Stick around for this Achilles Tires review, a brand that the Indonesian company launched in 2005.
Achilles Tires Overview
As the company boasts, Achilles Tires aims to compete with world-class competitors. True enough, it has successfully joined the global market with a promise of producing quality and reliable tires for various vehicles.
The brand's website relays that it has partnered with Corsa Tires to produce passenger, commercial, truck and buses, competition, and industrial tires. The company further claims that these tires are now getting popular globally.
The company has gained the trust of automobile manufacturers such as Mitsubishi, Daihatsu, Hyundai, and others. These manufacturers have rated Achilles Tires as a producer of high-quality tires. This trust is an outstanding achievement that makes the brand worth considering when you are about to replace your tires.
The brand's commitment to quality is also another thing we can consider. It serves as an assurance that what you will get has gone through a rigorous process and checks. As the company wants to tell its customers, it compromises nothing to ensure that its product is of high quality.
The tire design features easy handling as it focuses on giving enhanced road traction. Directional tread patterns complemented by grooves, siping, and biting edges are responsible for ensuring its promise of exceptional handling experience.
The brand also boasts durability. It is for long-term usage due to its high-grade compound that results in a reliable and robust tire.
Top 5 Best Achilles Tires Reviews
Let's look at some of the best tires that Achilles has released to the market.
Desert Hawk UHP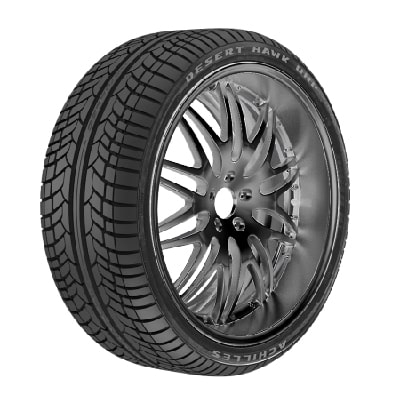 This tire is a premium ultra-high-performance (UHP) tire from Achilles Tires SUVs. State-of-the-art technology and the supreme design of this tire ensure excellent road traction performance and a smooth and comfortable ride.
This tire further offers outstanding hydroplaning resistance and short braking distances. This excellent performance is because of the multiple lateral grooves that evacuate water as it comes in contact with the tire.
The cornering performance of this tire excellently ensures your safety. Taking sharp turns can be very dangerous if your tire could not deliver a firm grip on the road. Well, that is not the case for this tire.
Moreover, this is a quiet tire – this adds up to the comfort you will experience while driving. Who does not love a less noisy and more comfortable ride? I do love a quiet ride.
Achilles ATR-K Economist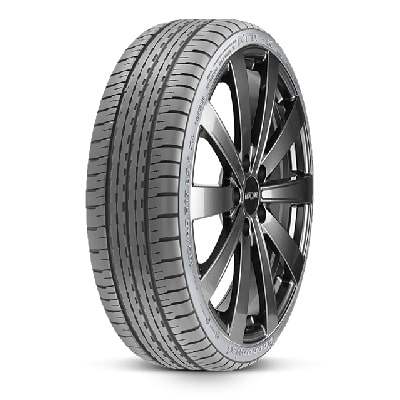 Let's talk about this touring tire. This tire is a high-performance tire designed to fit different vehicle types, including compact cars, sedans, and minivans.
If you look for an affordable touring tire for your ride, this could be something you would want to get. Online data shows that you can get this tire for as low as $40 – that is just amazing. This tire is inexpensive, but it promises a lot of excellent performance including, durability and a comfortable driving experience.
The tire performs very well in dry conditions. The traction performance on this road condition is excellent. This tire, however, is not your perfect choice for icy and snowy terrains. This tire isn't an all-season tire, so its performance in these challenging road conditions is not something you could expect.
Achilles Desert Hawk A/T 2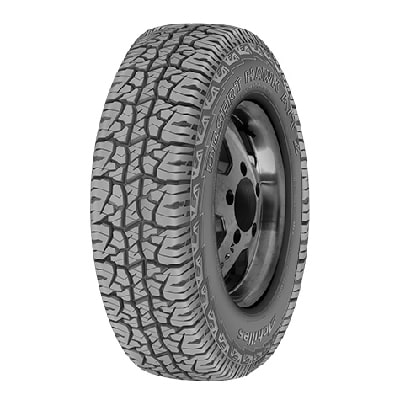 This tire ensures high performance and traction in various terrains such as asphalt, sand, dirt, and rocks. The enhanced traction performance is due to the interlocking shoulder blocks with wide lateral grooves. These grooves allow your vehicle to keep in contact with the terrain you are driving on.
This tire is something you could consider if you are an adventurous driver or if you love off-road driving. This tire is sturdy so that you won't worry so much about tread wear. The strong built of this tire and its aggressive pattern design also ensure long mileage.
This tire also features a unique X-Protection sidewall to protect it from damages caused by rocks or any sharp objects as you drive your vehicle on challenging roads.
Achilles Winter 101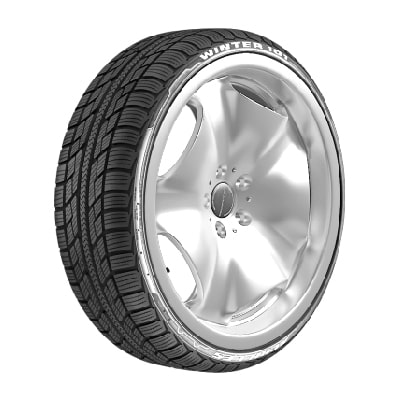 The Achilles Winter 101 is the only tire produced by the company for winter driving. Of course, this is not a premium tire, so you must not expect this tire to surpass the performance of the leading premium winter tires in the market. However, the tire can provide you a satisfactory performance on snow.
The tire does not belong to the all-season group of tires; therefore, you would not experience a superb performance when you use it on wet roads.
Would you be able to drive on ice with this tire?
I did not find any concrete review about how this tire performs on ice, but individual user reviews show that the tire can safely get you around some icy terrains.
Achilles ATR Sport 2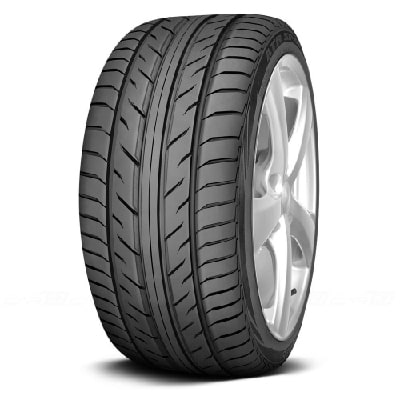 This tire boasts of excellent traction and grip performance on dry roads. Many users who experience this tire talks about how this tire is very easy to handle.
The tire has a fantastic cornering performance, and the braking distance is relatively short. It sounds perfect, but then again, only on dry roads as this tire is not for ice and snow.
Moreover, this tire can also perform on wet roads, but not during heavy rains where water is challenging. It is for summer use; therefore, it exhibits excellent performance on dry summer roads.
Why You Should Consider Achilles Tires
Pocket Friendly
Budget is always a concern for most of us when the time to replace our times comes. If our vehicle has a large set of rims, it will hurt our pockets the price of a tire increases as the size of the tire increases.
This is where Achilles Tires comes in. If your budget to get a new set of tires is slightly tight, this brand is an option. This tire is inexpensive, but it promises quality.
Puts Great Effort on Quality
Achilles Tires is slowly fulfilling its goal to have a good chunk of the tire market. The increasing popularity of the brand is the reason why it gives great attention to quality.
If you wanted to buy a product, of course, you would like to get it from a company that values quality. Eventually, the brand may overcome some basic challenges and shortfalls as it continues to devout time to improve the quality of each product it produces.
Great Tires for Off-road Driving
Achilles Tires are generally sturdy and include damage protection, which is a great feature that ensures that you would not need to buy another set of tires after going off-road.
Its off-road-inspired tires provide an enhanced traction performance due to its unique grooves design. These tires effectively handle sandy, rocky, and even muddy roads. Again, an outstanding performance that you can get at a lower price.
The Brand Produces Tires for Various Vehicle Types
Achilles Tires is a brand that offers tires for various vehicles, including passenger types, commercial types, trucks and buses, and industrial types. This fact is fascinating as the brand keeps on evolving. We cannot predict how it will be able to provide various tires for more vehicles.
The company's website is currently showing multiple models of tires for various cars. Among these tires are the SUV tires that it offers. SUV is becoming a prevalent vehicle to drive, so this brand will be one of the brands we can look into for our SUV tire needs.
Frequently Asked Questions
Is Achilles a good tire?
Achilles tires are generally a good tire for you to consider knowing that you will get quality performance at a low price. It is among the most inexpensive tires on the market. However, they boast good handling and traction performance.
Who manufactures Achilles Tires?
This tire originates from Indonesia, made by PT Multistrada Arah Sarana (MASA). MASA is one of the largest tire manufacturers in Indonesia, boasting its 55 hectares (140 acres) and 128 hectares (320 acres) factories located in East Cikarang, Indonesia.
What are Achilles tires?
This is a brand of tires owned by one of the largest tire manufacturers in Indonesia, PT Multistrada Arah Sarana (MASA). The brand was launched in 2005 and has entered around 80 countries globally.
Are Achilles tires made in China?
Achilles tires are made in Indonesia by PT Multistrada Arah Sarana which was founded in 1991.
Conclusion
Achilles Tires is a brand that is slowly gaining popularity mainly because of the inexpensive tires that it offers. The brand shows great regard for producing high-quality tires to ensure customer satisfaction.
Each tire it produces offers unique quality performance to meet the increasing user expectations. Sturdy tread design, high-quality material, excellent looking designs, and tire safety features are just some of the fascinating offers from Achilles Tires.
It may fall short of its performances (especially for winter driving), but it is superb in its way, especially on dry roads and off-roads. Of course, when you talk about all-seasons driving, the premium tires in this category always win.
However, as the brand continues to discover new technologies to enhance the tires it produces, little by little, it may be able to improve the performance of its tires on ice, snow, and wet road conditions.
So, should you get Achilles tires? This Achilles tires review is only to provide you with relevant information that you might need to know before buying this brand of tire. The answer, whether you buy the brand or not, always depends on what your priority is.
If your budget is tight, this is an option for you. However, if you have a deeper pocket, you can always opt for expensive tires that guarantee better performance in different challenging road conditions.