All enthusiast drivers will probably agree if I say that driving is a generally lot of fun. Well, at least for me, it is. However, driving in challenging road conditions without the right tire could potentially spoil the fun. Vredestein offers a perfect tire for all-season driving.
The Vredestein Quatrac 5 is an all-season touring tire that provides excellent performance in dry and wet road conditions. Because it has the three-peak mountain snowflake (3PMSF) symbol, you can continue the driving fun even when driving in snow.
Do you want to find out more about this tire? If you do, please sit back and relax while exploring the great features of this tire, its construction, and its performance.
Vredestein Quatrac 5: Overview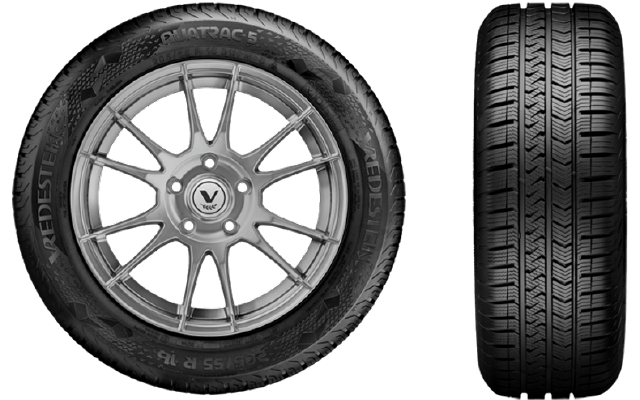 The maker of the tire, Vredestein, has been in the tire industry for over 100 years, which make it among the oldest tire manufacturer in the world. The company has been making tires since the 20th century, so it is not surprising that it has become the leading European manufacturer of first-class tires.
Now, let us talk about the Vredestein Quatrac 5 all-season tire. What makes this tire special?
The key features of the tire include the innovative full silica compound, the advanced tread design, the 3D Grip Claws technology.
Innovative Full Silica Compound
The type of rubber compound used in a tire is essential for an all-season tire, and Vredestein understands this. It uses an advanced all-season rubber compound that ensures excellent traction in various road conditions.
A unique polymer characterizes the high-grade silica compound of the tire. This composition ensures a high degree of resistance to wear. It means that the tire has long-lasting tread wear.
Advanced Tread Design
The advanced asymmetrical tread design of the Vredestein Quatrac 5 is what makes it a high-quality all-season tire. Its outboard shoulder and circumferential grooves ensure excellent traction in both wet and dry road conditions.
On the other hand, the inboard rib and inside shoulder of the tire feature wide circumferential grooves and lateral notches that ensure water and slush evacuate as soon as they contact the tire.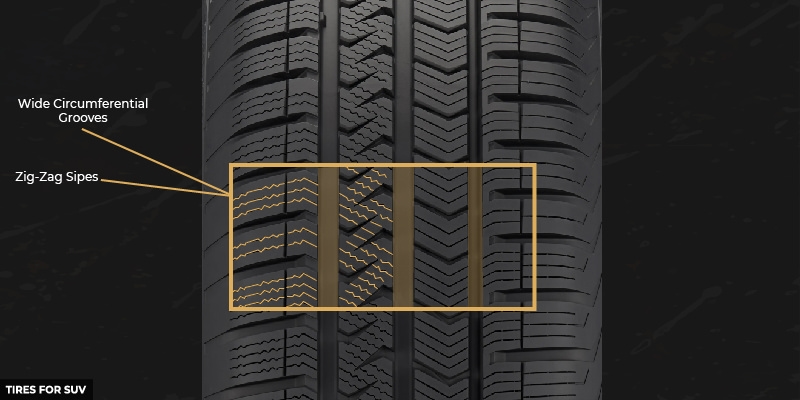 The tire further features zigzag sipes that provide the tire's road grip during the winter season is exceptional. This innovative tread design is what made the tire receive the 3PMSF symbol.
3d Grip Claws
3D Grip Claws is a breakthrough technology that provides the tire with a perfect grip on bends and good acceleration. This technology is what makes this tire work outstandingly on snowy and icy roads.
The intricate tread design can provide exemplary performance, including excellent hydroplaning resistance, short braking distance on wet surfaces, and smooth handling on dry roads.
Excellent Hydroplaning Resistance
Brought by the innovative tread design, this tire has excellent skidding resistance. It is just essential for an all-season tire to perform very well on wet and slippery surfaces. This tire does not fall short of such quality.
How does the Vredestein Quatrac 5 do this? You have just learned how the unique tread patterns and the 3D Grip Claws on this tire are helping it achieve solid road contact. Yes, that is right. It is the exact mechanism that works why this tire has excellent hydroplaning resistance.
Short Braking Distance
Why do we always need to look at the braking distance of a tire? I guess the answer is obvious. If you want to stop your vehicle because there is a barrier or the stoplight has turned red, the shorter the braking distance is, the safer you can control your vehicle.
This tire boasts a short braking distance. This particular performance of the tire makes it one of the most desired tires in its class. Short braking distance is what keeps you avoiding unwanted accidents due to your vehicle failing to stop as you wanted.
Smooth Handling on Dry Roads
Another advantage of this tire is that it provides smooth handling on dry roads. In some cases, the handling experience on dry roads of an all-season tire is not that impressive due to the challenge of balancing the tire's winter and summer features. Well, not for this tire.
Vredestein was able to balance the tire's performance in wet and road conditions. It is quite an impressive characteristic of this tire.
How Vredestein Quatrac 5 Performs in Different Road Conditions
Continue reading to find out how this tire performs in various road conditions.
Performance on Ice/Snow
You probably have driven over severe snow, or at least on light snow. For sure, you can attest that rolling on such road conditions is very challenging, primarily if your tire does not deliver the grip performance that you expected.
As we already discussed earlier, the advanced tread design makes this tire deliver excellent performance on ice and snow. The sophisticated design of the tire ensures that the tire can achieve a firm grip when you drive your vehicle on ice or snow.
So, when you install this tire on your SUV, you can be confident that you can safely conquer an icy/snowy road. Moreover, the tire has earned the 3PMSF symbol, which means it qualifies the test for the tire to deliver good performance on ice and snow.
Performance on Wet Roads
Wet road driving is always a challenge, especially if your SUV's tire quickly loses grip. There is the risk of hydroplaning because the amount of water on the road overpowers the tire's road traction.
The good news is, this tire provides outstanding grip on wet surfaces. It has a tread design that ensures that the water evacuates as soon as it comes in contact with the tire to maintain its patch with the road.
Multiple user reviews narrate how this tire provides an excellent short braking distance. This performance is what makes you avoid skidding accidents. You cannot imagine yourself losing control of your vehicle because your tire could not keep its contact on the road due to poor traction.
Performance on Dry Roads
We have already briefly talked earlier about how this tire provides a smooth handling experience on dry roads, but we will talk more about it.
This tire brags its exemplary dry road handling. So, how does the Vredestein Quatrac 5 deliver such good dry road handling?
The tire's internal construction is made of a single-ply polyester casing that supports twin steel belts. This construction is what makes the tire provide excellent handling. It is also the reason for the tire's good response to high-speed driving and gives it a longer tread life.
Driving on dry roads using an all-season tire can also result in unwanted tire noise. Luckily, it is not the case for this tire. User reviews reveal that the tire gives you minimal noise when driven on dry roads.
Price Range
Depending on the size of your tire, the Vredestein Quatrac 5 price ranges between $60 to $250. To know how much you would need to spend on your tire, you may check it here.
Some online shops offer lower prices for slightly used tires. Whatever you decide on, always make sure that your safety is the priority. The tire is inexpensive in its class anyway, so better get a set of brand-new tires.
Warranty Terms
Another serious business to consider when getting a new set of tires is the warranty terms. Why are warranty terms important? They are important because they assure you that you will get the value of your money as the manufacturer promises to deliver.
Vredestein Quatrac 5 has competitive warranty terms. This tire has a 30-Day trial period warranty, a 45,000 miles treadwear warranty, a 2/32″ during the first year, and defects in workmanship and materials warranty.
Within the 30-Day trial or the first 500 miles after purchase, users can request a replacement if they are not satisfied, for any reason, with the tire's performance.
Warranty on defects in workmanship and materials is provided within 8 Years from the date of production. Free replacement during the first year or 2/32″ wear, then prorated until 2/32″ remaining depth.
If you would like to check the detailed warranty document, you may click here.
What Vehicles Will Vredestein Quatrac 5 Fit
Below are a few SUVs that this tire would fit. If you are not sure if the tire would fit your SUV, you can always check with a local auto shop or do a quick search online.
| | |
| --- | --- |
| Brand | Model |
| Acura | Acura SLX |
| Audi | SQ5 2018 |
| Cadillac | XT4 2019 |
| Chevrolet | Equinox 2006 |
| Ford | EcoSport 2018 |
| Honda | CR-V 2016 |
| Isuzu | Trooper 2002 |
| Kia | Sportage 2019 |
| Mazda | CX-5 2017 |
| Subaru | Forester 2018 |
This tire comes in various sizes:
| | |
| --- | --- |
| RIM SIZE | TIRE SIZE |
| 13″ | 145/80R1375T 165/65R1377T 165/70R1379T |
| 14″ | 165/65R1479T 175/70R1484T 185/55R1480T 185/60R1482H 185/65R1486T |
| 15″ | 145/65R1572T 155/60R1574T 165/60R1577H 175/55R1577T 185/55R1582H 195/50R1582H 195/65R1591V 205/50R1586H 205/65R1594H 205/70R1596T 205/70R1596 |
| 16″ | 195/55R1687H 205/60R1696V 215/55R1693H 215/60R1699H 215/70R16100H 225/55R1695V 225/60R16102H 225/70R16103H 235/70R16106H 245/70R16107H 265/70R16112H |
| 17″ | 215/50R1795Y 225/60R1799V 225/65R17102V 235/45R1797Y 235/60R17102V 245/65R17111V |
| 18″ | 215/55R1899V 225/60R18104V 235/50R18101V 235/55R18100V |
| 19″ | 235/45R1999W 255/35R1996Y |
| 20″ | 245/45R20103V 255/45R20105W |
Frequently Asked Questions
Are Vredestein tires good?
Vredestein tires are known to provide a short braking distance on wet road surfaces. They further boast smooth handling on dry roads. So, they are a good option for your all-season driving.
Where are Vredestein tires made?
Vredestein tires are made in the Netherlands by Apollo Vredestein B.V. Its headquarter is in Amsterdam, Netherlands and its production plant is in Enschede.
It is a premium Dutch brand of tire that provides great value and gives you satisfaction in different weather conditions. Its key advantages include exceptional traction and smooth handling.
Who makes the Vredestein Quatrac 5?
This tire is a product of the Dutch tire manufacturer Apollo Vredestein B.V. at its production plant in Enschede, Netherlands. The manufacturer has earned quite a reputation of being on par with the best premium tires.
Vredestein Quatrac 5 Review: Final Words
To sum up, the Vredestein Quatrac 5 should be on your list if you are looking to replace your all-season tires. This tire is an inexpensive option for your SUV, and you get so much value for your money.
Its innovative tread design ensures that the tire will give you excellent traction on wet and dry roads and even on ice and snow. Dry road handling is also great.
The company has used a high-grade all-season silica compound in producing this tire to ensure that the tire would last longer. This longer tread life is on top of the solid traction that it provides the tire.
The addition of the 3D Grip Claws to the tire has enhanced its ice and snow grip. It further provides the tire an enhanced acceleration.
If you add up all the benefits you will get from installing this tire on your SUV, I guess you would agree that this tire is worth investing in for your next replacement.
Now, the final question is: Should you get this tire? The decision is always yours, but this tire is worth trying.