Sumitomo Tires is not quite a household name for vehicle owners. But would you believe it if I tell you that it is a silent giant? Yes, you've read it right.
It is a brand produced by Sumitomo Rubber Industries Ltd. (SRI), a Japanese tire manufacturer that ranks as the fifth largest tire manufacturer globally. The company has been in the industry for over 100 years – that is a statement.
Read on for the rest of this Sumitomo Tires review to know more about this tire brand and discover some of its top tire models.
Sumitomo Tires Overview
Let's get to know this brand further. This tire is a premium brand of one of the most successful tire manufacturers globally. As stated on the brand's website, it has earned a good reputation for its innovative designs, precision engineering, and superior quality.
It is a global brand that prides itself on competing globally by producing tires with great value and excellent performance. SRI has a long history of quality and integrity spearheaded by its founder, Masatomo Sumitomo.
Its most notable innovation is its 4D Nano Design, an advanced silica compound that delivers outstanding performance. As a result, Sumitomo's tire will provide good road traction performance, high fuel efficiency, and is environmentally friendly.
Sumitomo Tires Lineup
Sumitomo Tires offers a good mix of high-quality tires for passenger-type vehicles, light trucks, and SUVs. Its production includes well-performing all-season touring tires, summer tires, highway tires, and all-terrain/off-roads tires.
I will briefly discuss the tires under each lineup in this Sumitomo tires review to give you some information regarding their performance.
Sumitomo Passenger Tires
Sumitomo offers three passenger tires, including the Ultra High-Performance Summer HTR Z5, the Ultra High-Performance All-Season HTR A/S P03, and the High-Performance Al-Season HTR A/S P02.
The HTZ Z5 is compatible with sports cars, sporty coupes, and performance sedans. It boasts responsive high-speed handling and superb traction performance in dry and wet road conditions.
The HTR A/S P03 features an enhanced all-season silica compound molded using Sumitomo's advanced technology to deliver outstanding traction, better cornering performance, and excellent handling and stability. This robust tire provides exemplary performance during winter driving.
The HTR A/S P02 is another quality all-season tire by Sumitomo Tires. This tire perfectly works on wet roads and in light snow. It has an excellent hydroplaning resistance because of its asymmetric groove patterns. This tire performs outstandingly on dry roads due to its notched shoulder blocks and outboard circumferential ribs.
The internal structure of the HTR A/S P02 is very robust as it features two rigid steel belts reinforced by the Jointless Nylon Band (JNB) technology. Because of this, the tire is relatively light, has longer tread life, and can handle high-speed driving.
Sumitomo Light Trucks/SUV Tires
The HTR Sport H/P Street/Sport All-Season truck tire is perfect for your sporty pickup trucks and utility vehicles. The outstanding design of this tire will surely enhance the appearance and performance of your car.
Another high-quality tire under this lineup is the mix of Sumitomo's Crossover/SUV All-Season Touring tires, including the HTR Enhance C/X, the HTR Enhance CX2, the Touring LX H, and the Touring LXT.
This group of tires shares the same quality due to its robust manufacturing that features Sumitomo's advanced all-season rubber compound and the JNB technology.
More on these tires, they provide good traction in dry, wet, and wintry conditions. But, of course, they are all-season tires, so users could expect them to perform in different road conditions. These tires also boast longer tread life.
Sumitomo Tires also include its Grand Touring All-Season tires like the HTR Enhance LX2, its Standard Touring All-Season Tires like the Touring LS T, its Highway All-Season tires like the Encounter HT, and its On-/Off Road All-Terrain tires like the Encounter AT.
Top 7 Best Sumitomo Tires Reviews
1. Sumitomo HTR Z5 – Ultra-High-Performance Summer Tire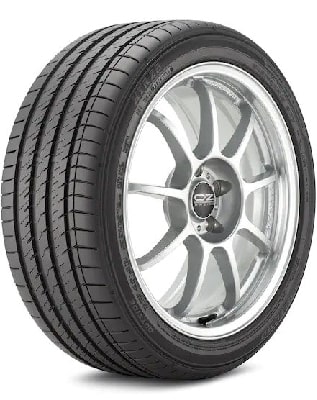 As briefly pointed out above, the HTZ Z5 is a perfect tire option for sports cars, sporty coupes, and performance sedans because it provides you with the performance you need and enhances the overall look of your vehicle.
Among the reasons that make this tire a popular option is its excellent traction performance in warm, dry, and wet conditions. This performance is on top of its outstanding stability and handling, as well as its superior hydroplaning resistance.
However, this tire is not a good option for winter driving as it is a summer tire. The tire's exposure to cold conditions could result in irreversible cracks that make it no longer valid.
2. Sumitomo Touring LS T – Standard Touring Tire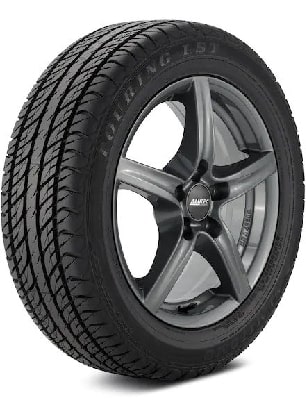 The Touring LS T tire is a T-speed rated tire for coupes, sedans, minivans, and crossovers. It boasts long tread life and excellent traction performance in dry and wet road conditions.
Like the other Sumitomo tires, this tire also features a robust internal structure because of the twin steel belts reinforced by the JNB technology. This feature is why the tread life of this tire is longer.
This tire is an all-season tire. You can expect this to perform not only in dry and wet roads but also in wintry conditions. It has plenty of biting edges to improve its performance in different road conditions.
3. Sumitomo HTR A/S P02 – High-Performance All-Season Tire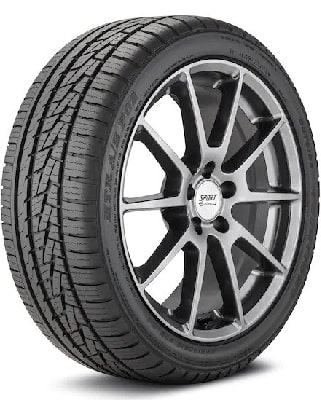 This tire comes in two different speed ratings, including the H- and the V-speed ratings. This high-technology radial all-season tire can perform superbly in dry and wet road conditions. Its performance is in winter road conditions is also excellent.
Like the rest of the Sumitomo lineup, this particular tire also features Sumitomo's enhanced compound and the JNB technology. This is what makes the tire last long, and this is the reason for its capability to handle high-speed driving.
This tire's traction performance on dry roads is excellent, allowing smooth handling and cornering performance. It also has an outstanding performance on wet roads with superb hydroplaning resistance.
4. Sumitomo Encounter HT – Highway All-Season Tire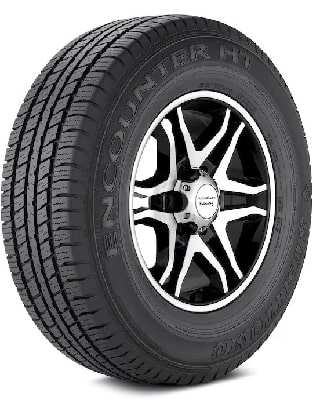 This highway all-season tire is a tire for pickups and SUVs. It features an outstanding design that ensures exceptional performance in both dry and wet road conditions. This high-quality tire can even handle light snow driving.
The tire's groove patterns and the overall tread design ensure that you can drive on wet roads free from the worries of hydroplaning. Moreover, the quality tread design of the tire provides an excellent handling experience and longer tread life.
It has a reliable internal construction that is consists of a two-ply polyester casing beneath two wide steel belts. This is why the tire could last longer.
5. Sumitomo Encounter AT – On-/Off-Road All-Terrain Tire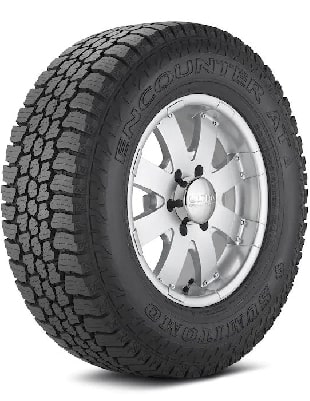 Going off-road can be an exhilarating experience. However, ensuring that your vehicle's tire can handle off-road terrains is an essential thing to consider before you plan for an off-road ride.
The Encounter AT is a tire for your pickup truck, crossover, or SUV. Installing this tire on your vehicle would ensure that you can confidently drive on challenging off-road terrains. The durability of this tire is one of its many great values.
This tire uses a unique all-terrain compound molded into a purposeful pattern to make the tire work on any road surface. It also features a unique tread design that enhances its response and stability.
6. Sumitomo HTR Enhance C/X – Crossover/SUV Touring All-Season Tire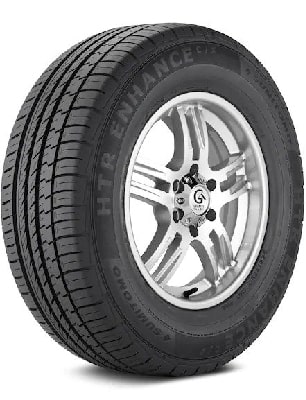 Long tread wear and comfortable ride are among the good qualities this tire boasts.
As an all-season tire, it provides excellent all-season traction performance. This is made possible by the high-quality all-season silica compound molded into 5-rib asymmetric tread patterns. This unique tread design ensures a stable driving experience.
The tire also boasts outstanding corning performance even in wet road conditions.
7. Sumitomo HTR Enhance LX2 – Grand Touring Tires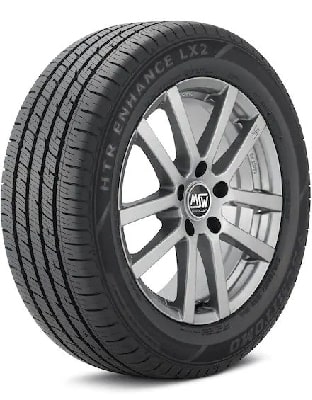 The HTR Enhance LX2 Grand Touring offers superb traction performance in wet and dry roads, just like the other Sumitomo tires.
This tire has an increased number of zigzag sipes in its tread pattern that helps in delivering a smooth handling experience even on light snow. This tire's high-grade all-season silica compound ensures the tire's strength and flexibility.
Why You Should Consider Sumitomo Tires
High-Quality Internal Construction
Almost every tire the company produces features a high-quality internal construction involving twin steel belts reinforced by the Jointless Nylon Band (JNB) technology. The polyester casing of the tires makes them more robust.
Budget-Friendly Tires with Great Value
Sumitomo Tires are among the tires in the market that will not hurt your pockets that much during replacements. It is inexpensive, but the performance it delivers is top-notch.
A Decade of Proven Quality
As detailed above, SRI has been in the tire industry for over 100 years producing quality tires, which Sumitomo Tires is one of its legacies. SRI ranks as the fifth largest manufacturer of tires in the world.
Great Innovation and High-End Technologies
Sumitomo's most notable breakthrough is the 4D Nano Design, an advanced rubber compound for different road conditions. The company never compromises the quality of its tires.
Another great integration of Sumitomo to its tires is the JNB technology, which helps the tire provide better handling and longer tread life.
Frequently Asked Questions
1. Are Sumitomo tires any good?
Well, as you have just learned. The company that manufactures this tire has a good long record of producing high-quality tires. So it is a good tire for you to consider. You will get a handful of values for a minimal cost.
2. Who makes the Sumitomo tires?
The fifth-largest tire manufacturer, Sumitomo Rubber Industries Ltd. (SRI), makes the Sumitomo tires. It is a company rooted in Japan established in 1909.
3. How many miles do Sumitomo tires last?
Depending on the model, Sumitomo tires generally last between 50,000 to 70 000 miles.
Conclusion
If you are looking for a brand of tire that offers excellent value at a lower price, this brand could be at the top of your list. This brand is simply doing well in the tire market. It has a wide range of tires for different vehicle types, including passenger-type vehicles, light trucks, and SUVs.
The maker of this tire has been in the industry for over 100 years – that alone could be your guarantee that the tire you will get is of high quality. The company would not last that long if it does not value quality that much.
So, is Sumitomo Tires worth investing in? Well, if you don't want to hurt your pocket during tire replacements, this brand of tire is a wise investment. Imagine how much you could save compared to buying well-known high-priced tires that provide almost the same performance quality.