Driving can be a fun activity, but it can also be very stressful if you don't have comfort. One thing that affects your driving comfort level is the performance of your vehicle's tires. Many brands and models of touring tires promise a comfortable driving experience, but in this post, we will talk about the Falken Sincera SN250.
The Falken Sincera SN250 is another offer from Falken that bears its breakthrough technologies, such as Dynamic Range Technology, Tension Control Technology, and the 3D Canyon Sipe Technology. This grand touring all-season tire comes with great offers, including superior comfort level, enhanced all-season traction, and durability.
What is impressive is that you get all the benefits above at a lower price. So yes, this tire is an affordable replacement you should consider.
Read on because I will discuss the technologies in manufacturing this tire and its features and performance on various road conditions.
Overview of Falken Sincera SN250 A/S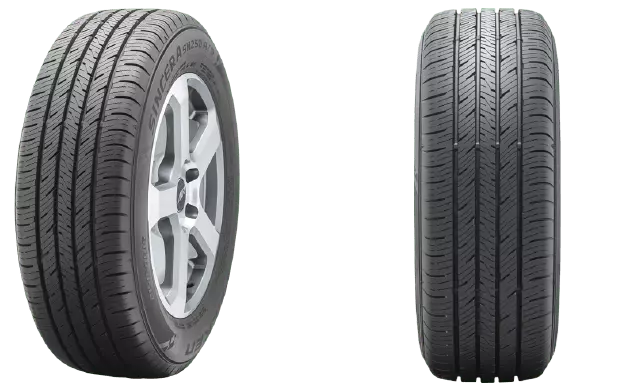 Falken prides itself on being a leader in high-performance tire technology that delivers excellent road performance.
Falken classifies the Falken Sincera SN250, a touring tire that delivers exemplary performance, longer tread life, and enhanced comfort level. In addition, the manufacturer boasts outstanding performance because of the advanced technologies applied in the making of this tire.
Let's talk about these technologies and some of the tire's unique features.
Dynamic Range Technology
Falken is not left behind when we talk about technology advancement. Among its breakthrough technologies is Dynamic Range Technology. This technology is behind the high-grade all-season silica tread compound used to make the tire.
The advanced silica compound can withstand low temperatures giving the tire extra grip on wet, snow, and icy roads. Surprisingly, this high-grade compound can withstand high temperatures and ensures that the chemical compounds remain strong as it heats up when you roll on the road.
Tension Control Technology
Another advanced technology employed in the Falken Sincera SN250 A/S production is the proprietary Tension Control Technology of Falken. It is a casing mold shape that provides a more flexible middle sidewall.
With this technology, the handling ability of the tire is just commendable. This enhanced handling capability of the tire makes it a desirable touring tire that would fit your budget.
3D Canyon Sipe Technology
You've probably heard about this technology or may have read about this from other posts and reviews. However, if this is your first time getting to know this, the 3D Canyon Sipe Technology improves the traction performance of the tire.
Because of this technology, you can cast your worry away when you drive on ice or snow, as this ensures that your vehicle can achieve a firm contact with the surface to keep you rolling. Now that is just peace of mind.
It further provides a shorter braking distance and improves all-weather handling. Moreover, the interlocking characteristics of the sipes help deliver outstanding performance on dry roads.
Outstanding Driving Comfort
I am all about comfort when I take long drives. Therefore, it is among my top priorities when purchasing a new set of tires. Luckily, the Falken Sincera SN250 A/S boasts superior driving comfort, and end-users experiences seem to confirm it.
This excellent performance is possible because of the asymmetric tread pattern and the optimized tread block placement. Aside from the high level of comfort that the tire provides, the tire also offers enhanced cornering grip and stability.
As an added comfort, the strategically placed tread blocks of the tire ensure that the noise it makes is tolerable. The tread blocks help suppress the noise when you drive your vehicle on a dry highway.
Optimal Grip
The Falken Sincera SN250 A/S provides a firm grip on light ice and snow. This superb performance is due to the asymmetrical rib design with angled tread grooves on every rib.
The tire is also equipped with a solid center rib to help deliver excellent handling and enhanced response. The Falken Sincera SN250 A/S further features wide circumferential grooves that ensure lasting grip on wet roads.
The four circumferential grooves make the tire highly resistant to hydroplaning. It means that you can drive in the rain without worrying so much about your safety.
Longer Tread Life
The tire uses a high-grade silica-based compound that helps deliver durability. In addition, the unique tread design promotes balanced tread wear, which directly results in longer tread life. An 80,000-mile tread life warranty is not bad at all; it is impressive.
How Falken Sincera SN250 A/S Works on Ice/Snow, Wet Roads, and Dry Roads
How It Performs on Ice/Snow
The traction level of the Falken Sincera SN250 A/S on light ice and snow is quite impressive. Users report that it delivers a pretty tight grip when rolling your vehicle on ice or snow. Can this tire then replace your dedicated snow tires? The straight answer, is of course, NO.
We always hear people saying, "use the right tool for the job." The same goes with tires. If you are traversing deep snow or severe winter conditions, your regular touring tire may not be able to deliver the performance you expected.
So you probably ask, what's the use of it being an all-season tire then? Well, it does give you an all-season performance. You can conquer light ice and snow with this tire, which is already impressive for delivering such versatility.
How It Performs on Wet Roads
Alright, so we know that this tire can give you reliable ice/snow traction. Now, the next critical question is, can the Falken Sincera SN250 A/S provide you a safe ride on wet surfaces?
Yes sir! The tire carries the 3D Canyon Sipe technology that ensures the delivery of enhanced and dependable wet traction. In addition, the tire has anti-hydroplaning capability because the sipes effectively disperse water, providing firm road contact.
How does the tire manage to channel road water effectively? It does this through the wide circumferential grooves. These grooves ensure that you get enough traction to have a safe drive in the rain.
If you want to speed up on wet roads, the tire might still handle it, but I suggest you don't take the risk. Don't be tempted to push the tire to the limit, as this usually results in bad things. In my case, I always drive with precaution.
How It Performs on Dry Roads
The traction performance of the Falken Sincera SN250 A/S on dry pavement is a little lesser compared to its wet traction. However, it is still very dependable, and it is, for sure, among the list of affordable tires that provide excellent dry traction levels.
It is best not to put a lot of pressure on your gas pedal when you drive your vehicle on dry roads with this tire. This tire only provides marginal traction on higher speeds and sharp turns, and if you don't have a solid driving experience, it may be a little risky to push this tire to the limit.
If you've done your research, you will find out how users attest that this tire gives you a good feel of the road. Oh well, I like that quality.
Price Range
Depending on your tire requirement, the Falken Sincera SN250 A/S price starts at around $60. The price may go up to $200 as the tire size increases.
You may watch out for occasional promotions offered by tire dealers and take advantage of the discounts and rebates they may offer.
Warranty Terms
The tire on focus is very competitive if we talk about warranty terms.
The Falken Sincera SN250 A/S boasts an 80,000-mile tread life warranty on T-speed rated sizes and 75,000 on H and V-speed rated sizes. This is a good warranty.
Falken guarantees tire uniformity for the first 2/32 inches of tread wear. In addition, the tire includes materials and a workmanship warranty that provides free replacement during the first 2/32 inch tread wear. For the remaining tread depth of the tire, down to the final 2/32 inch of tread depth, a prorated amount is provided.
Vehicles Falken Sincera SN250 A/S Will Fit
See some sample vehicles that the tire would fit on the list below. If your vehicle is not listed, you must know your rim size. So, look at the sizes table below and see if it would fit your ride.
| | |
| --- | --- |
| BRAND | MODEL |
| Buick | Encore GX |
| Chevrolet | Trailblazer |
| Hyundai | Tucson |
| Hyundai | Santa Fe |
| Kia | Sportage |
| Mazda | CX-7 |
| Mitsubishi | Outlander |
| Suzuki | Grand Vitara |
| Toyota | Rav4 |
| Toyota | 4Runner |
Below is a shortlist of available sizes of the tire.
RIM SIZE
TIRE SIZE
14″
175/65R14 82T BLK
185/60R14 82H BLK
185/65R14 86T BLK
185/70R14 88T BLK
195/70R14 91T BLK
15″
175/65R15 84T BLK
185/55R15 82V BLK
185/60R15 84T BLK
185/65R15 88T BLK
195/55R15 85V BLK
195/60R15 88T BLK
195/65R15 91T BLK
195/65R15 91H BLK
16″
185/55R16 83T BLK
195/55R16 87T BLK
205/50R16 87T BLK
205/55R16 91H BLK
205/55R16 91T BLK
205/60R16 92H BLK
205/65R16 95H BLK
215/55R16 XL 97H BLK
215/60R16 95T BLK
215/60R16 95V BLK
17″
205/50R17 XL 93V BLK
215/45R17 87V BLK
215/50R17 XL 95V BLK
215/55R17 94V BLK
215/55R17 94T BLK
18″
215/55R18 95T BLK
225/45R18 XL 95V BLK
225/50R18 95T BLK
225/55R18 98T BLK
Frequently Asked Questions
1. Is the Falken Sincera SN250 A/S a good tire?
The tire provides excellent wet traction and dependable light ice/snow traction. It further offers superb handling capability and an enhanced comfort level. In addition, the tire will not hurt your pocket that much. Therefore, this is an excellent tire to consider.
2. Who makes the Falken Sincera SN250 A/S?
Falken Tires is a brand produced by the Japanese tire manufacturer Sumitomo Rubber Industries (SRI), which has been in existence since 1983. The company entered the US market in 1985, producing competitive tires for passenger cars, light trucks, and medium trucks.
3. Is the Falken Sincera SN250 A/S quiet?
The tire features strategically placed tread blocks that effectively suppress noise. It is not the quietest tire, but it makes minimal noise. The tire does make a sound when you speed up on wet roads because it will find the necessary traction to keep you safe.
4. Is the Falken Sincera SN250 A/S made in China?
Falken produces tires at its different facilities, including the Buffalo, New York plant, back in Japan, Germany, and Rancho Cucamonga in California. The company's subsidiary Sumitomo Rubber USA (SRUSA) is making this tire in the US.
Conclusion
If you ask me if the Falken Sincera SN250 A/S is worth your money, it is. It gives you the comfort level you can expect from a touring tire. In addition, the tire's enhanced handling and outstanding all-weather traction are some things that you shouldn't miss.
The tire bears the latest breakthrough technologies of Falken, including the Dynamic Range Technology, Tension Control Technology, and the 3D Canyon Sipe Technology to ensure uncompromising performance.
Lastly, it is among the tires that would surely fit your budget for many benefits. It is an ideal choice if you have a tight budget for replacement tires.
Related Articles: