We all love going miles – it is a fun thing to do. The feeling of excitement as you step on that gas pedal is so satisfying. You'll feel you are in total control when you drive.
However, one thing that ruins the fun in driving is sometimes the tires you install in your vehicle. It would be best if you had tires that give you comfortable handling and longer mileage. The Bridgestone Ecopia H/L 422 Plus is just this kind of tire.
This tire boasts comfortable driving, fuel efficiency, good road traction, long tread life, and less environmental impact.
Read on and discover one of Bridgestone's best-selling grand touring all-season tires, and learn more about its outstanding qualities.
Overview: Bridgestone Ecopia H/L 422 Plus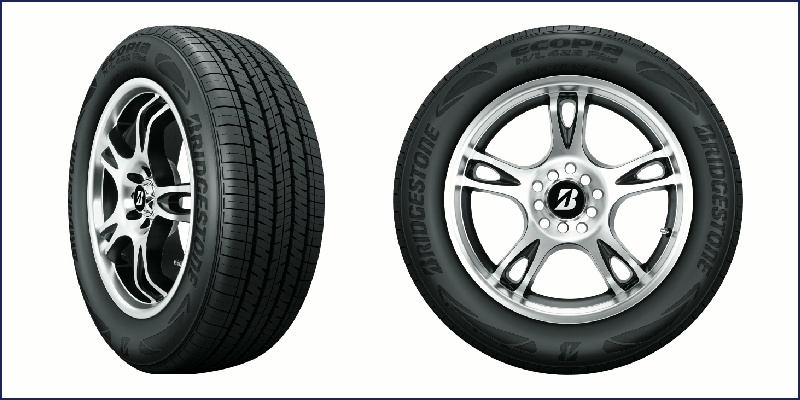 What defines comfortable driving? It is the feeling of comfort for the driver while maneuvering the car. If a tire provides comfortable handling, the driving experience would be less stressful because the driver will have easy control over the vehicle.
The smooth handling performance of the Bridgestone Ecopia H/L 422 Plus is due to its symmetric tread pattern that features closely spaced elements. The optimized tread design of the tire ensures that it would resist irregular wear and give a smooth and quiet experience.
Adding up to the enhanced tread design of the tire are its continuous center and intermediate ribs that provide a solid on-center feel and great braking distance.
Highly Fuel Efficient
If it is your first time to know that your SUV tires actually affect fuel efficiency, you might wonder how it happens. So, let me tell you a bit about how a tire can affect your car's fuel usage.
Have you heard about rolling resistance? It is the energy that your vehicle needs to keep your tires moving at a consistent speed over a road surface. If the tire you install has high rolling resistance, it means that your vehicle will exert more energy to keep moving; thus, it means more fuel consumption.
The tread design is another determinant if your tire is fuel-efficient or not because it affects the tire's rolling resistance. It is always a challenge for an all-season tire to provide a fuel-efficient ride because there is a requirement to balance its performance to ensure it performs well regardless of the road conditions.
Bridgestone has successfully engineered this tire to make it a highly fuel-efficient tire. The tire remarkably has a low rolling resistance due to the advanced technology used in its production.
Exemplary Road Traction
I would guess this is not your first time to read a tire review. Tire traction is consistently among the highlights of a tire review. So, you should already have an idea why the tire's traction is essential.
The Bridgestone Ecopia H/L 422 Plus will give you no less than outstanding traction in both wet and dry road conditions. This good traction is made possible by the unique tread design of the tire and its overall construction.
The tire's center and ribs design ensure that it can provide the ideal traction and braking distance on dry roads. The four wide circumferential grooves of the tire, on the other hand, make the tire highly resistant to hydroplaning.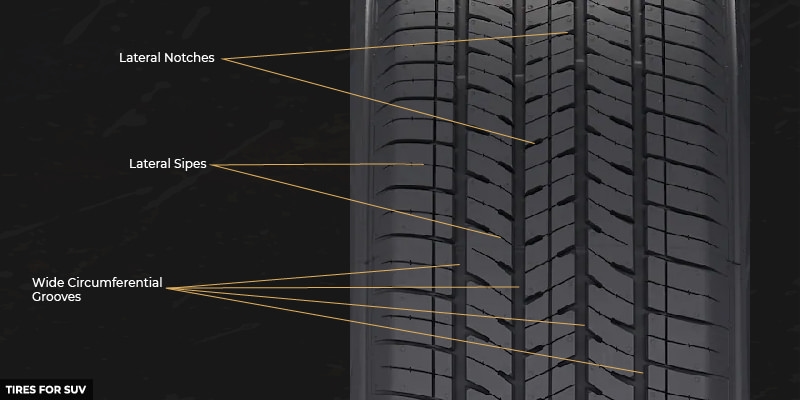 The tire also features multiple lateral notches and sipes that create effective biting edges to ensure a firm grip in wet, icy, or snowy road conditions.
Longer Tread Life
We sure hate replacing our tires in a short period. Aside from the hassle of doing it, sometimes it costs so much. That is why we must check the tread life of the tire before getting it.
The Bridgestone Ecopia H/L 422 Plus should be on your list if you are looking for a long-lasting tire. It has gained quite a reputation for its durable tread.
It achieves longer tread life because of its tread design and robust construction. The internal construction features twin steel belts, spirally wrapped nylon, and a polyester casing.
Less Environmental Impact
Among all the Bridgestone Ecopia H/L 422 Plus features, its minimal environmental impact is my favorite. It always feels good knowing that you are leaving a less ecological footprint with the tire you are using.
Bridgestone has employed environmentally-friendly technology to ensure that the tire will deliver improved fuel efficiency, resulting in lower emissions on cars.
Performance on Different Road Conditions
Let us take a detailed look at how the Bridgestone Ecopia H/L 422 Plus performs on different road conditions, including the ice/snow, wet, and dry roads.
Performance on Ice/Snow
While your tire is new, it will give you a satisfactory performance on ice and snow. The tire has features that ensure performance on ice and snow, so it should give you this essential performance. However, as the tread wears out, the tire may not give you optimal performance on an icy/snowy road.
You can still drive your SUV in light snow with this tire. However, if you are in an area that frequently experiences severe snow, you might want to look for another option.
Some user reviews you can see online also suggest that this tire is not best from severe winter road conditions. There have been some testimonies that the tire's performance on ice or snow becomes worse as the tread of the tire wears out. I think it is expected that the tire's traction decreases when the tread wears out. However, maybe you can consider other options if you frequently drive on these challenging terrains.
Performance on Wet Roads
You just learned that the tire is not the perfect tire for you if your area constantly experiences severe winter conditions. The next question now is: How does this tire perform on wet and slippery surfaces?
The Bridgestone Ecopia H/L 422 Plus is good in this aspect. It doesn't quickly lose its grip on the road even when you drive in heavy rain. The wet road traction of this tire is excellent that making it highly resistant to hydroplaning.
However, like what enthusiast drivers advise, you need to ensure that you do regular maintenance check-ups with your tire, especially if you know that you have had it for quite some time already. You need to always bear in mind that the performance level of your tire diminishes over time.
Performance on Dry Roads
As you learned earlier, this tire offers a comfortable driving experience. When you drive your SUV on a dry road, feel free to step on your gas pedal and speed up. This tire will give you the performance that you need.
Aside from comfortable handling on dry roads, it also can provide short braking distances and stable cornering performance. It sounds like this is on top of your list if you are in an area that does not experience severe winter conditions. It is definitely a reasonable choice.
With this tire installed on your vehicle, you can be confident that you can drive safely. Why so? You can't ask for more when it comes to traction on dry roads. Then, it has a great short braking distance. These top qualities of the tire make it among the safest tire you could ever have.
Its superb dry road capabilities are what makes this tire one of the best in its category.
Bridgestone Ecopia H/L 422 Plus: Pros & Cons
Price Range
Depending on your tire requirement, the price of this tire ranges between $150 to $350.
If you want to find a low-priced Bridgestone Ecopia H/L 422 Plus, you might find one at local auto shops or maybe online shops. However, they are primarily pre-owned tires.
Although they may come cheaper, they may not have the same safety level as the brand-new tire. Thus, think twice when you consider purchasing a second-hand tire as you might be compromising your safety.
Warranty Terms
This tire comes with a 70,000 miles mileage warranty. The warranty for the rear tires is only half the mileage if they are not of the same size as the front.
Uniformity Tread Warranty is also offered for the first 2/32″ of treadwear.
In addition, the tire also comes with a 5-year Workmanship and Materials Warranty. The tire user can request for replacement during the first three years, then could avail of a prorated warranty until 2/32″ of remaining tread depth.
Another good offer from Bridgestone for this tire is the 90 Day Buy & Try Guarantee, which works like a trial period for the user to test out the tire's performance.
If you want to see the full warranty brochure of the tire, you can download it here.
What Vehicles Will Bridgestone Ecopia H/L 422 Plus Fit
Below is a list of SUVs that the Bridgestone Ecopia H/L 422 Plus would fit.
This list does not include all the SUVs that this tire is compatible with, so if your vehicle is not listed, you can check the rim size of your tire and its tire requirement, then refer to the available sizes of the tire in the table provided below.
| | |
| --- | --- |
| BRAND | MODEL |
| Acura | RDX |
| Acura | MDX |
| Buick | Enclave |
| Buick | Rainier |
| Chevrolet | Traverse |
| Dodge | Durango |
| Honda | CR-V |
| Lexus | RX350 |
| Mazda | CX8 |
| Nissan | Murano |
| Subaru | Outback |
brief list of Bridgestone Ecopia H/L 422 Plus compatible vehicles
This tire is available in the sizes below.
| | |
| --- | --- |
| RIM SIZE | TIRE SIZE |
| 16″ | 215/65R16 102V 215/70R16 100H 225/70R16 103H 235/60R16 100T P235/65R16 101T P235/70R16104T |
| 17″ | 225/55R17 97H 225/60R17 99H 225/65R17 102H 235/55R17 99H P235/60R17 100H 235/65R17 100H P245/65R17 105T |
| 18″ | P215/55R18 94H 225/55R18 98H 225/60R18 100H 235/50R18 97V 235/55R18 100H 235/60R18 103H 235/65R18 106H P245/60R18 104H P255/65R18 109T |
| 19″ | 225/55R19 99V 235/55R19 101H P255/60R19 108H |
| 20″ | P245/50R20 102H |
brief list of Bridgestone Ecopia H/L 422 Plus sizes
Frequently Asked Questions
Is the Bridgestone Ecopia H/L 422 Plus a good tire?
This tire provides a smooth driving experience, especially on dry roads. Moreover, it is fuel-efficient and environmentally friendly. It performs outstandingly on wet roads. However, its performance on snow or ice is only average. But overall, this is an excellent tire to consider.
Is the Bridgestone Ecopia H/L 422 Plus a quiet tire?
Quietness is one of the best qualities of this tire. It may not be the quietest in its class, but reviews show that this tire is remarkably quiet even on highway driving.
Where are Bridgestone tires manufactured?
Bridgestone is a Japanese tire manufacturer that hails from Chuo City, Tokyo, Japan. It has multiple manufacturing facilities all over the world. In the US, it has at least 14 different manufacturing plants. The company has started its US operations in 1967.
Final Thoughts
The Bridgestone Ecopia H/L 422 Plus comes with great qualities including, a smooth driving experience, fuel efficiency, good road traction, and minimal environmental impact.
However, it also has some drawbacks. As I have mentioned earlier, if you live in an area that consistently experiences severe winter conditions, this tire may not be the best choice. Its traction power on ice and snow is not that impressive.
But if you usually drive on highways or dry roads, this could be the tire you need.