Are you planning to grab your car's steering wheel again and step on its gas pedal for another long road trip? Before you set off into the horizon and enjoy the different sceneries and landscapes, you might need to prep up your car's tires for this tour. Let me present you with a touring tire that might be the next option.
Let the Cooper CS5 Grand Touring provide your utility vehicle with a smooth, safe, and quiet ride. This tire is perfect for enthusiast drivers looking for a tire with smooth handling, stable cornering ability, and exceptional traction on different road conditions.
I will talk about the tires' features, design, the value you get from getting them, and a lot more, so read on.
Cooper CS5 Grand Touring: Overview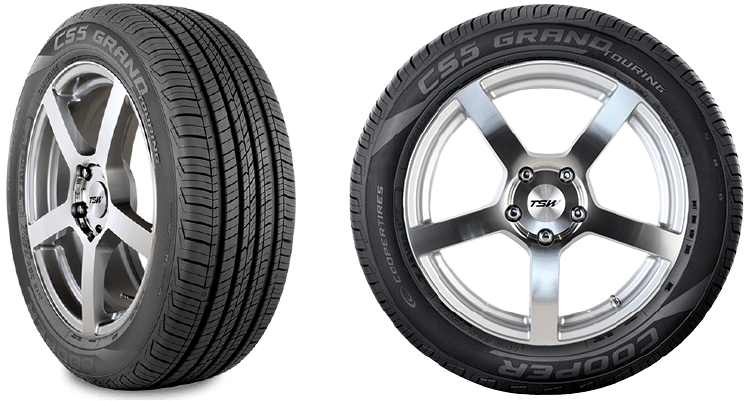 The Cooper CS5 Grand Touring is an M/S certified tire offer from Cooper Tires, which means it meets the Rubber Manufacturer's Association's (RMA) standards for a mud and snow tire.
The maker of this tire, Cooper Tires, is an Ohio-based tire manufacturer operating since 1914, has high regard for producing quality tires for vehicle owners.
On top of the superior performance of this tire, it also includes premium warranty terms, which I will elaborate further towards the middle part of this review.
So, what makes this tire a good tire?
Coupled Silica Compound
Have you ever wondered how all-season tires can provide such a good grip on different road surfaces and how they achieve long tread life? Part of the main reason is the rubber compound that it uses.
Cooper Tires understands the importance of using a high-grade silica compound to ensure that the tire will deliver satisfaction. Therefore, it has developed a chemically coupled compound so that the Cooper CS5 Grand Touring can provide enhanced grip, low rolling resistance, and long-lasting tread life.
StabilEdge™ Technology
This latest innovation from Cooper Tires is enhancing the tire's dry road handling stability. This technology is among the factors that allow this tire to give you a smooth and fuel-efficient ride.
This particular breakthrough technology reduces the tread block flexes as the tire rolls on the road; it means that the tire is more responsive and could provide the driver with a stable and high-speed cornering ability.
Newly Developed Five-Rib Tread Pattern
The tires' remarkable tread pattern makes the tire handle wet and light snow driving. The tread design ensures strong traction of the tire on wet roads or snowy surfaces.
The tire features efficient grooves on its circumference that provide an upgraded hydroplaning resistance. The unique asymmetric tread design of the tire and the chemically coupled silica compound used in its production gives the tire long-lasting tread life.
How is this advanced tread design work? It minimizes tread wearing because the tire can rotate from one side of the car to the other. Thus, the treads can wear evenly, and the tire is less noisy and has longer tread life.
3D Micro-Gauge Siping
The 3D Micro-Gauge Siping technology is another addition to this tire.
This technology is responsible for giving the tire more traction and stability. It makes sure that the tire can obtain maximum road contact to provide the driver with more stable and sensitive maneuvering.
Robust Internal Construction
Anchored to its high regard for quality, the company has ensured that the tire's internal construction is reliable.
The tire's construction features two high-strength steel belts, a single-ply polyester casing, and a spirally wound nylon reinforcement. The latter helps the tire become more responsive and more durable.
Cooper CS5 Grand Touring on Different Road Conditions
We've just covered the unique features of the Cooper CS5 Grand Touring tire. Now, let's look at how this tire performs in various road conditions.
Snow/Ice Performance
The danger of driving in snowy or icy road conditions is real. Who could forget the accident involving over 100 vehicles in Fort Worth, Texas, on February 12, 2021? You probably have seen from the viral video how the driver of the FedEx truck, and the rest of the cars involved in the accident, lost control due to the icy road condition.
The tire you install on your SUV must be safe for driving on ice and snow. So now, how does the Cooper CS5 Grand Touring perform on ice and snow?
This tire promises to provide a good grip on ice or snow. It is a tire made for wintry road conditions, so it must offer such performance. The tread design and the silica compound used in tire production make the tire perform well in these road conditions.
Can it handle severe wintry road conditions? Well, this tire is probably not the best option if you frequently drive on extremely icy or snowy roads. This tire may manage light ice and snow on the road but not the extreme wintry conditions.
Wet Roads Performance
Drivers understand that driving on wet roads could be very dangerous. There is the risk of hydroplaning because the vehicle's tire loses traction. It is common for tires to lose traction on wet roads as the water may make the road slippery when it mixes with road dirt.
The good news is, the Cooper CS5 Grand Touring is good at this road condition. It has optimum traction on wet roads that you can even accelerate when driving in the rain without any issues. The braking distance of the tire is also relatively short.
Dry Roads Performance
Like how the Cooper CS5 Grand Touring performs on wet roads, this tire provides exemplary performance on dry roads. The tire manufacturer has managed to balance the tire's performance on dry and wet roads. This balanced performance makes the tire one of the most reliable budget tires in the market.
You've probably tried different tires on your SUV and could probably confirm that every set of tires you install gives different performance levels.
The construction, materials, and technologies used in a tire determine its performance. Cooper Tires ensure that the Cooper CS5 Grand Touring does not fall short of its performance, so it used an advanced compound molded into an exceptional tread with added technological features such as the StabilEdge and the 3D Micro-Gauge Siping technologies.
Do you feel like accelerating on dry roads? Why not? With this tire on your SUV, you can drive fast on dry roads with ease. The tire's traction gives you could handle your urge to go fast on dry roads.
Another thing you might be interested in finding out is: Is this tire noisy on dry-road driving? Reviews and tests of this tire reveal that it provides a quiet ride. Although tire noise may not be a big deal for some, it is an added value that may make the difference when deciding which tire to get next.
Cooper CS5 Grand Touring: Pros & Cons
Price Range
The price of this tire ranges between $85 to $200. Of course, the larger your tire is, the higher the price becomes.
If you want to check out the latest prices or the specific price for your tire need, I recommend checking it here.
For some of you who plan to acquire pre-used tires because you want to get them at a lower price, please make sure that the used tire does not offer the same level of safety and performance as the new ones. And they usually are not covered by the warranties.
Warranty Terms
The Cooper CS5 Grand Touring comes with a 70,000 miles tread life warranty for the V- and H-Speed rated tires and 50,000 miles for the W-Speed rated tires. Rear tires that are not the same as the front only get half of the mileage warranty.
The company further offers a Uniformity Warranty for the first 2/32″ of treadwear. It also provides a Workmanship & Materials Warranty for the first 2/32″ of wear, which means a user can request for a replacement.
Users of this tire can also enjoy the 45-Day Test Drive period offered by the company. The tire user can request a replacement if, in any case, the tire's performance was not satisfactory.
You can view the manufacturer warranty brochure here.
Vehicles Cooper CS5 Grand Touring Will Fit
Below are some SUVs that the tire would fit. The list is only generic; some models launched in different years may have a different rim size and tire requirement.
It is always advisable to make sure that the tire does fit before you pay for it.
| | |
| --- | --- |
| BRAND | MODEL |
| Cadillac | XT5 |
| Cadillac | SRX 2009 |
| Dodge | Nitro |
| Dodge | Equinox |
| Ford | Escape |
| Ford | EcoSport |
| Honda | CR-V |
| Kia | Sportage 2019 |
| Volkswagen | Touareg |
| Volkswagen | Tiguan 2021 |
a brief list of Cooper CS5 Grand Touring compatible vehicles

Check out the different sizes of the tire from the table below.
RIM SIZE
TIRE SIZE
15″
185/65R15 88T BSW
195/60R15 88T BSW
195/65R15 91T BSW
205/60R15 91T BSW
205/65R15 94T BSW
205/70R15 96T BSW
215/60R15 94T BSW
215/65R15 96T BSW
215/70R15 98T BSW
16″
205/55R16 91T BSW
205/60R16 92T BSW
215/60R16 95T BSW
215/65R16 98T BSW
225/60R16 98T BSW
225/65R16 100T BSW
225/70R16 103T BSW
235/65R18 106T BSW
235/60R16 100T BSW
235/65R16 103T BSW
17″
215/60R17 96T BSW
215/65R17 99T BSW
225/55R17 97T BSW
225/60R17 99T BSW
225/65R17 102T BSW
235/55R17 99T BSW
235/60R17 102T BSW
185/60R15 84T BSW
235/65R17 104T BSW
18″
225/50R18 95T BSW
225/55R18 98T BSW 235/65R18 106T BSW
a brief list of Cooper CS5 Grand Touring sizes

Frequently asked Questions
Are Cooper CS5 Grand Touring tires good?
If you are looking for value for your money, this tire could be your best bet. Dry and wet roads traction and braking performance are remarkable. This tire offers superior handling and cornering stability. Moreover, the tread life warranty of the tire is quite competitive.
Where is the Cooper CS5 Grand Touring tires manufactured?
Cooper Tires produce its tires from its tire manufacturing plants in different locations. Its headquarters is in Findlay, Ohio, but it also runs production facilities in Texarkana, Arkansas, and Tulepo, Mississippi.
Are Cooper tires quiet?
Surprisingly, Cooper tires are quiet for a budget tire when you roll them on the road. They may not be the quietest, but the noise level of the tire is quite impressive.
Are Cooper tires safe?
Cooper tires get good performance ratings, as you may find from online reviews and test results. Are they safe? Yes, it is a strong choice if your concern is safety. The tire boasts enhanced traction on wet and dry roads and even on light snow. This outstanding performance makes the tire one of the safest replacement tires you could get.
Final Thoughts
Good handling capability, road traction, braking distance, and cornering stability are crucial things a tire must provide. These are what provide you with safety on the road.
A tire that does not have good road traction is likely to increase the chances of you losing control of your car, especially on wet or slippery surfaces. If the tire cannot provide a short braking distance, it may result in unwanted road accidents.
The Cooper CS5 Grand Touring tire features are probably among the best options for a new all-season touring tire.
The Cooper CS5 Grand Touring provides smooth handling, enhanced road traction, shorter braking distance, and outstanding cornering stability because of its unique tread design and the high-grade silica compound it uses.
The combination of Cooper Tire's newly developed Five-Rib Tread Pattern, 3D Micro-Gauge Siping technology, and StabilEdge™ technology has produced this durable and high-performance tire.
Moreover, the tire's Warranty Terms adds up to its value for your money.
So, is this tire a good investment? It is a good investment indeed. Value for money, outstanding road performance, and long tread life – these are just among the many reasons why this tire is recommendable.