Do you own a high-performance vehicle? You should be interested in installing ultra-high-performance tires on your ride if you do. Like the Cooper Zeon RS3-A, these tires can handle speeds of up to 149 mph or more. They are ideal for dry road driving as they have a high-quality grip on paved roads.
The Cooper Zeon RS3-A ultra-high performance all-season can give you enhanced handling and improved controllability. It comes with loads of technologies and unique features such as the Advanced Technology Mold Profile, the asymmetric tread design, the 3D Micro-Gauge Siping, and the silica-based compound.
This tire is not only best in dry roads as it is also highly resistant to hydroplaning due to its circumferential grooves and sloid continuous rib.
I will talk more about these features and the unique qualities of this tire in the following sections of this review, so stick around.
Overview Cooper Zeon RS3-A Tires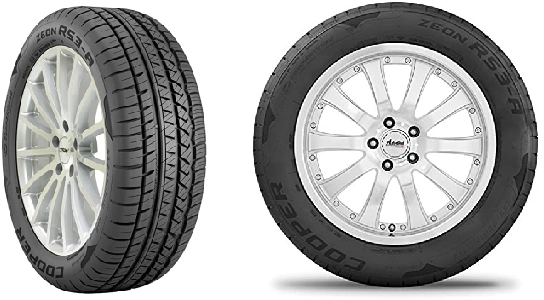 Cooper Tire & Rubber Co. has just been very successful in the tire industry. It is no wonder that it is one of the best brands of tires and among the most popular. This Akron, Ohio-based tiremaker always ensures that each tire it produces provides safety.
Among its many advocacies is discovering new technologies and producing high-quality, long-lasting, and safe tires. Cooper Tire's three main commitments are providing safe products, affordable products, and giving its consumers confidence that the product they are using is of high quality.
You would not be surprised why this brand is very known in the industry. Aside from the fact that it is an American company, it has been in the industry since 1914.
Let us take a closer look at the technologies used in the Cooper Zeon RS3-A and some of the tire's unique features and qualities.
Advanced Technology Mold Profile
This technology ensures a reliable tread-to-road contact is achieved through a square tread footprint. The few inches of the tire that connects to the road is vital as it influences your vehicle's performance when you are driving.
3D Micro-Gauge Siping
This technology helps increase tread element stability. Additionally, it improves handling and tire control and reduces the chances of stone retention.
The 3D dimple sipes with interlocking geometry provide more depth without compromising the stability of the tread element. In addition, these dimple sipes offer more biting edges to ensure solid traction on wet and light snow.
Silica-based Compound
The rubber used in making a tire mixes many different materials.
The Cooper Zeon RS3-A uses a silica-based tread compound to ensure all-season traction.
This specialized compound also assists in decreasing the rolling resistance of the tire. Of course, we all understand how significant low rolling resistance is when talking about fuel efficiency.
Asymmetric Tread Design
The asymmetric design of the tire brings a lot of outstanding benefits. These include tread pattern tuning, cross-rotation, even tread wear, minimal road noise, and longer tread life.
The tire provides exceptional dry handling and traction because of the liberal amount of rubber on the outboard tread pattern.
The tire's tread features a large outside shoulder and immediate tread elements that improve handling, stability, and cornering. In addition, the offset shoulder-to-intermediate grooves and significant intermediate tread elements help suppress the noise to give you a quieter ride.
Other unique features of the tire's tread are the laterally oriented shoulder grooves, uniform element geometry, and chamfered edges that give the tire a longer tire.
The inbound tread pattern of the tire ensures outstanding performance in wet and light snow conditions. It comes with two wide circumferential grooves that efficiently disperse the water to avoid hydroplaning incidents.
Improved Overall Handling
This tire can provide the driver with all-season dynamic handling. As mentioned in the previous section, it can do this because of the tire's asymmetric tread design.
The large outside shoulder and immediate tread elements work together to improve handling capability.
Reliable Traction and Braking Performance
The tire can provide reliable traction even on wet roads and light snow. It has the necessary features to deliver this performance, including the silica-based compound and the wide circumferential grooves that boost the tire's traction level on wet surfaces and snow.
Most users of this tire affirm that the braking distance of the tire is outstanding in its class. Moreover, this good performance is impressive for a budget-friendly tire. So, if you are looking for an affordable, high-performance tire with a reliable braking distance, this could be the perfect option.
How Does Cooper Zeon RS3-A Work on Different Road Conditions
How It Performs on Ice/Snow
Can the Cooper Zeon RS3-A handle ice/snow-covered roads? 
The tire has enough biting edges to conquer light ice and snow. If you only deal with light snow, this tire can safely bring you to your destination. 
It doesn't quickly lose grip, and the braking performance is very reliable. However, there is a slim chance of getting stuck or spun out with this tire on your vehicle.
However, the story may not be the same if you are in an area that frequently experiences deep snow. We have to acknowledge that this is not a dedicated snow tire. Therefore, it doesn't perform like how proper snow tires perform. My take is, better be safe all the time. Don't use this tire during extreme winter conditions.
How It Performs on Wet Roads
If you deal with heavy rains and hot/humid weather conditions but no ice or snow, like if you live in Florida, this tire is perfect for you. It is highly resistant to hydroplaning because it has working circumferential grooves that wash away the water and ensure that the tire's contact with the road is maintained.
Handling and control on wet roads are highly reliable. The braking and cornering capability of the tire on wet surfaces are also exceptional. I have looked for online user testimonies about this tire, and it appears that drivers who've driven their vehicles with this tire express that they feel safe driving on wet roads.
How It Performs on Dry Roads
You can expect this tire to provide high-quality traction on dry roads. It also offers an exceptional cornering grip. In addition, it has a short braking distance on dry roads, like how it behaves on wet or snowy roads.
Handling on dry paved roads is good. As mentioned earlier, this tire can provide you with excellent handling performance because of its asymmetric design that features a large shoulder and immediate tread elements.
The tire is pretty quiet on dry roads. It is among the most modest tire in this class. This level of quietness is because of the offset shoulder-to-intermediate and significant intermediate tread elements that minimize road noise.
Can you take your vehicle off-road with this tire on?
I would say, don't try it. But, if you are adventurous and take the off-roads often, get an off-road tire.
Price Range
This tire is among the most affordable performance tire you can get on the market today. The Cooper Zeon RS3-A ranges from $80 to $225, depending on the size.
If you want to get it at a lower price, you can watch out for seasonal promotions or rebates offered by tire shops online or in your local area.
Warranty Terms
If we talk about warranty, the Cooper Zeon RS3-A is quite competitive. It comes with a five-year or 40,000-mile tread life warranty. However, if your front and back tires are not the same size, this warranty is reduced to 20,000 miles.
What about tire tread wear uniformity? Does this tire offer a guarantee on this? Yes, it does during the first 2/32 inches of tread wear.
The tire also comes with a Materials and Workmanship warranty for five years. The user can get a free replacement during the first year of this warranty period or the first 25% of tread wear. Then, a prorated amount on the remaining period down to the final 2.32 inches of tread depth.
If you want to test out this tire to see how it performs on your vehicle, it also comes with a 45-day test drive guarantee.
Vehicles Cooper Zeon RS3-A Will Fit
See some SUVs that this tire would fit on the table below. However, if you decide to purchase this tire, I would still suggest that you ask for assistance from a mechanic or a tire shop attendant to ensure 100% fitment.
If you know very well your tire requirement because you know the size of your rim, you may refer to the following table that shows the available sizes of the tire.
| | |
| --- | --- |
| BRAND | MODEL |
| Audi | Q3 |
| Audi | RS Q3 |
| Holden | Adventra |
| Honda | CR-V |
| Honda | HR-V |
| Honda | Odyssey |
| Hyundai | Tucson |
| Kia | Sportage |
| Volvo | XC70 |
| Subaru | Forester |
Cooper Zeon RS3-A Sizes List
| | |
| --- | --- |
| RIM SIZE | TIRE SIZE |
| 16 | 205/55R16 91W BLK, 215/55R16 93W BLK, 225/50R16 92W BLK, 225/55R16 85W BLK, 245/50R16 97W BLK |
| 17 | 205/40R17XL 84W BLK, 205/45R17 84W BLK, 205/50R17XL 93W BLK, 215/45R17XL 91W BLK, 215/50R17XL 95W BLK, 215/55R17XL 98W BLK, 225/45R17XL 94W BLK, 225/50R17XL 98W BLK, 235/45R17 94W BLK, 235/50R17 96W BLK, 235/55R17 99W BLK, 245/45R17 95W BLK, 255/40R17 94W BLK, 275/40R17 98W BLK |
| 18 | 225/50R18 95W BLK, 235/50R18 97W BLK, 215/45R18 93W XL BLK, 225/45R18 95W XL BLK, 245/45R18 96W BLK, 255/45R18 103W XL BLK, 265/45R18 101W BLK, 225/40R18 92W XL BLK, 235/40R18 95W XL BLK, 245/40R18 97W XL BLK, 255/35R18 90W BLK, 275/35R18 95W BLK |
| 19 | 245/50R19 105W XL BLK, 245/45R19 98W BLK, 245/40R19 94W BLK, 255/40R19 100W XL BLK, 275/40R19 105W XL BLK, 255/35R19 96W XL BLK, 275/35R19 100W XL BLK |
| 20 | 245/45R20 103W XL BLK, 255/45R20 101W BLK, 245/40R20 99W XL BLK |
Frequently Asked Questions
Is the Cooper Zeon RS3-A a good tire?
This tire comes with loads of technologies to ensure safety and reliability. It offers enhanced handling and improved controllability. The tire's traction and braking performance on wet, snow, and dry roads are very reliable. It is highly resistant to hydroplaning, and it does not give you annoying noise.
Where are Cooper tires made?
Cooper Tire produces its tires in multiple facilities in its home county, the US. It has production plants in Findlay, Ohio; Texarkana, Arkansas; and Tulepo, Mississippi. On top of these locations, it also has a facility located in Clarksdale, Mississippi.
Is the Cooper Zeon RS3-A quiet?
This tire is surprisingly quiet. It is among the quietest tires in its class. It can deliver this outstanding level of quietness because of a couple of features that help suppress the noise as you roll on the road. These features are the offset shoulder-to-intermediate and large intermediate tread elements.
Can I drive my vehicle on ice/snow with the Cooper Zeon RS3-A installed on it?
This model of Cooper tire provides excellent performance on light ice or snow. However, it will not offer you the performance you will look for when you drive on severe snow. So, don't consider it, or you will end up frustrated – you better get a dedicated snow tire.
Conclusion
The final questions now are: Should you purchase the Cooper Zeon RS3-A? Is it a worthy investment for your vehicle? The final decision is on you, but I would say this is an excellent investment. It is a budget-friendly high-performance tire that offers exceptional performance.
The tire will provide you with the essential qualities of a performance tire. It offers high-quality traction, reliable handling, enhanced controllability. In addition, it is highly resistant to hydroplaning, and it provides excellent braking performance.
Furthermore, you can take corners with confidence because this tire provides a stable cornering performance and quality cornering grip.