Have you been looking around for an on/off-road tire? Have you wanted to take your vehicle off-road but are not confident with your current tire? Look no further because you have just discovered a good tire that will allow you to drive your car off and, on the highway, the Mastercraft Courser MXT.
The Mastercraft Courser MXT is an extreme mud-terrain tire that offers solid on/off-road traction and superb performance on deep snow. It can exceed your expectation of performance on rocky terrains, mud, dirt, and gravel. In addition, it can also provide reliable traction in wet road conditions because of its deep sipes.
This tire is perfect for your weekend off-road getaway. More surprising is that this good-quality tire comes at a reasonable price. It is among the most budget-friendly mud-terrain tires available in the market.
Read on to discover more of this great offer.
Overview of Mastercraft Courser MXT Tires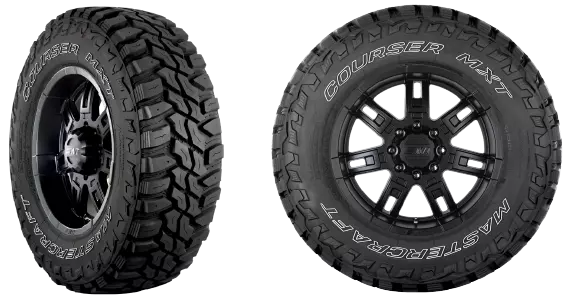 You probably have not heard so much about Mastercraft Tires as it is not a very known brand. However, it is a reliable brand you can trust because it is a sub-brand of Cooper Tires.
As a Cooper Tire & Rubber Co. subsidiary, you can expect to get some quality results from Mastercraft Tires. Mastercraft aims to produce tires that are big on performance but are pocket-friendly.
As it boasts, it is a brand that produces tires for everyday performance and to keep users safe and in control.
The perfect example is the Mastercraft Courser MXT, a tire that aims to provide your SUV with an exemplary off-road performance. Read further and discover the unique characteristics and features of the tire.
Tread Pattern
This tire features large tread blocks in a typical four-row setup, giving it a good look.
Its exterior tread blocks can dig into loose earth, sand, and gravel because of their alternating design. In addition, the tire features larger and smaller void spaces in between these tread blocks to ensure a solid grip.
The tire's tread further features small bumps that repel mud or loose rocks. This feature helps the tire deliver a quality off-road performance as it aids in providing a solid road grip and helps prolong the tire's life.
Deep Sidewalls
The Mastercraft Courser MXT has deep sidewalls. This characteristic results in enhanced traction in uncertain terrains, and it helps prevent abrasion. Incidents of abrasion can happen when you take your vehicle off the road.
The tire's sidewall plays a crucial role in maintaining the tire's shape. It works hand-in-hand with the tire's shoulder or the part where the sidewall meets the tread. These two ensure that your tire stays mounted on the rim.
Large Shoulder Scallops & Traction Edges
Let's talk about how this tire can provide reliable traction on various surfaces.
The tire can efficiently scoop mud and bite into nearly any surface because of its larger shoulder scallops. As this is a mud tire, we can expect that it will do its job of providing optimal traction, and it did not fail to do so. This distinct feature also assists in giving the tire an improved grip.
The traction edges on the alternating shoulder elements play a vital role. They create additional biting edges that improve the tire's lateral grip. If you wonder what lateral grip is, it keeps your vehicle in its course or maintains standard steering under challenging road conditions.
Wide Shoulder Grooves
These wide shoulder grooves between the outer tread blocks of the tire allow the tire to clean out dirt or stones for superior traction efficiently.
Mud or small stones mustn't get stuck in the tire's tread because if they do, the chances that the tire will get damaged is high. Additionally, it doesn't look good and may create annoying noise as you roll.
Variable Deep Sipes
As you may already know, the sipes of the tire ensure traction and braking performance are reliable. The Mastercraft Courser MXT has full-depth siping that provides wet traction on-road and extra biting edges for improved traction off-road.
The deep sipes of the tire make the tire more valuable to enthusiast drivers. Eighty percent of the tire's sipes remain functional even at half worn.
This outstanding ability of the tire ensures the delivery of more consistent performance throughout the entire life of the tire. We sure love a tire that doesn't only last long but also gives us lasting performance. After all, it is all about performance.
How Does Mastercraft Courser MXT Perform on Different Terrains
Its Performance on Ice/Snow
The tire provides a commendable snow capability. The traction on snow is surprisingly exceptional. Well, we can expect it to have some snow capability because of its deep sipes.
But the question is: Can it replace your dedicated winter tires? I would not say that it will, but you can transform it into a grip monster tire. The tire is also studdable, which means that it can accept optional metal studs for optimal ice traction.
The tire features traditional winter tire compounds and is rated M/S, so it must have some level of flexibility to stand cold temperatures. But we must not ignore that it is not a dedicated winter tire, so there might still be some issues in using it as one.
Additionally, the number of sipes in the tire may not be sufficient to handle extreme snow. However, if you don't drive in the snow frequently, this tire should do the occasional snow drive.
Its Performance on Wet Roads
Driving on wet roads is something we can't avoid. Whether we like it or not, there would be days that rain would catch us in the middle of the road.
So, how does this tire fare on wet roads? The Mastercraft Courser MXT can provide the necessary traction on wet roads because of its deep sipes. These sipes help prevent chances of hydroplaning.
There is not much data on the braking distance of the tire on wet roads, but if the tire can provide a decent grip, it must give a reliable braking distance. Individual user reviews report that they are happy with the tire's performance on wet roads.
Its Performance on Dry Roads
Like how the tire provides reliable traction on wet roads, it can also give you decent traction on dry roads. Performance on dry roads is commendable. The tire is capable of providing a smooth drive on dry paved roads.
However, due to its tread design, users of the tire might hear a bit of noise, but it should not overweigh the overall performance. All off-road tires in the market would exhibit some noise due to their tread pattern.
The handling and comfort level of the tire may not be the same as what you will experience with touring tires, but it should be stable enough. Of course, if you are after the comfortable experience, you must consider the dedicated touring tires.
Its Performance on Off-roads
Off-road terrains are where the tire shines the most. It doesn't matter if it's regular dirt, gravel, rocks, or extreme mud – this tire will not fail to give you the performance you need.
If you need a tire for your off-road adventures, you've just stumbled into one of the best options. It can provide you with a solid performance at a very reasonable price.
The impressive grip of the tire on off-road surfaces is undeniably reliable. So, if you are an off-road enthusiast, you might want to try to experience how this tire effectively scoops mud and establish solid traction.
Aided by the alternating exterior tread blocks, you can trust that the tire will do the job of digging into loose earth, sand, gravel, and more to keep your vehicle in its course.
Price Range
Mastercraft Courser MXT range from approximately $150 to $450, depending on the size.
If you want to get this tire at a lower price, you may watch out for occasional rebates, discounts, coupons, and special offers at your local tire shops.
Warranty Terms
Users of the tire can enjoy the 45-day road test guarantee and can request a full refund any time within that period if they find a valid reason not to continue using the tire.
The Mastercraft Courser MXT also comes with a factory warranty covering defects in materials and workmanship. In addition, users can get a free replacement for any tires that are deemed defective within the first 2/32-inch of treadwear. Then, a prorated amount after that period.
Like all mud-terrain tires, the tire does not come with a mileage guarantee.
Vehicles Mastercraft Courser MXT Fits
Below are some SUVs that this tire would fit. The list is not complete, but if you want to check if your vehicle can use this tire, you may refer to the sizes table provided below or ask a mechanic to ensure 100% fitment.
| | |
| --- | --- |
| BRAND | MODEL |
| Chevrolet | Blazer |
| Dodge | Durango |
| Land Rover | Defender |
| Lincoln | Navigator |
| Mitsubishi | Montero |
| Mitsubishi | Pajero |
| Nissan | Armada |
| Nissan | Pathfinder |
| Toyota | 4Runner |
| Toyota | Sequoia |
Available sizes of the tire:
| | |
| --- | --- |
| RIM SIZE | TIRE SIZE |
| 15″ | 31X10.50R15LT 109Q C OWL, 32X11.50R15LT 113Q C OWL, 33X12.50R15LT 108Q C OWL, 35X12.50R15LT 113Q C OWL |
| 16″ | LT235/85R16 120116Q E BLK, LT245/75R16 120116Q E BLK, LT265/75R16 123120Q E OWL, LT285/75R16 126123Q E OWL, LT315/75R16 127124Q E OWL, LT305/70R16 124121Q E OWL |
| 17″ | LT235/80R17 120117Q E BLK, LT245/75R17 121118Q E OWL, LT265/70R17 121118Q E OWL, LT285/70R17 121118Q E OWL, LT295/70R17 121118Q E OWL, LT315/70R17 121118Q D OWL, LT305/65R17 121118Q E OWL, 37X12.50R17LT 124P D BLK |
| 18″ | LT275/70R18 125122Q E OWL, LT305/70R18 126123Q E OWL, LT275/65R18 123120Q E OWL, LT305/60R18 121118Q E OWL |
| 20″ | LT305/55R20 121118Q E BLK, 35X12.50R20LT 121Q E BLK |
Frequently Asked Questions
Is the Mastercraft Courser MXT a good tire?
The tire offers excellent performance, not only on off-roads but also on-road conditions. With outstanding traction on off-roads and provides reliable traction on wet roads and snow. It is an ideal tire for off-road enthusiasts because of its solid performance on off-road terrains.
Who makes Mastercraft Courser MXT?
This tire is a product of Mastercraft Tires, a subsidiary of Cooper Tires that aims to produce reasonably-priced but high-quality tires for light trucks, SUVs, and off-road vehicles. As a sub-brand of Cooper, Mastercraft tires priced itself to provide great value and be prominent on performance.
Is the Mastercraft Courser MXT noisy?
Due to the tire's tread design, it makes a little noise when driven on the highway. It makes a roaring noise as other off-road tires do. I would still say that the noise it makes is bearable. You won't mind the slight noise if you are an off-road enthusiast.
Is the Mastercraft Courser MXT suitable for ice and snow driving?
This tire has decent traction on ice and snow because of its deep sipes. You can expect this to perform even on deep snow. After all, it is an M/S-rated tire. You can also transform this tire into an absolute monster on ice because it is studdable.
Verdict
This tire is an excellent choice for an off-road tire. As you have read in the earlier section of this article, the price is not that budget-friendly, but it is indeed reasonably priced.
You can't go wrong with this tire if your purpose is to take your vehicle off-road – It is for off-road adventures. In addition, the Mastercraft Courser MXT is very well capable of traversing a snow-covered road because of its deep sipes.
Mastercraft boasts that this tire can still provide you with a solid performance even at 50% of treadwear. No, that's what we call value for money!
Related Article: Who Makes Mastercraft Tires