Is the road calling you again for another long drive? If so, you must have been considering getting new sets of touring tires to maximize the fun. New touring tires will be perfect for your road adventure as they provide you maximum comfort.
This post will feature the Yokohama Avid Ascend LX, a Standard Touring All-season tire that offers dependable winter traction, superior wet traction, quiet ride, and long tread life.
This tire also boasts a low rolling resistance, which means we can consider it an environmentally friendly tire as it leaves a minimal carbon footprint.
The Yokohama Avid Ascend LX also bears Yokohama's Orange Oil technology (I will elaborate on this in the next section).
Read on and discover more of the unique features and excellent performance of this tire. I will detail how the tire performs in various road conditions, including snow-covered roads, wet roads, and dry roads.
Overview Yokohama Avid Ascend LX Tires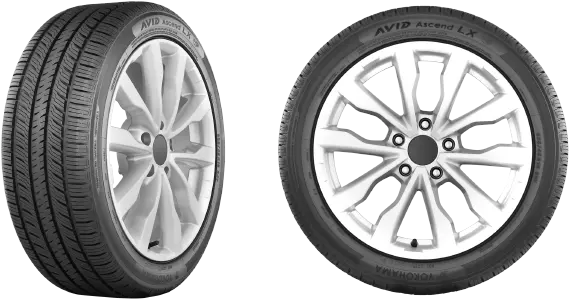 Yokohama Tires has earned quite a reputation in the tire industry. It is one of the most trusted brands of tires. It is not surprising because it has been producing quality tires for over a hundred years.
As for the Yokohama Avid Ascend LX, which is our focus in this article, this tire has a lot to offer regarding performance. Yokohama assures an excellent all-season performance, long tread life, and a quiet ride.
As mentioned in the earlier section, the tire can provide a firm grip on wet roads, dry roads, and even light snow. Let us examine further how this tire can deliver such a quality performance. Let us find out more about the employed technologies, the tread design of the tire, and the tire's unique qualities.
Tire Construction
The internal structure of the tire features the standard twin steel belts. A spirally wrapped nylon reinforces these steel belts on top of polyester body plies.
Excellent Tread Design
The tire has a mildly asymmetric tread design consisting of three ride zones that promote dry grip, efficient water evacuation, and reliable wintertime traction.
The tire's tread comes with many great features that help deliver the outstanding performance of the tire. These features include large outboard shoulder blocks, continuous center ribs, and cross and circumferential grooves.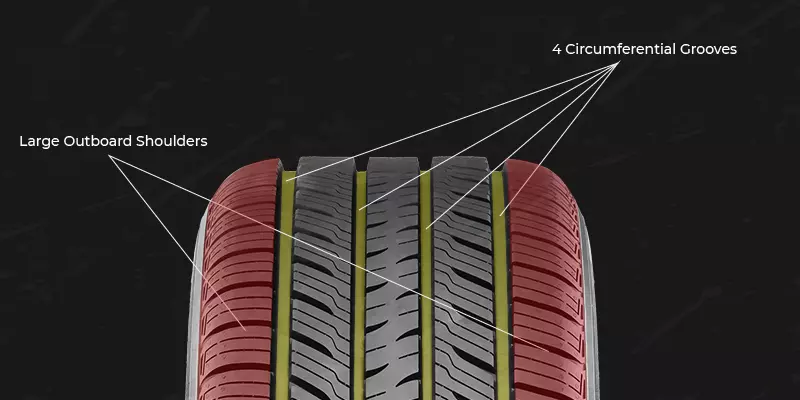 Tread block bridges connect with large outboard shoulder blocks to maintain the tire-to-road contact resulting in enhanced dry response and cornering ability.
The continuous ribs of the tire provide a constant road patch and enhance the straight-line tracking.
The cross grooves and four circumferential grooves are responsible for evacuating water from the footprint to minimize the chances of hydroplaning.
Orange Oil Technology
This Orange Oil technology improves the molecular bond between natural and synthetic rubber. The oil that this technology utilizes comes from renewable orange peels.
Incorporating this technology in the making of the tire improves the tire's tread life and makes it more fuel-efficient. It further helps the tire deliver high-quality all-season traction.
BluEarth Branded
The Yokohama Avid Ascend LX bears Yokohama's BluEarth symbol. This BluEarth branding identifies the tire as an environmentally, human, and socially friendly solution for consumers and their vehicles.
3D Active Sipes Technology
This particular feature provides more rigid tread blocks that promote longer tread life. Additionally, it creates more biting edges that enhance traction in wet roads and light snow.
The 3D Active Sipes help make the tire avoid hydroplaning instances when you drive in the rain.
Longer Tread Life
The life of a tire is one of the necessary details we look into when buying a tire. Of course, we need to make sure that the tire we purchase would serve its purpose for a more extended period.
The OTQG rating of the tire is 800A, which means it has an expected life of up to 85,000 miles. That is quite a long period for a tire's life. How is this possible? It is possible because of the Orange Oil technology you have already read about in the earlier section of this article.
Superb All-weather Traction
As you have learned, the tire provides superb all-weather traction. Thanks to Yokohama's Orange Oil technology that makes this happen. The 3D Active sipes on the tire's tread further enhance the tire's grip on dry and wet roads and light ice and snow.
Exceptional Level of Comfort
It is but ordinary for a touring tire to offer a certain level of comfort. Like other standard touring tires, the Yokohama Avid Ascend LX also promises to provide low road noise and exceptional comfort on dry and wet roads.
How Does Yokohama Avid Ascend LX Perform on Different Road Conditions
On Icy/Snowy Roads
The tire has enough sipes and biting edges to handle light ice and snow. If you drive on lightly snow-covered roads, you could have peace of mind that you will not lose control of your vehicle.
However, if you are in an area that frequently experiences deep snow or severe winter conditions, it is not a good idea to use this tire. This tire is a standard touring tire, so it only performs as a standard touring tire.
If you take this tire on light ice and snow, you can trust that the tire would provide you with reliable traction to keep your vehicle in the course. However, some users report that braking and acceleration become slightly uneasy on snow-covered roads but are still manageable.
On Wet Roads
Driving on wet roads is undoubtedly challenging, especially with inappropriate tires mounted on our vehicles. Luckily, the Yokohama Avid Ascend LX can provide outstanding traction and grip on wet roads.
The tire has cross grooves and four circumferential grooves that effectively disperses water from the footprint. These grooves make the tire highly resistant to hydroplaning.
As far as handling and control are concerned, users of the tire report that the tire excels in this area. The tire further provides outstanding comfort on wet roads.
The tire also has a reliable braking distance on wet roads. This performance is the result of the tire tread's lateral grooves.
On Dry Roads
Handling and control on dry roads are very reliable as users of this tire report. It means that the tire is very responsive to the driver's command during a maneuver.
Traction on dry roads is also very reliable, like how it is on wet roads. Braking distance is also relatively short, so your vehicle can stop almost accurately as you wish it to stop.
Furthermore, users report that this tire will allow you to take corners safely. The tire's grip on the road is strong enough to keep your vehicle anchored on the road as you take your turns. Some drivers even report that the tire can handle aggressive cornering.
As you drive your vehicle on dry roads, the noise it makes is very minimal. What is more surprising is that the noise level remains constant even if you increase speed.
On top of the tire's quietness, the tire also effectively handles road bumps to give you the comfort you desire.
Price Range
The price of the Yokohama Avid Ascend LX ranges from $90 to $190. This range is a mere estimate as the price may vary from one shop to another.
If you want to get this tire at a lower price, you can watch out for specials, discounts, or rebates offered by some tire stores.
Warranty Terms
The Yokohama Avid Ascend LX comes with a lifetime warranty for the original usable tread or five years from the purchase date. To avail of the tire's warranty, users need to present proof of purchase.
It further comes with a tread uniformity warranty for the first 2/32 inches of tread wear.
Materials and workmanship warranty also stands for five years. Yokohama also offers free replacement during the first 2/32 inches of wear. Then, it prorates the amount for the remaining period or the final 2/32 inches of tread depth.
Users can also take advantage of Yokohama's 30-day test drive period so they can test out the tire's performance.
It is important to note some of the reasons that will void the tire's warranty. These include road hazard damages, improper repairs or maintenance, incorrect application of the tire specification or size, and damages due to accidents or caused by nature.
Vehicles Yokohama Avid Ascend LX Fits
Below is a list of some SUVs that the tire would fit. If your car is not on the list, you may need some help from a mechanic.
You may also refer to the table below that shows the available sizes of the tire.
| | |
| --- | --- |
| BRAND | MODEL |
| Acura | RDX |
| Chevrolet | Equinox |
| Chevrolet | TrailBlazer |
| Ford | Escape |
| Ford | Territory |
| Hyundai | Tucson |
| Mitsubishi | Outlander |
| Mitsubishi | Outlander Sport |
| Kia | Sportage |
| Subaru | Forester |
| Volvo | XC40 |
Available sizes:
| | |
| --- | --- |
| RIM SIZE | TIRE SIZE |
| 15″ | 175/65R15 84T185/55R15 82VP185/60R15 84TP185/65R15 86T195/60R15 88HP195/60R15 87T195/65R15 91HP195/65R15 89TP205/65R15 92HP205/65R15 92TP205/70R15 95T215/70R15 98T |
| 16″ | 185/55R16 83H195/50R16 84VP195/60R16 89H205/55R16 91HP205/55R16 89TP205/60R16 91HP205/60R16 91T205/65R16215/55R16 97HP215/60R16 94TP215/60R16 94V215/65R16 98H225/60R16 98H225/60R16 98T225/65R16 100H225/70R16 103HP235/60R16 99T235/65R16 103H |
| 17″ | 205/50R17 93VP215/50R17 93VP215/55R17 93VP215/60R17 95TP215/65R17 98T225/45R17 91V225/50R17 94VP225/55R17 95TP225/60R17 98H225/65R17 102H235/45R17 97VP235/60R17 103H235/65R17 104H |
| 18″ | P215/55R18 94H225/45R18 95VP225/50R18 94TP225/55R18 97HP225/60R18 99H235/45R18 94V235/50R18 97V235/55R18 100H235/60R18 107H |
| 19″ | 235/50R19 99V |
Frequently Asked Questions
Is the Yokohama Avid Ascend LX good in snow?
As users report, the tire can handle light ice and snow because it has biting edges that do the trick. However, they specify that it becomes slightly uneasy but manageable. It is not going to perform well on severe snow as it is not a dedicated snow tire.
Is the Yokohama Avid Ascend quiet?
As the company boasts, the tire is surprisingly quiet when driven regardless of the road condition, and users affirm this. The tire can deliver this level of quietness even at high speeds. This quality is quite impressive as most tires squeal when you put pressure on your gas pedal.
Is the Yokohama AVID Ascend LX a good tire?
This tire offers enhanced all-season traction as it features Yokohama's Orange Oil technology. You can trust that you will enjoy excellent traction and grip. Handling and control on both wet and dry roads are also reliable. On top of this, the tire can offer stable cornering even at high speed.
Who manufactures Yokohama tires?
Yokohama tires are products of Yokohama Tire Corporation, a North American marketing arm of Yokohama Rubber Co., Ltd – a Japan-based manufacturer. The company has been producing quality tires for over one hundred years. Its presence in the world proves that it is among the leaders in the industry.
Conclusion
Putting everything into consideration, I would say that the Yokohama Avid Ascend LX is a good investment. It should be on your list of grand touring tires.
The tire does not only provide quality all-season performance, but it is also environmentally friendly. I would always love to mount an environment-friendly tire on my vehicle.
I want to highlight the tire's superb traction again, not only on dry and wet roads but also on light snow. However, it would be best to note that the tire is not a dedicated winter tire, so think twice before you cruise on deep snow.