The winter season is a true challenge for SUV owners, especially those whose vehicle does not have proper winter tires or has a winter tire that needs replacement. Aside from an age-old danger of the black ice, there are also braking and acceleration issues that most drivers experience.
The Nokian Hakkapeliitta R3 SUV can provide the most needed handling stability on ice and snow with a promise of an enjoyable driving experience.
The tire is extremely durable due to its aramid-reinforced sidewalls. The aramid fibers in the tire allow the tire to withstand external impacts that cause punctures and damages.
Nokian is a brand that hails from Finland, which temperatures can get as cold as -50 degrees Celsius. There, the manufacturer of this tire surely knows the performance needed during winter times.
Read on to discover more about this tire's unique features and excellent capabilities.
Overview of Nokian Hakkapeliitta R3 SUV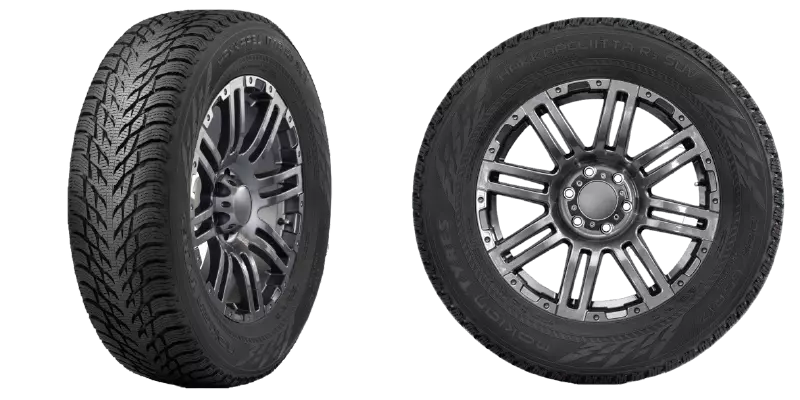 Nokian is a premium brand that is probably not as famous as the other premium brands you know. However, you can trust that this brand provides superior products, and the testament to this is the company's success in over 60 countries around the world.
The Nokian Hakkapeliitta R3 SUV is quite a performer for a non-studdable winter tire. If you look this tire up online, you will be surprised how many users attest that this by far is among the best studless winter tire you can get.
One advantage of this tire being studless is the economic benefit. You will have low maintenance costs because the metal stud that usually wears down your tires prematurely is not present. After all, studs may not be that necessary, a study says.
This tire boasts other key features and advantages, including the intricate winter tread pattern formed from the specially-treated silica compound containing Cryo Crystal 3 particles. In a bit, I will discuss the different elements of the tire's tread that ensure safe winter driving.
It is also worth mentioning that this tire also provides a fuel economy advantage. In what manner does it help you save fuel? Well, the tire allows you to keep control over rough terrains. This exceptional performance will help you save up as your vehicle will not exert so much effort to conquer the challenging winter roads.
What else can you expect from this tire? I will elaborate on some of the other excellent capabilities below.
Superb Handling and Controllability
You can't go wrong with this tire when we talk about handling and controllability. It offers an enhanced road contact that ensures improved steering responsiveness and driving stability.
The directional tread design of this tire allows the driver to experience a more accurate steering response. On the other hand, the tire's structural stability ensures better road contact to maintain control of the vehicle in wintry road conditions.
The cornering performance of this tire is also very reliable due to its optional shoulder tread block placement and the elaborate siping details. You can be confident that you can safely turn corners even during the winter season with this tire on your SUV.
Enhanced Comfort Level
A comfortable and enjoyable driving experience is defined by how your tires provide minimal road vibrations and noise. The Nokian Hakkapeliitta R3 SUV features detailed tread patterns to ensure that you will experience a comfortable trip.
The optimal tread design of the tire channels the air under its footprint efficiently to achieve a desirable level of quietness. This tire is also an excellent vibration absorber. Nokian boasts that the Nokian Hakkapeliitta R3 SUV can absorb the driving shocks you usually encounter.
An Option for Hybrid Vehicles
Nokian also recommends the Nokian Hakkapeliitta R3 SUV for hybrid cars. The company expresses that it has tested the tire on electric cars and has provided its capabilities for these vehicles.
Traditionally, electric cars require a specialized tire for several reasons:
The tire must be able to handle more weight.
The tire must be less noisy.
The tire must handle nearly instant electric motor torque.
This tire's unique characteristic adds it to the list of the most versatile tires you can get on the market. Now, that is impressive!
Continue reading because you are about to learn how this tire fares over dry and wet roads. I will also elaborate further on how it works on ice and snow.
How Nokian Hakkapeliitta R3 SUV Works on Different Terrains
Performance on Dry Roads
Despite being a winter tire, the Nokian Hakkapeliitta R3 SUV offers reliable traction on dry roads. This capability is because the tire's read design is compatible with dry road driving.
Individual user reviews on different review sites show that many users are surprised by how this tire can provide dependable traction on dry roads.
However, there have been some concerns over its tread wearing out faster on dry pavement. I could understand if there are some minor trade-offs if this tire is used on dry roads as this is a winter tire.
You can safely take corners with this tire, but many users recommend not to do aggressive cornering to ensure a high level of safety. Dry braking performance on dry roads is average.
Performance on Wet Roads
This tire also shines on wet and slippery roads. It features multiple pump sipes that enhance traction on wet surfaces. Thus, you can safely drive your SUV in the rain because your tires can maintain their contact with the road.
The tire can achieve outstanding traction on wet roads because the patented pump sipes effectively pump the road water out of the road surface, allowing the tire to obtain a solid grip on the road.
Handling on wet roads is also very stable, and the braking performance is quite commendable. The tire features sharp zigzag edges that open and close during braking and acceleration to avoid accidents and hydroplaning.
Users of the tire report that the tire rolls naturally, and the stability is not affected even in the presence of water. In addition, cornering and accelerating on wet surfaces is also not a problem. However, I would still say that it is always best to take extra precautions when accelerating on wet roads.
Performance on Ice and Snow
This type of terrain is where this tire excels the most. The tire outstandingly performs on all winter surfaces. The Nokian Hakkapeliitta R3 SUV boasts multiple excellent innovations to deliver maximum winter traction.
The Climate Grip Concept allows the tire to efficiently handle slushy and snowy roads, as well as wet roads. This innovation involves the molding of a directional tread pattern that promotes driving stability and helps avoid hydroplaning.
In addition, this technology also features specially tailored sipes that provide excellent handling in snow and dry/wet roads. The tire perfectly handles tight turns and can provide you with high-speed stability.
Users are happy with the tire's supreme grip on snow. Among the reasons behind this outstanding performance is the Snow Claws innovation that allows the tire to keep hold of the road despite soft snow that could be covering the road.
This technology allows the driver to feel in total control while driving in rough winter conditions. A sense of control is crucial, especially if the road condition is not very good.
It is also probably worth mentioning that some users report that the tire sometimes suddenly loses grip on ice. The ideal losing of grip on ice should be gradual as this gives the driver more controllability.
Related: BFGoodrich All-Terrain T/A KO2 Review
Price Range
Depending on your rim size, you can get this tire from approximately $140 to $600. The price may vary from one store to another.
If you want to avail of this tire at a lower cost, you can try to watch out for seasonal promotions, rebates, and discounts that tire shops may offer.
Others would try to find themselves pre-owned tires thinking they can save, but I don't do it. You will not experience the full potential of the tire if you are always a second user. Plus, you might be compromising your road safety.
Warranty Terms
Every tire produced by Nokian comes with a warranty up until the final 2/32 inches depth of tread, or five years from the date of purchase or six years from the manufacturing date.
Materials and workmanship warranty are covered. The tire dealer will closely examine if the tire becomes unserviceable due to workmanship and material issues.
If it is proven to be the case, the tire user will qualify for a free replacement or on a pro-rated basis (depending on the reason of the claim) if no Exceptions to Warranty Coverage applies.
Among the warranty conditions are:
It must be an original purchase
The tire must be on the vehicle indicated in the installation receipt, and
The tire must not be from online auctions or sold by unauthorized dealers
How can you check if the tire dealer is authorized? You can check the company's Dealer Locator website. When you are on the website, you need to supply your zip code to get the list of authorized dealers in your area.
During warranty claims, users must present proof of purchase or the service receipt. Claimants must prove that they have only used the tires on the vehicle indicated on the warranty card.
Vehicles Nokian Hakkapeliitta R3 SUV Will Fit
Below are some of the SUV's that the Nokian Hakkapeliitta R3 SUV. When choosing the tire to purchase, you must check the tire specifications to make sure it fits the requirement of your vehicle.
| | |
| --- | --- |
| BRAND | MODEL |
| Audi | Q3 |
| Chevrolet | TrailBlazer |
| Honda | CR-V |
| Hyundai | Tucson |
| Kia | Sportage |
| Land Rover | Range Rover |
| Mazda | CX-3 |
| Nissan | Pathfinder |
| Suzuki | Grand Vitara |
| Toota | Rush |
| Volvo | XC70 |
Different sizes available:
| | |
| --- | --- |
| RIM SIZE | TIRE SIZE |
| 16" | 215/65R16 102R XL215/70R16 100R235/60R16 104R XL245/70R16 111R XL265/70R16 112R |
| 17" | 215/60R17 100R XL215/65R17 103R XL225/60R17 103R XL225/60R17 99R 225/65R17 106R XL235/60R17 106R XL235/65R17 108R XL245/65R17 111R XL245/70R17 110R255/65R17 114R XL265/65R17 116R XL265/70R17 115R |
| 18" | 215/55R18 99R XL225/55R18 102R XL225/60R18 104R XL225/60R18 104R XL235/50R18 101R XL235/55R18 104R XL235/60R18 107R XL235/65R18 110R XL245/60R18 109R XL255/55R18 109R XL255/60R18 112R XL255/70R18 113R255/70R18 116R XL265/60R18 114R XL265/65R18 114R275/65R18 116R285/60R18 116R |
| 19" | 225/55R19 103R XL235/50R19 103R XL235/55R19 105R XL245/50R19 105R XL245/55R19 107R XL255/45R19 104R XL255/50R19 107R XL255/50R19 107R XL255/55R19 111R XL265/50R19 110R XL265/50R19 110R XL265/55R19 113R XL275/55R19 115R XL |
| 20" | 235/45R20 100T XL235/50R20 104T XL235/55R20 102R245/45R20 103T XL245/50R20 105R XL255/40R20 101T XL255/45R20 105T XL255/50R20 109R XL255/55R20 110R XL265/45R20 108T XL265/50R20 111R XL275/40R20 106T XL275/45R20 110T XL275/50R20 113R XL275/55R20 117R XL275/60R20 115R285/45R20 112T XL285/50R20 116R XL295/40R20 110T XL315/35R20 110T XL |
| 21" | 255/35R21 98T XL265/40R21 105T XL265/45R21 108T XL275/35R21 103T XL275/40R21 107T XL275/45R21 110T XL275/50R21 113R XL285/40R21 109T XL285/45R21 113T XL295/35R21 107T XL295/40R21 111T XL315/35R21 111T XL315/40R21 111T315/40R21 115T XL |
| 22" | 285/40R22 110T XL285/45R22 114T XL |
Frequently Asked Questions
Is Nokian Hakkapeliitta R3 SUV good?
Users consider this tire as a perfect tire for the winter season. This tire boasts maximum traction on ice and snow as it features most of the advanced technologies of Nokian, including the Climate Grip Concept and the Snow Claw innovation. Handling and comfort are very reliable.
What is the difference between Nokian Hakkapeliitta R2 and R3?
The Nokian Hakkapeliitta R3 is an improved version of the Nokian Hakkapeliitta R2. The reported difference is the rolling resistance. Nokian says that the later version has a resistance level that is 5% lower than the former. Therefore, Hakkapeliitta R3 is more fuel-efficient.
The Nokian Hakkapeliitta R3 SUV is a premium tire that offers optimal winter performance. Many users are satisfied with the premium performance that this tire provides. However, some other users think that this tire is a little pricey. Some also consider the price as suitable for the performance it gives.
Where is the Nokian Hakkapeliitta R3 SUV made?
Nokian Tyres plc produces this tire in its plant in Nokia, Finland. The Nordic tire maker makes more than 23,000 tires per day. It is also a subsidiary of the Japanese manufacturer Bridgestone. The company has a factory in the U.S. to produce tires specifically for the North American market.
Final Words
The Nordic winter tire Nokian Hakkapeliitta R3 SUV is undoubtedly one of the best options for a winter tire. You can't go wrong with this tire when it comes to handling and traction. The tire features the necessary innovations to ensure that optimal traction and grip are delivered.
On wet roads is, this tire is also a performer. It comes with features that help the tire avoid instances of hydroplaning.
There are not that many reviews about how this tire fares on dry roads, but available resources online say that the tire does provide a decent dry road performance.