Hey pal, are you looking for a high-quality, safe all-season highway tire for your SUV? I know it is a bit of a challenge. So let me help you with that.
The Michelin Defender LTX M/S is another great offer from Michelin that boasts its outstanding handling and stability performance. The tire's toughness allows it to be handy for towing and hauling. The tire is also one of the best highway tires for wet roads.
Quite an impressive package, right? Yes, it is.
You are definitely in the right place, so stick around and learn more about how this great tire would possibly fill your SUV tire needs.
Overview of Michelin Defender LTX M/S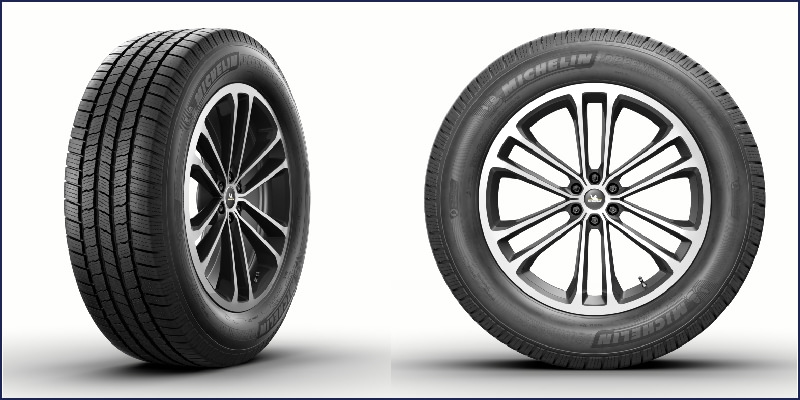 The Michelin Defender LTX M/S is a swagger. As I mentioned, this is quite an impressive package. Why so? Because it combines long tread life with outstanding all-season capabilities for your vehicle.
Have you heard about the Evertread compound? If not, let me tell you a bit about it. This compound is still a silica compound, but not the usual silica compound because this helps the tire become tougher to handle extreme conditions. This same compound is also why the tire's tread life is longer than usual.
The tire's tread design ensures safe road traction, even wet roads, and braking performance. This performance is made possible because of the stable and independent tread blocks that feature high-density 3D Active Sipes.
Read on below and discover more details of the tire's incredible features.
Durable and Tough
Over time, the size and power of SUVs have significantly increased. The Michelin Defender LTX M/S development was to meet today's SUVs' size and power needs.
As mentioned earlier, this tire will help you with your towing and hauling needs. It means toughness and power. Durability and longer tread life are the promises that this tire delivers. These are on top of safety and excellent road performance.
Stronger Silica Compound
You have just learned about the Evertread compound, an advanced rubber compound used in the Michelin Defender LTX M/S production. This breakthrough of Michelin is what makes its tires stronger and more desirable.
Why is a high-grade compound a good feature of a tire? That needs no explanation, I guess. The answer is obvious. The more robust the material is, the better the performance will be.
The excellent performance of the tire is evident. It is this special compound that made this tire tough and durable. The outstanding traction, braking performance, and the longer tread life of the tire are other results of this Evertread compound.
3D Active Sipes
The tread design or the groove pattern of the tire plays a vital role in how it generally performs on the road. It determines how reliable the tire's traction is on different road conditions. It also determines how responsive the tire is when it hits the road to give the driver an easy handling experience.
The tire features four wide circumferential channels, multiple lateral grooves, and open shoulder slots.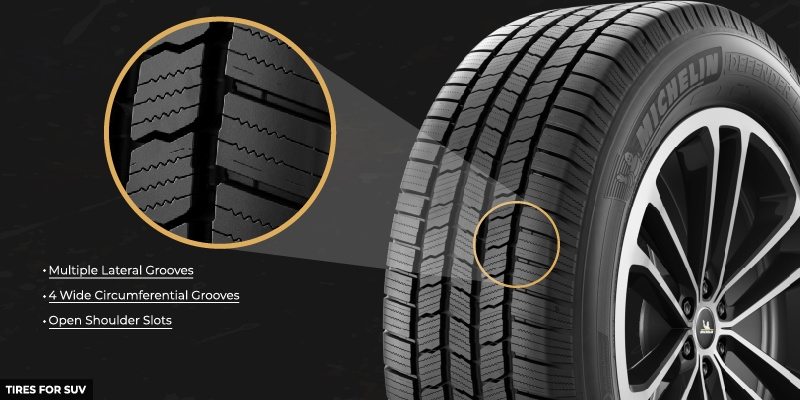 These combinations are the reason for the tire's excellent traction performance on wet and dry roads. Because of the grooves' efficient water evacuation, the tire grips firmly on wet roads.
MaxTouch Construction
Another critical performance of a tire is its ability to safely stop when you apply your breaks and its ability to stick on the road when you turn stably. Michelin has added its Maxtouch Construction technology to ensure that these performances are delivered.
MaxTouch Construction is responsible for producing reliable tire traction on the road. Moreover, this technology is what makes the tire last longer than usual. It does this by ensuring that the tire is evenly patching the road even when braking or cornering.
Understandably, you will also get better mileage because of the excellent traction performance of the tire.
Michelin Defender LTX M/S on Ice, Snow, Wet Roads and Dry Roads
The tire is for all-season highway driving, so we expect it to perform well on this terrain. But, of course, you can't get away from icy, snowy, and wet roads as the winter kicks in. So, let's talk about how this tire fares on these road conditions.
Take a look at how this all-season tire performs on these various road conditions below.
Performance on Ice
Driving on ice is risky because of the chances of hydroplaning. Also, it can be dangerous when you go fast or slow. So extra care is a must when you drive in this road condition.
Now, how does the Michelin Defender LTX M/S fare on ice?
It is important to note that the tire belongs to the highway all-season category. Given this fact, excellent performance on icy terrain is not something you could expect. But being an all-season tire, it can still perform under not-so-extreme conditions.
Although this tire can handle light icy roads, you don't want to compromise your safety by driving your vehicle installed with this tire when you see that the route you are taking is highly challenging. If the situation calls for you to drive your car on heavy ice, you must take extra safety precautions.
Performance on Snow
If a tire can perform very well on snow, it will have the three-peak mountain snowflake (3PMSF) symbol. This tire does not – so it means it did not meet the standard traction performance on snow. However, driving on light snow is still possible.
You probably heard from the news the countless accidents brought by severe snow. Snow is one of the top causes of car accidents. It is better not to explore the severely snowy terrain with this tire installed on your vehicle. Better be safe than sorry.
For light snows, on the other hand, you can still expect this tire to do its job of keeping you safe. You can still have stable handling on light snowy terrain, and the braking distance is not that bad.
Performance on Wet Roads
With the employment of the 3D Active Sipes, this tire delivers outstanding performance on wet roads. How is this possible? The tire has wide channels and multiple lateral grooves that wash the water away as the tire comes in contact.
You can be confident that the tire maintains its grip on the road even in the presence of water. It means that the tire has excellent hydroplaning resistance. It is impressive how this tire retains your vehicle's stability even on a deep puddle of water.
A good hydroplaning resistance is always a key feature you should not miss. This specific feature is what makes your wet driving safe. Without this feature, you may end up skidding, which may cause a terrible accident.
The tire also has an outstanding short-distance braking performance on wet roads. Thanks to the excellent traction brought by the employment of the Evertread compound.
Performance on Dry Roads
You can expect nothing less than performance when you drive your SUV on dry roads as it is for highway driving. The tire's traction performance on wet roads is excellent; it is even greater on dry roads.
You can have peace of mind that your vehicle will stop at a short distance to make sure you can avoid unwanted accidents when you step on your breaks. You will also have more ease controlling your vehicle as you take sharp turns.
Since this tire is tough and durable, you can have smooth handling even when loaded. This tire is perfect for stable high-speed driving and provides outstanding road grip when cornering.
However, it is essential to note that this tire does not perform best off-roads. It was just not built for that road condition. The traction level of the tire on hardpacked or gravelly roads is not the same as the traction level it achieves on the highway.
Pros & Cons of Michelin Defender LTX M/S
Price Range
This tire is a little pricey, ranging from $150 to $400, depending on the size. You can check the available prices on this tire online for you to have an idea of how much likely you will be spending for this high-quality tire.
Although the tire is not among the cheapest you could get, the assurance of safety and reliability is something you will decide to install this tire on your SUV.
Excellent highway driving on dry or wet roads can expect from getting this tire.
Some pre-owned tires might be available at a lower price. However, always make sure the tire is still in its peak condition.
Warranty Terms
Michelin is known for its reasonable tire warranty offers.
It has a 70,000 miles warranty on its T and H models and a 50,000 miles warranty on its R-rated tires. That is a good warranty term for a highway tire.
On top of this, Michelin also offers its standard 60-day satisfaction guarantee and 3-year road assistance program.
You may check more information on the tire's warranty detail here.
SUVs that the Michelin Defender LTX M/S Will Fit
This tire fits in a wide range of SUVs. See the shortlist below to see if your vehicle is present.
| | |
| --- | --- |
| SUV Model | Brand |
| Chevrolet | Silverado |
| Dodge | Durango |
| Ford | Escape |
| Honda | CR-V |
| Isuzu | Trooper |
| Mitsubishi | Montero |
| Lexus | GX470 |
| Nissan | Pathfinder |
| Toyota | Highlander |
| Toyota | Land Cruiser |
brief list of Michelin Defender LTX M/S compatible vehicles

If your SUV model is not listed above, determine your tire size requirement and refer to the wide range of sizes of this tire listed below.
This tire comes in various sizes. As mentioned earlier, this tire addresses modern SUVs' power and size requirements.
| | |
| --- | --- |
| RIM SIZE | TIRE SIZE |
| 15″ | 215/75R15*100T 235/75R15*109T 31X10.5R15LT109R |
| 16″ | 215/55R16*97H 215/70R16*100H 235/70R16*109T 235/75R16*112T 245/70R16*107T 245/75R16*111T 255/65R16*109T 255/70R16*111T 265/70R16*112T LT265/75R16*123/120R 265/75R16*116T 275/70R16*114H LT285/75R16*126/123R |
| 17″ | 215/50R17*95H 225/55R17*101H 225/65R17*102H LT225/75R17*116/113R 235/65R17*104T 235/70R17*109T 235/75R17*109T |
| 18″ | 235/55R18*100T 235/60R18*107H 235/65R18*106T 245/60R18*105H 255/55R18*109H 255/65R18*111T 265/60R18*110T 265/65R18*114T 265/70R18*116T LT265/70R18*124/121R 275/60R18*113H 275/65R18*116T LT275/65R18*123/120R LT275/70R18*125/122R 285/60R18*120H LT285/65R18*125/122R LT295/70R18*129/126R |
| 19″ | 235/45R19*95H 235/55R19*105H 245/55R19*103H 255/50R19*107H 255/60R19*109H |
| 20″ | 245/60R20*107H 255/50R20*109H 255/55R20*110H 265/50R20*107T LT265/60R20*121/118R 275/55R20*113T 275/60R20*115T LT275/65R20*126/123R 285/50R20*116H LT285/60R20125/122R LT285/65R20*127/124R 295/60R20*126/123R LT295/65R20*129/126R 305/50R20*116H 35X12.5R20LT*121R |
| 22″ | 275/50R22*111H 285/45R22*110H 305/40R22*114H |
list of Michelin Defender LTX M/S sizes
Frequent Asked Questions
1. Is Michelin Defender LTX M/S a good tire?
It is among the top tire options for SUVs due to its durability and other excellent features. It is a high-performing tire for highway driving year-round.
2. What does LTX M/S mean on Michelin Defender LTX M/S tire?
LTX stands for light truck experimental, while M/S stands for mud and snow. Knowing these acronyms tells you that the tire is compatible with high torque vehicles like your SUV, and it is rated to work on both mud and snow. However, as previously mentioned, this tire was explicitly built for highway driving.
3. Is Michelin Defender LTX M/S good in snow?
The tire has an outstanding dry road performance because it is a highway tire. However, this tire is also an all-season tire, performing reasonably well on wet and snowy roads. You need to note that this tire could not handle severe snow conditions. It does not have the three-peak mountain snowflake (3PMSF) rating.
Michelin Defender LTX M/S Review: Final Words
The Michelin Defender LTX M/S will ensure that your highway driving is safe and smooth because of its outstanding traction, braking, and handling performance.
It employs an advanced rubber compound called the Evertread compound, ensuring its durability and long-lasting tread life. This same compound makes the tire exceptional in handling extreme conditions. This compound is the reason behind the excellent traction performance of the tire.
Moreover, the tire features MaxTouch construction that adds additional value. This technology is the reason behind the incredibly short braking distances of the tire and its good traction on the road. This technology further ensures easy handling as the tire is very responsive.
This tire is ranked among the top tough tires for SUVs in highway driving. This tire is ideal if you do some towing and hauling activities.
It is a little pricey, but this is the tire for you if your pocket can handle the price.
Summing all the impressive performance of the tire, I would say that this is a good investment. You will have a worry-free year-round driving knowing that the tire you got is durable and reliable.
Related Articles
Michelin Defender LTX M/S Review