Many enthusiast drivers now embrace touring tires as replacements for their worn-out original manufacturer tires. You are also interested in it for sure. Touring tires are like regular daily tires that feature upgrades to deliver a more balanced handling and comfortable ride.
The Toyo Ultra Z900 touring all-season tire simple delivers everything you can think about a touring tire can provide. It boasts high-grade all-weather traction, longer tread life, enhanced controllability, dependable handling, and an improved comfortable driving experience.
What more could you ask if you get all these benefits from a tire? With the competition that is going on in the tire market, you must take a careful look at the tire you are considering for your vehicle.
Read on because I will provide you with some relevant information about this great offer from Toyo Tires to make an informed decision on whether to purchase it or not.
Overview of Toyo Ultra Z900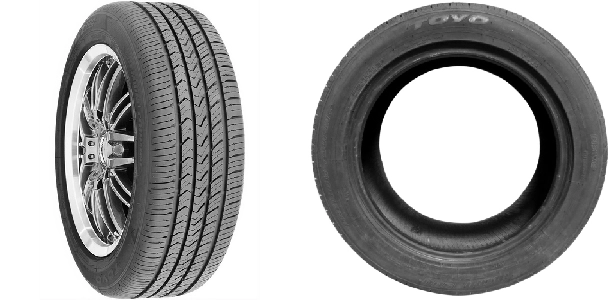 Toyo Tire's over 70 years of experience in the industry is quite a statement. There is no wonder that it is among the trusted brand of tires globally. The brand's philosophy focuses on continuously improving its product and creating more value for the end-users.
One of the many reasons behind Toyo's success is its ability to deliver highly competitive tires with loads of benefits at a minimal cost, like the Toyo Ultra Z900.
Let us take a deeper look at this tire's incredible performance and some of the unique features that make it an excellent tire to consider for your SUV.
All-Season Traction
It is quite a hassle to replace your tires as the season changes, and it is not very economical either. The good thing nowadays is that tires can deliver a balanced performance regardless of the weather condition.
The year-round traction capability of the tire is due to the pliable compound that it uses, the carefully engineered tread design, and the precision siping pattern. The tread pattern and blocks combination ensures an upgraded road grip.
The tire can efficiently disperse water due to its four deep circumferential grooves, making it highly resistant to hydroplaning. The outer surfaces of the tire, on the other hand, guarantee a firm grip on rough pavements.
Furthermore, the tire features multiple biting edges that allow it to conquer mud and slush easily. Therefore, this tire is mud and snow-rated touring tire.
Longer Tread Life
Yes, it offers an extended tread life. The tire brags up to a 75,000-mile tread life warranty. It is an impressive warranty for an all-season touring tire.
How does the Toyo Ultra Z900 deliver such a good tread life? It is the tread design that does the trick. One of the reasons why a tire would not last long is the uneven tread wear. That is what Toyo Tires has successfully addressed.
This tire can deliver an extended tread life because of its ability to distribute evenly driving pressure along the tread area, resulting in even tread wear. This tire's capability minimizes the chance of irregular wear formation on the tire.
Enhanced Controllability
If you have been driving for quite some time, you probably experienced how it feels like driving a vehicle which tires do not give you satisfactory controllability. It indeed feels awkward and unsafe.
With the Toyo Ultra Z900 mounted on your vehicle, you can be confident that you would experience enhanced controllability all year round. The tire features a three-center rib and an optimal shoulder block to keep constant contact on the road surface.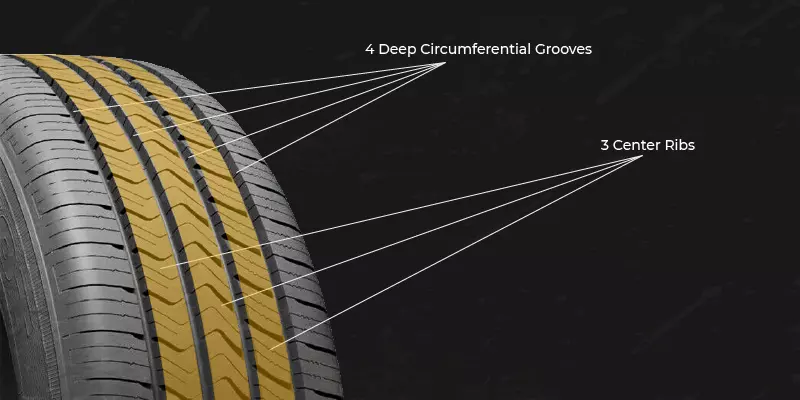 As you may already know, when a tire can deliver enhanced road contact, it will also become more responsive. In addition, it gives you the feeling that you are in control of your vehicle.
Dependable Handling
Handling, of course, refers to the tire's response to the driver's demands, including maneuvering, accelerating, and braking. The Toyo Ultra Z900 luckily provides an accurate and crisp steering response.
The tire boasts improved handling on wet, dry, and snow road conditions. In addition, it can stay stable even at higher speeds. Furthermore, the braking distance is relatively short on all these road surfaces. Thus, your driving experience becomes safer.
Improved Comfortability
The leveled-up comfortability of this tire makes it an ideal touring tire for your SUV. The Toyo Ultra Z900 is a highly responsive tire and provides you with outstanding handling performance.
The minimal noise you hear while driving is an added comfort. This excellent performance is possible due to the Silent Sidewall technology and the unique tread pattern that effectively suppress the noise.
How Toyo Ultra Z900 Works on Ice/Snow, Wet, and Dry Roads
Performance on Ice/Snow
You can expect this tire to perform well in light ice and snow. This tire is M/S rated; thus, it provides reliable traction on ice and snow. However, just like what you always read in tire reviews like this, it will never be suggested to use a regular touring tire in extreme winter conditions.
Dedicated snow tires will outperform all-season touring tires because of the particular compound to stand temperatures below 45 degrees Fahrenheit. Additionally, their tread design is made extra special to keep solid traction even in the harshest snow conditions.
You can get dedicated snow tires if you live in an area that constantly experiences heavy snow. It is critical to ensure your and your passenger's safety. But if you are dealing with light ice and snow in the area where you live, the biting edges of the tire are enough to give you a safe ride.
Performance on Wet Roads
Hydroplaning is a common issue drivers encounter if the tire installed on the vehicle lacks the required traction. Driving on wet roads could be ugly when this happens. You don't want to end up in the ditch. Luckily, this tire is hydroplaning resistant.
The four deep circumferential grooves that the Toyo Ultra Z900 features make this tire highly resistant to hydroplaning. They immediately disperse the water as soon as it comes in contact with the tire to ensure a solid patch on the road.
One of the challenges of driving on wet surfaces is handling and control. This tire can provide outstanding handling and control even on wet roads. Even when you speed up your vehicle on wet roads, it possesses excellent stability.
The braking distance of this tire on wet roads is amazingly short. This quality assures you that you will drive safely to your destination. Furthermore, cornering performance on wet roads is also very reliable because of its superb traction.
Performance on Dry Roads
This tire works perfectly on dry pavement, according to user experience. This tire will give you a smooth performance and a guaranteed comfortable ride as a touring tire.
You can expect that this tire will give you a top-class performance on dry roads. The outer surface of the tire provides a top-notch grip on dry pavement. The tire also offers excellent maneuvering performance on dry roads, like how it gives quality control and handling on wet roads.
User experience reports that the tire is also reliable when you take corners. In addition, the braking distance on dry roads is very dependable.
When you drive your vehicle on dry roads, the cabin noise you hear is minimal. This fantastic quality is due to the already-mentioned Silent Sidewall technology and unique tread pattern.
Can you drive your vehicle off-road with this tire? There has not been enough information on this, but I would say this tire might be able to handle minor off-road conditions. However, it would be a NO if we talk about actual off-road conditions.
Price Range
The Toyo Ultra Z900 ranges from $50 to $150. You can watch out for season promotions offered by tire shops or tire dealers so that you can save even more.
If you go to local tire shops, you might get some offers to install a "slightly-used" tire at a lower price. However, I won't advise that you avail of any offers to use these types of tires. I am not confident that they will provide you with the same experience and safety when using brand new tires.
This tire is already affordable, so invest in it if you like its features and benefits.
Warranty Terms
I perfectly understand how vital the tire's tread life is. You would not like to install a new set of tires now and then replace it after a month or after taking some long drive. That is just not ideal and not economical.
Luckily, the warranty of this tire is not bad at all, considering this is a budget-friendly investment.
The Toyo Ultra Z900 comes with a limited treadwear warranty of 65,000-mile on V-rated tires and a 75,000-mile limited warranty on H-rated tires.
Vehicles Toyo Ultra Z900 Will Fit
Below are some SUVs that the tire would fit. If your vehicle is not on the list, it is best to talk to the shop attendant or a mechanic to ensure that it would 100% fit your ride.
I have also provided the different tire sizes in the table below. You may refer to the table if you know your rim size.
| | |
| --- | --- |
| BRAND | MODEL |
| Acura | RDX |
| Audi | Q3 |
| Buick | Envision |
| Dodge | Challenger |
| Holden | Captiva |
| Hyundai | Tucson |
| Kia | Sportage |
| Land Rover | Range Rover Evoque |
| Suzuki | Grand Vitara |
| Toyota | Rav4 |
Below are the available sizes of the tire.
| | |
| --- | --- |
| RIM SIZE | TIRE SIZE |
| 14" | 175/65R14185/65R14 |
| 15" | 175/65R15185/60R15185/65R15175/65R15195/60R15195/65R15205/60R15 |
| 16" | 185/55R16195/55R16205/55R16205/60R16205/65R16215/55R16215/60R16215/65R16225/60R16235/65R16 |
| 17" | 205/50R17215/45R17215/50R17215/55R17215/60R17215/65R17225/45R17225/50R17225/55R17225/60R17235/45R17235/55R17235/60R17245/45R17 |
| 18" | 215/55R18225/50R18225/60R18235/50R18235/55R18 |
Frequently Asked Questions
Is the Toyo Ultra Z900 a good tire?
This budget-friendly tire is surprisingly good to some extent. It boasts a very dependable all-season traction. It is highly resistant to hydroplaning and can effectively handle light ice and snow. In addition, this tire can provide a stable and comfortable driving experience.
Who makes the Toyo Ultra Z900?
Toyo Tire United States of America Corporation represents the Toyo Tires brand in the U.S. This brand is a product of conglomerate companies that operate globally. This brand is a successful Japanese company Toyo Tire Rubber Co., Ltd.
Is the Toyo Ultra Z900 quiet?
This model of Toyo tire is surprisingly quiet, probably among the quietest tire in its class. It can deliver such a level of quietness because of the Silent Sidewall technology and the unique tread pattern that helps suppress the tire's noise when it is in motion.
Is the Toyo Ultra Z900 expensive?
Not at all. This tire is among the most economical all-season tire you can get in the market. It is a worthy investment because you get it at a lower price with many benefits. Depending on the size, you can get this tire between $50 and $150.
Verdict
Considering everything, the Toyo Ultra Z900 is a good investment. It has everything that a touring tire can offer, from handling to the comfort level you would experience while driving.
It possesses outstanding traction on various roads conditions. It can handle light ice, snow, and even mud. In addition, its traction and braking performance on wet and dry roads are very reliable.
If you drive in the rain or encounter a wet surface, this tire would deliver just the excellent performance you need. It has four deep circumferential grooves that effectively washes the water away.