Glad that you are here. I see that you are searching for another set of tires again. If your current tires are all worn out, let me tell you a piece of good news. Michelin has an excellent offer for you, the Michelin Energy Saver A/S.
Consumers hail the Michelin Energy Saver A/S as the most fuel-efficient all-season passenger tire in North America. It embodies the Green X technology that reduces CO2 emissions, making the tire more sustainable.
The tire is not only fuel-efficient, but it also prides itself on being able to provide outstanding traction and enhanced control despite its low rolling resistance. Now, that is quite an edge as most low rolling resistance tires could not deliver such a performance.
There is more to learn about the qualities of this excellent tire. Read on as I will discuss the tire's unique features and its performance on different terrains.
Overview of Michelin Energy Saver A/S Tires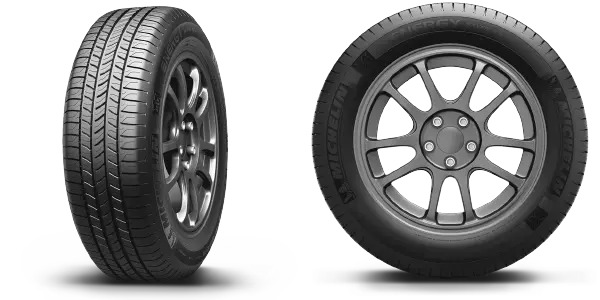 If something would put the Michelin Energy Saver A/S in the limelight, that is its fuel efficiency. The sustainability factor of this tire is seriously attracting consumers. Consumers would be very inclined to buy a product that leaves a minimal carbon footprint. It feels good to be able to help the environment in small ways.
As already mentioned, the tire features the Green X technology of Michelin, which lessens CO2 emissions. It offers an exceptionally low rolling resistance, making it an environmentally friendly tire. This low rolling resistance is the result of the specially formulated silica-based tread compound.
Other advanced technologies used in the production of the tire are Comfort Control Technology and EnergySaver Construction. Learn more about how these technologies assist in making the Michelin Energy Saver A/S an excellent tire in the following sections.
Green X Technology
Michelin has put great effort into producing environmentally friendly tires. A testament to this is its continuous pursuit for new technologies to help reduce their impact on the environment.
The Green X technology is only one of the many efforts of Michelin to help the environment. Its main goal is to produce a fuel-efficient tire like the Michelin Energy Saver A/S. With the reduced fuel consumption brought by this technology, the carbon dioxide footprint is substantially low.
Comfort Control Technology
This technology is another significant innovation that provides the tire with more value. It utilizes computer-aided design and precision manufacturing to reduce road vibrations. In addition, it focuses on lowering road noise to give you a quieter ride.
This technology brings added comfort to your driving experience. You can't avoid passing by a bumpy road, but the vibrations you feel will not be that gruesome with this tire on your vehicle. Also, the minimal noise that the tire makes due to this technology will surely improve your driving experience.
EnergySaver Construction
Another featured technology in this tire is the EnergySaver Construction. This technology is another reason why this tire is highly fuel-efficient. It combines with a unique silica-based tread compound that helps improve engine fuel efficiency. It does this by keeping the tire cooler as you roll your vehicle on the road.
The tire's internal structure features twin steel belts. Spirally wrapped polyamide on top of a polyester cord casing reinforces these steel belts to achieve strength, efficiency, and comfort.
Tread Design
The tire has a symmetric tread design that features siped independent tread blocks. This feature ensures improved handling, shorter braking distance, and exceptional road traction without compromising fuel efficiency.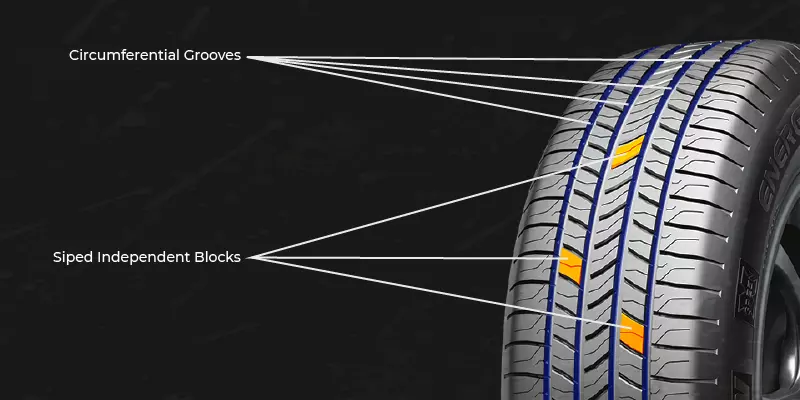 The tire's tread further features circumferential and lateral grooves that help disperse water and reduce the chance of hydroplaning. These grooves also ensure a solid grip on wet surfaces.
More Highlights
You have just learned about the technologies that the Michelin Energy Saver A/S features. Now, I will talk about specific traits of the tire as how Michelin has marketed it.
Michelin Energy Saver A/S boasts that the tire is 8% more fuel-efficient than other tires, so it means that you are saving money at the gas pump. This capability is, again, the result of the EnergySaver Construction technology.
The company further reports that the tire has a shorter braking distance, around 8 feet more concise than the usual braking distance. This superb performance is the job of the unique silica-based compound.
I think it is worth reiterating that the tire is leading when it comes to rolling resistance. It has an outstandingly low rolling resistance which means, your vehicle's engine will exert less effort. Thus, the harmful carbon dioxide emissions from your car are very minimal.
How Michelin Energy Saver A/S Performs on Different Road Conditions
How It Performs on Ice/Snow
I understand that most of us would want to have an all-around tire. I get that we want to save some penny if we can, so we try to utilize the same tires for all weather conditions. But how does this tire fare in snow-covered terrains?
Although the Michelin Energy Saver A/S is not a dedicated winter tire, it can provide reliable traction on light ice and snow. However, if you frequently drive in severe ice or snow, I would encourage you to get a dedicated snow tire and not compromise your safety.
As far as braking distance is concerned, the tire may not deliver the same quality performance compared to how it works on clean pavement. Some users report that the tire has some slips, especially on icy terrains.
How It Performs on Wet Roads
I always check how a tire performs on wet surfaces because driving on wet roads is inevitable. I have had an experience driving my vehicle in the rain with some unreliable tires, and it was terrible.
Regarding the performance of Michelin Energy Saver A/S on wet roads, you can trust that it would safely let you drive in the rain. The tire's tread features circumferential and lateral grooves that ensure solid traction on wet surfaces.
As Michelin boasts, the tire is resistant to hydroplaning – this is good news if you are in an area that experiences frequent rains. It is a little bit scary to drive your vehicle on wet surfaces if your tires cannot efficiently disperse water to keep their contact on the road.
How It Performs on Dry Roads
I drive primarily on dry roads, so this section is significant to me. I always check the quality of the tire's traction and its braking distance.
Regarding this particular tire from Michelin, I am confident that the traction and braking performance is above average. Michelin boasts that this tire will provide you with fantastic traction on dry roads. Braking distance is exceptionally short, and handling is predictable.
However, the handling and cornering performance of the tire may not be that exceptional if you are a more spirited driver. This tire is just not for aggressive driving.
The tie performs very well on bumpy, dry roads as it features the Comfort Control Technology of Michelin that helps reduce road vibrations. That is quite an impressive performance.
On the other hand, although Michelin boasts that the tire is quiet, some users report that it makes a little bit of roar when driven on dry roads. Well, this can be subjective, but one thing is for sure, it is not the noisiest tire in its class.
Price Range
You can get this tire from $65 to $250, depending on the size. However, the price may vary from one store to another, so if you want to get the best price, do some shopping around your local area.
Some stores may also offer occasional discounts and rebates. Watch out for these seasonal promotions to get this tire at a lower price.
I want to add that you must not settle with pre-owned tires if you're going to get the tire at a lower price. That is just not safe for you and your passengers.
Warranty Terms
This tire comes with a 65,000-mile warranty for the S, T, and H speed rated tires and 55,000-mile for the V speed rated tires. It further includes a uniformity guarantee during the first year or the first 2/32 inch of treadwear.
Furthermore, the tire also comes with a Materials and Workmanship Warranty for six years. This warranty includes a free replacement during the first year or the first 2/32 inch of treadwear. Then, users can receive a prorated amount for the remaining time or down to the final 2/32 inch of tread depth.
If you are the type of person who wants to try the products first before using them for good, Michelin offers a 30-day customer satisfaction guarantee. Additionally, Michelin also offers a 3-year flat tire changing service.
Vehicles Michelin Energy Saver A/S Will Fit
Below are some SUVs that the tire would fit. This list is not complete, so if your vehicle is not on the list, you can check out the tire sizes in the following table to see if it matches your rim size.
If you decide to go to a tire shop to enquire, always get some help from the shop's mechanic to ensure that the tire you are purchasing fits your ride 100%.
| | |
| --- | --- |
| BRAND | MODEL |
| Ford | Escape |
| Honda | CR-V |
| Hyundai | Tucson |
| Isuzu | Crosswind |
| Mitsubishi | Outlander |
| Suzuki | Grand Vitara |
| Subaru | Forester |
| Toyota | RAV4 |
| Toyota | Rush |
| Volvo X70 | X70 |
Available sizes:
| | |
| --- | --- |
| RIM SIZE | TIRE SIZE |
| 15″ | 175/65R15 84H BSW, 195/65R15 91T BSW |
| 16″ | 215/55R16/XL 97T BSW, P205/60R16 91V BSW, 205/65R16 95H BSW, P205/65R16 94S BSW |
| 17″ | 215/50R17 91H BSW, P215/50R17 90V BSW, P225/50R17 93V BSW, 225/50R17 94V BSW, 235/50R17 96H BSW, P235/50R17 95T BSW, 235/55R17 99H BSW, P215/65R17 98T BSW, P225/65R17 100T BSW |
| 18″ | P235/50R18 97V BSW |
Frequently Asked Questions
Are Michelin Energy Saver tires any good?
Michelin has been around in the tire industry for quite some time already. With years of experience and breakthrough innovations, it has provided quality products that you could trust. In particular, the Michelin Energy Saver A/S is an excellent tire that boasts fuel efficiency without compromising the overall performance.
How long does the Michelin Energy Saver A/S last?
The tire has an excellent tread warranty of a 65,000-mile for the S, T, and H speed rated tires and 55,000-mile for the V speed rated tires. It further includes a uniformity guarantee during the first year or the first 2/32 inch of treadwear. That is quite an impressive coverage.
Does Michelin Energy Saver A/S have low rolling resistance?
The tire boasts its low rolling resistance due to the high-quality silica compound that it uses. Your vehicle's engine is not required to exert so much effort with this tire. Thus, it will be burning less fuel and therefore minimize the harmful carbon dioxide emissions. The tire is environmentally friendly.
Is the Michelin Energy Saver A/S noisy?
Michelin boasts that this tire is quiet because of the Comfort Control Technology, which reduces road vibrations and assists in minimizing road noise. However, users who shared their experience online report that the tire produces a bit of roaring noise. For sure, it is not the noisiest in its class.
Final Thoughts
I could consider this tire for my vehicle, knowing that it is highly fuel-efficient. That exceptional trait alone would convince me to try this tire out. What is more interesting is that the overall performance of the tire is not compromised.
The tire provides outstanding traction on wet and dry roads and even on light ice/snow. The braking distance is also relatively short, and the tire can also offer decent handling and a comfortable ride.
However, if you are in an area that frequently experiences severe winter, drop the idea of getting this tire. Get a dedicated winter tire instead.
Related Articles
Michelin Energy Saver A/S Review