Deciding on which tire to get is a bit of a challenge for most drivers. Well, maybe not if you know precisely the role of your vehicle. If your ride is primarily happening on paved roads and your car is constantly hauling heavy loads, you might need to install a highway tire.
The Goodyear Wrangler SR-A is a good option for an all-season highway tire because of its exceptional stability even at high speeds, outstanding traction on both dry and wet road conditions, enhanced handling and cornering performance, and impressive tread life.
This tire could be a perfect replacement for your SUV's tires as it delivers excellent all-season performance. However, there might be some trade-offs regarding performance because the manufacturer tries to balance everything.
Read on and discover more details about this tire's features and performance.
Overview of Goodyear Wrangler SR-A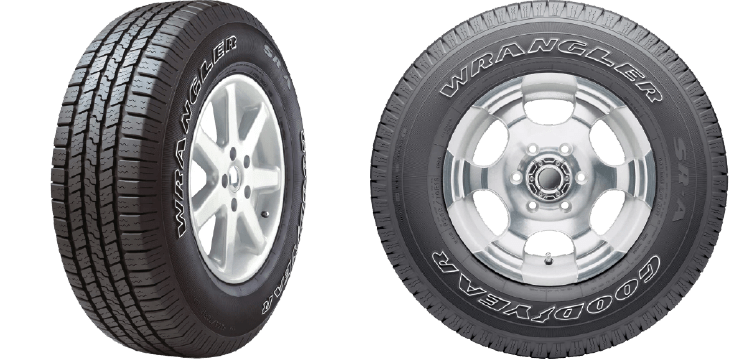 Goodyear Tire is a popular name because it is among the top four tire manufacturers globally. It is a trusted brand all over the world. It is not surprising for a company that has been around for over 100 years.
Extensively used as original equipment on a wide range of popular SUVs, the tire comes in a wide range of 15″ to 20″ sizes. This tire features the Goodyear-exclusive WetTrac Technology that ensures superior wet traction.
The tire's tread design details and construction excellently allow the tire to deliver firm grip on wet surfaces and even in wintry conditions. Strength and durability are among the distinct qualities of the tire because of its robust construction.
WetTrac Technology
What does this technology exactly do? This technology is the innovation responsible for the tire's ability to achieve a firm grip on wet roads.
The WetTrac technology is the breakthrough that produces a tread compound with enhanced traction capability.
Effective Tread Design
The tire features a symmetric tread design that combines independent tread blocks, wide circumferential grooves, a multiple zigzag sipes. This combination is the reason for the tire's enhanced traction in wet and wintry road conditions.
The wide circumferential grooves, in particular, promote effective water evacuation to ensure a firm grip over a wet surface. The tire further features self-cleaning lateral grooves to reinforce effective water channeling and help the tire get rid of mud and snow.
Robust Construction
What makes this tire robust? The twin high-tensile steel belts on a polyester cord casing make the tire durable. The LT-metric sizes of the tire also feature a spirally wound nylon that adds strength to the tire, promotes even tread wear, and prolongs the tire's life.
Exceptional Stability
The tire's stability is simply reliable even at high speed, even if you carry a heavy load. This performance becomes possible because of the independent tread blocks, with Tredlock microgrooves that lock together on dry roads. This mechanism does deliver not only enhanced stability but also excellent traction and cornering ability.
On wet roads, these grooves work like magic. They open up, which is why the tire is highly resistant to hydroplaning.
Outstanding Traction
You probably have read about how good the tire's traction is in the previous sections of this article. Yes, this tire does have superb traction in both dry and wet road conditions.
Being an all-season tire, the Goodyear Wrangler SR-A does deliver dependable snow traction. This capability is due to the hundreds of zigzag sipes that provide more biting edges to keep the tire rolling on snow.
Enhanced Dry Road Handling and Cornering
The cornering performance of a tire is one of my priorities when looking for a new set of tires. It is because this particular performance is what keeps you safe when you are making turns incredibly sharp turns.
The Goodyear Wrangler SR-A is a reliable option when it comes to dry handling and cornering. Aside from the tire's excellent handling and cornering performance, its braking distance is relatively short.
How Goodyear Wrangler SR-A Performs on Different Road Conditions
Let's go and take a look at how this tire performs in various road conditions. See if the tire's performance in these terrains satisfies what you are looking for in a new all-season highway tire.
Ice/Snow Performance
If you drive on the road covered with light ice/snow, this tire may do its job to keep you on the course and bring you to your destination. However, the performance may not be optimal, especially if you cruise a deeply snow-covered road. 
You might ask: What was the purpose of the biting edges created by the multiple zigzag sipes of the tire then? Of course, they are responsible for providing you with adequate traction in wintry conditions. But note that this is not a dedicated snow tire, so the tire's traction on this particular surface may not be optimal.
If you frequently experience severe snow, I think it would be wise to drop this from your list of options.
Wet Roads Performance
I am sure you have driven in the rain before, and you probably understand how risky it is. It becomes riskier if you take a dirty or muddy road because the surface would be very slippery. Thus, installing a tire that delivers reliable traction and braking performance is imperative.
As far as the Goodyear Wrangler SR-A is concerned, the tire boasts reliable traction on wet roads because of the effective tread design. What about the tire's braking distance on wet roads? The braking distance is also reportedly good.
Goodyear ensures that the wet traction of the tire could be relied on by adding four wide circumferential grooves that facilitate better water evacuation. The tire's tread also has a self-cleaning mechanism that keeps mud away, lessening the chance of hydroplaning.
Dry Roads Performance
Driving on dry roads is the forte of this tire. As I have highlighted above, this tire's handling and cornering performance on a dry surface are exceptional.
The tire is very responsive on dry roads, giving you complete control. The traction and the braking performance on dry roads are above average. 
Some user even reports that this tire can handle light off-road. That is quite an added value of this tire. However, I would not recommend this tire for a severe off-road adventure because this does not have an aggressive sidewall, so it is prone to punctures.
I would say that this tire is what you need if you are mainly driving on dry highways. This tire is a safe and reliable option for this particular terrain. You can trust that the Goodyear Wrangler SR-A will deliver all the essential qualities of a highway tire.
Price Range
The price of the Goodyear Wrangler SR-A starts at $100 and may go up to $270, depending on the size. However, this is just a rough estimate. The prices may vary from one shop to another.
You may be able to take advantage of the occasional promotional offers by some tire dealers. Coupons and rebates are ubiquitous when you check online tire shops.
Warranty Terms
Goodyear provides six years or a 50,000-mile limited tread life warranty for the P-metric sizes of the Goodyear Wrangler SR-A. LT-sizes does not come with a treadwear warranty.
P-metric sizes also come with six months or the first 2/32 inches of wear on the tire's uniformity.
Moreover, Goodyear provides six years guarantee on the tire's materials and workmanship. Users can ask for a free replacement within the first year from the date of purchase or the first 2/32 inches of wear.
Beyond the one-year free tire replacement, the company offers a prorated amount for the remaining period or down to the final 2/32 inches of tread depth.
Vehicles Goodyear Wrangler SR-A Will Fit
Below are some SUVs that the Goodyear Wrangler SR-A would fit. If your vehicle is not on the list, you can always check fitment at the tire dealer where you purchase the tire.
| | |
| --- | --- |
| BRAND | MODEL |
| Chevrolet | Tahoe |
| Chevrolet | Trailblazer |
| Dodge | Durango |
| Dodge | Nitro |
| GMC | Suburban |
| Hyundai | Santa Fe |
| Mazda | CX-7 |
| Nissan | Murano |
| Nissan | Pathfinder |
| Toyota | Sequoia |
brief list of Goodyear Wrangler SR-A compatible vehicles
Available sizes of the tire. For the full list, go here.
RIM SIZE
TIRE SIZE
15
31X10.50R15LT 109R C OWL
P225/70R15 100S OWL
P225/75R15 102S OWL
P235/75R15 105S OWL
16
LT215/85R16 115P E BSL
LT225/75R16 115R E BSL
LT245/75R16 120R E BSL
215/70R16 100S VSB
P235/70R16 104S OWL
P245/70R16 106S VSB
P245/70R16 106S OWL
225/70R16 103T OWL
17
P265/70R17 113R VSB
P265/70R17 113R OWL
LT245/70R17 119R E OWL
P235/65R17 103S OWL
P245/70R17 108S VSB
P235/75R17 108S OWL
P215/65R17 98S OWL
18
LT275/65R18 123Q E OWL
LT275/70R18 125R E OWL
P265/60R18 109T VSB
P265/65R18 112T BSL
20
P275/55R20 111H VSB
P275/60R20 114S VSB
LT305/60R20 118S D BSL
brief list of Goodyear Wrangler SR-A sizes
Frequently Asked Questions
1. Is the Goodyear Wrangler SR-A a good tire?
The tire can provide you with smooth and comfortable handling on dry roads. Cornering and braking performance is reliable. Traction on wet road conditions is also safe because of the advanced silica compound used in the tire and the enhanced zigzag siping. However, ice and snow performance are not guaranteed.
2. What kind of warranty does the Goodyear Wrangler SR-A have?
Goodyear only offers a limited 50,000-mile tread life warranty on the P-metric sizes. It also provides a six-month tire uniformity warranty and six years warranty for the material and workmanship. During the first year, users may request a free replacement. Unfortunately, LT-sizes do not come with a warranty.
3. What kind of tread compound does the Goodyear Wrangler SR-A use?
Goodyear has utilized its exclusive WetTrac technology to produce a high grip compound that ensures quality traction in various terrains, including wet roads, dry roads, snow-covered roads, and even light off-road.
4. Does the Goodyear Wrangler SR-A have off-road capability?
The tire may be able to handle light off-road conditions. However, this is not a dedicated off-road tire, so there is a high risk of going home with flat tires because of punctures or other off-road-related damages.
Final Thoughts
If you are looking for a highway tire, the Goodyear Wrangler SR-A can be your option as it ensures a comfortable and reliable performance on dry pavement and wet roads. In addition, the tire boasts exceptional stability even at high speeds and can deliver superb cornering performance.
The only major disadvantage of the tire is that it cannot provide optimal traction and handling on ice-/snow-covered surfaces. However, if you look at the tire's overall performance, you will find that it can indeed deliver the primary qualities you need for an all-season highway tire.