Installing a hybrid tire on your vehicle is just a great idea. When I say hybrid tire, I mean all-terrain tire. If you enjoy the thrill of driving the roads less traveled on, you better know about what Falken Tires has to offer.
Adventurous enthusiast drivers can enjoy the balanced performance of the Falken Wildpeak A/T3W. This tire is capable of providing optimal off-road capabilities without compromising the on-road performance.
The tire is not only an excellent off-/on-road performer. It also shines in various road conditions such as wet roads and moderate ice and snow.
This tire bears the Rubber Manufacturers Association's (RMA) Three-Peak Mountain Snowflake (3PMSF) symbol on its sidewall, which indicates that it can provide superior performance even on snow-covered roads.
It sounds like this tire is everything you need, right? Alright then, let's cut the agony and dig deeper into this tire's detailed features and capabilities.
Overview of Falken Wildpeak A/T3W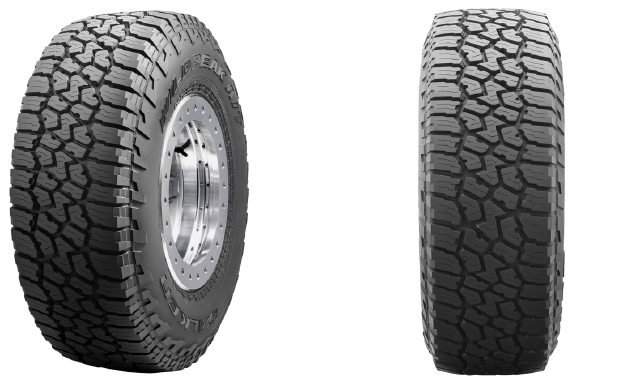 If you check the records about Falken Tires, you would probably discover that it has just recently ventured into the off-road category of tires. So, does this make the Falken Wildpeak A/T3W less desirable?
The history of Falken Tires shows evidence of its experience in tire production. It joined the tire industry in 1983 under its mother company SUMITOMO RUBBER NORTH AMERICA, INC.
So, as far as quality is concerned, I am confident that the Falken Wildpeak A/T3W can be a trusted tire all-terrain tire.
The outstanding off-road performance of this tire is what makes the tire a good option for adventurous divers. The tire is rigid and has a highly protected sidewall that ensures longer life.
Among its key features are:
The protective secondary bead apex
Heat diffuser technology
Sturdy and rigid tread blocks
3D Canyon Sipe Technology
Aggressive sidewall
Deep tread
Learn more about these features below to find out how they work.
Tire Protection Feature
You don't want to go home from a trip with a frowning face because your tire got damaged. Luckily, the Falken Wildpeak A/T3W outer apex sidewall features a secondary bead apex that protects the internal casing of the tire from heat.
This feature is also responsible for providing the tire added sidewall protection when you take your vehicle off-road. Knowing this feature gives you handing and durability confidence.
Heat Diffuser
This feature of the tire is what protects its internal components. This heat diffuser in the lower sidewall of the tire keeps the tire cool, especially when you are towing or carrying heavy loads.
You probably wonder why a tire needs to have some heat resistance ability. It is because the tire's exposure to high temperatures may cause it to expand or even explode.
Sturdy Tread Blocks
The rugged and rigid tread blocks of the tire are responsible for delivering enhanced stability and handling. They also keep stones from being eaten by the tire's grooves.
The stiff tread blocks ensure that the tire achieves a firm off-road grip. The tire's tread block's support ramps and step-down features are responsible for the incredible off-road stability of the tire.
Falken's 3D Canyon Sipe Technology
The 3D Canyon Sipe technology is an exclusive technology patented by Falken. This advancement is the technology that helps the tire resist wear from high torque.
This technology is Falken's breakthrough technology that ensures handling stability. What this does is, interlocks the tire's shoulders so that it would become tear-resistant.
Aggressive Sidewall & Offset Shoulder Blocks Combination
The combination of these features of the tire is another layer of protection. It protects the tire from any sharp objects when you are cruising off-roads. This combination is also responsible for providing solid off-road traction when the tire is at low pressure.
Falken Tires is confident that the tire would deliver the promised quality because it offers a two-year road hazard warranty.
Deep Tread
The deep tread of the tire makes it perform better on snow for an extended period. This particular quality of the tire is the exact reason why it is highly resistant to hydroplaning.
Along with the stepped-down tread blocks and rugged shoulder, the deep tread of the tire provides outstanding traction on dirt, mud, gravel, and other challenging terrains.
Superior Tread Life
The tire boasts a decent 55,000 miles tread life warranty on all sizes. This limited tread warranty is already remarkable in its class.
Moreover, the non-LT sizes of the tire also feature a silica-based tread compound that ensures longer tread life and outstanding performance on wet surfaces.
How Does Falken Wildpeak A/T3W Perform on Different Road Conditions
Take a look now at the detailed performance of this tire on various terrains. The tire may have some good user reviews, but knowing that this is an all-terrain tire, there might be some trade-offs to performance.
Performance on Icy Roads
As highlighted at the beginning of this article, the tire bears the 3PMSF symbol of the RMA, proving its excellent performance on snowy terrains. You learned so far that the tire has a deep tread (arguably the deepest in its class). This particular quality of the tire allows it to overcome light to moderate snow effectively.
Although the tie's snow capability is outstanding, you always need to be cautious when using this tire on deep snow as it may not perform the same way as it does on light and moderate snows. But if you are in an area that does not experience severe ice or snow, this tire is just perfect.
Performance on Wet Roads
The Falken Wildpeak A/T3W is a champion on wet surfaces. It firmly cements your vehicle on the road keeping you in the course even in the presence of heavy rains. The tire's traction is superbly reliable.
Handling on wet roads is also remarkable. Because of the tire's impressive traction and shorter braking distance on wet roads, the chances of hydroplaning are very slim.
Performance on Dry Roads
The tire's traction and braking performance on dry roads are impressive as its grip and braking capability on wet roads. Exceptional handling can be experienced on dry roads even as the tread wears out.
The only drawback of the tire when driven on dry roads is the noise it makes. You could not expect an all-terrain tire to be all quiet because of the tread design. So, if you love to have a peaceful drive, this tire may not be for you.

However, if you can compromise a little noise over the other excellent qualities of the tire, this can be a good option. This tire is noisy, but it would be worth noting that it is not the noisiest tire in its class.
Performance on Off-Roads
If you are an off-roader, this tire must be on your list of options. The aggressive sidewall of the tire with a heat diffuser technology and the silica-based compound ensures consistent and reliable traction even on rocks.
Apart from the excellent off-road traction of the tire, it also comes with some features that help protect the tire from punctures and other off-road-related damages.
Pros & Cons of Falken Wildpeak A/T3W
Price Range
The price of the Falken Wildpeak A/T3W starts at around $140. As the size increases, it may go up to about $460. Please note that the basis for the prices quoted here is the available online data.
Prices may vary from shop to show, and some sellers may offer some promotional discounts. You just need to be resourceful and find the most reasonable price.
Warranty Terms
The Falken Wildpeak A/T3W comes with a 55,000 miles limited tread life warranty for all sizes.
It also offers a road hazard warranty for two years or during the first 3/32 inches of wear under some restrictions. During the warranty period, the user can request a replacement for free.
Vehicles Falken Wildpeak A/T3W Will Fit
Below are some vehicles that the tire would fit. If your car is not on the list, check your tire size requirement and refer to the available sizes provided below.
| | |
| --- | --- |
| BRAND | MODEL |
| Chevrolet | Suburban |
| Dodge | Durango |
| Ford | Everest |
| Holden | Suburban |
| Isuzu | Rodeo Sport |
| Mahindra | Thar |
| Mitsubishi | Pajero Sport |
| Mitsubishi | Montero |
| Toyota | 4Runner |
| Toyota | Land Cruiser |
brief list of Falken Wildpeak A/T3W compatible vehicles
Check out the available sizes of the tire in the table below. Please note that the list below is not complete, you can the full list of Falken Wildpeak A/T3W sizes here.
RIM SIZE
TIRE SIZE
15″
235/75R15
LT215/75R15
LT235/75R15
30×9.50R15LT
31×10.50R15LT
32×11.50R15LT
16″
235/65R16C
235/70R16
P245/75R16
255/70R16
LT215/85R16
LT225/75R16
LT235/85R16
17″
215/65R17
225/65R17
245/65R17
P285/70R17
LT235/80R17
LT245/70R17
18″
255/70R18
265/60R18
265/65R18
LT265/70R18
LT275/65R18
LT275/70R18
20″
275/55R20
275/60R20
LT265/60R20
LT275/55R20
LT275/60R20
35×12.50R20LT
22″
285/45R22
brief list of Falken Wildpeak A/T3W sizes
Frequently Asked Questions
1. Is the Falken Wildpeak A/T3W a good tire?
The tire boasts a remarkable off-road performance. The off-road capability of the tire is reliable, from traction to protection. Aside from its excellent off-road performance, its on-road performance is also very trustworthy, except for the slight noise. On top of this, the tire can manage light to moderate snow.
2. How long does the Falken Wildpeak A/T3W last?
The tire comes with a 55,000 miles limited treadwear warranty, which is pretty decent for a tire in this category. The tire features a deep tread, which contributes to its longer life and extended quality performance.
3. Is the Falken Wildpeak A/T3W snow rate?
The tire bears the Rubber Manufacturer Association's (RMA) Three-Peak Mountain Snowflake (3PMSF) symbol on its sidewall. This rating will give you confidence that the tire can provide superior performance on ice and snow.
4. Is the Falken Wildpeak A/T3W quite?
The tire is not the quietest all-terrain tire you can get, but the noise it produces is tolerable. It is common for an all-terrain tire to be slightly noisy because of the tread design. If you opt for a quieter tire, you can consider other tires from a different category.
Conclusion
Putting everything together, the Falken Wildpeak A/T3W is an excellent choice for an all-terrain tire. The tire provides outstanding off-road performance, and the tire's capability on other terrains is also optimal.
Dry and wet road traction and braking distance are very dependable. The tire also provides decent performance on ice and snow as it is rated as a snow tire by the RMA. However, it may only handle light to moderate snow, so if you frequently take terrains covered in deep snow, this may not be a good option.
Related Articles: