Are you looking for a new tire because you are itching for another road trip? Or maybe just simply considering getting a new set of all-season tires for your daily drive?
Regardless of your reason, when planning to hit the roads, deciding which set of tires to get is always something that requires serious consideration. Well, you are definitely in the right place. What I am about to present could be the end of your search.
The Michelin CrossClimate 2 is an excellent performing tire perfect for all-season driving due to its long-lasting tread life and superb performance on different terrains and road conditions.
Read on and discover another high-quality all-season offer from Michelin.
Overview of Michelin CrossClimate 2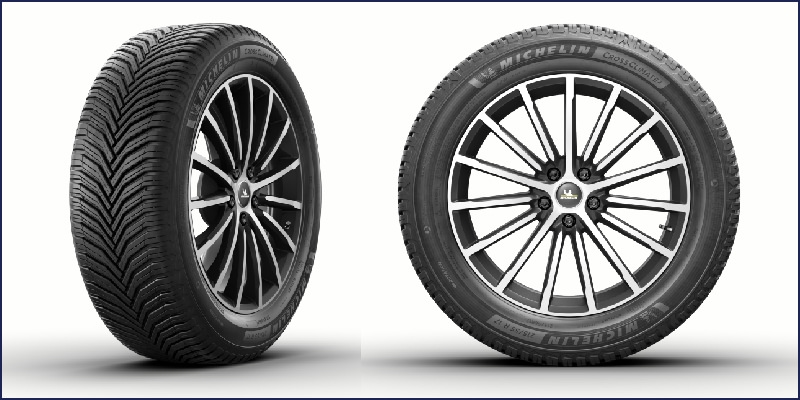 The tire industry could be offering hundreds or more all-season tires for you to consider. Therefore, understanding the tire's performance before deciding to get it is imperative.
The design of the Michelin CrossClimate 2 ensures to stand a variety of challenging road conditions. It has every feature you can look for in an all-season tire.
In getting an all-season tire, we always ensure that it has excellent traction on both wet and dry roads. How is the Michelin CrossClimate 2 in this area? Expect nothing less. This tire is rated well when it comes to traction performance.
Long-lasting tread life is among the many great features of this tire. Do you want to know how this is possible? I will discuss the reason behind this outstanding performance in the following section.
Do you sometimes drive on severe snow? Don't worry about this challenging terrain because this tire's fantastic snow traction performance is another feature you can discover.
What about the tire's braking performance? It boasts its excellent braking performance on wet roads and short-distance braking on dry roads.
Are you excited to know how this tire achieves the great features mentioned above? Let's go!
Excellent Traction Performance
Now, let's talk about why the CrossClimate 2 has achieved outstanding traction performance. How is this possible? What attributes of the tire are doing this?
The secret of this tire's excellent traction performance is due to the rubber compound used in its production and the brilliant tread design. Michelin has successfully achieved a silica compound that is perfect for both cold and warm weather.
The compound composition of the tire is not too soft when driving on dry and warm roads, and it does not get too hard ice or snow. Its tread has an ideal grip on both dry and wet roads.
How does this tire achieve such a good grip on both dry and wet roads? The V-shaped tread pattern of this tire ensures a firm grip when you are rolling on either dry and warm or icy or snowy roads. The tire's tread pattern also allows the tire to evacuate the water when you drive on wet roads.
Outstanding Tread Design
The unique directional design of this tire is exceptional. The V-shaped pattern already mentioned earlier provides biting edges to maximize traction on either wet or dry roads. A firm road grip of the tire will ensure your mileage and assure you that your tire won't wear out quickly.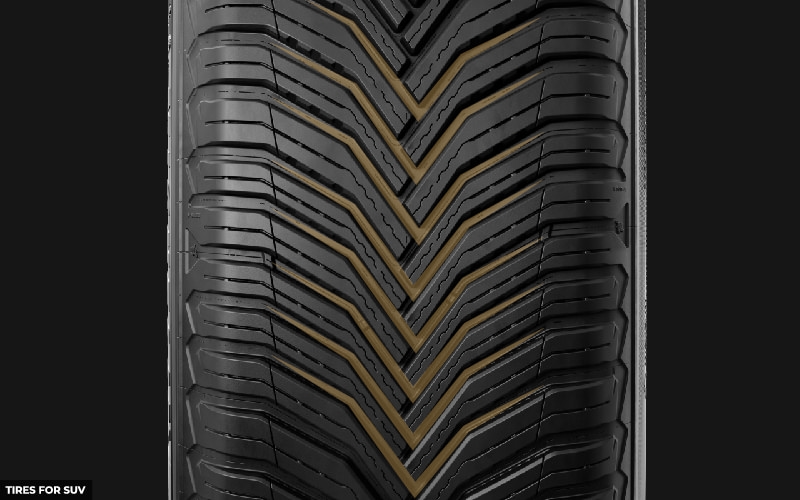 It is also important to note that the tire does not have circumferential grooves, minimizing hydroplaning tendencies on wet roads. We know how risky it is to drive your SUV with a set of tires with poor skidding resistance. So, we should not compromise.
Long-lasting Tread Life
Of course, the tire's tread life is another consideration when you plan to get new sets. You would not want to keep changing your tires in a short period or after a short-distance drive, would you? It is just not economical and not very convenient.
The good news is, the CrossClimate 2 does not fall short on this. The tire boasts a 60,000 miles warranty. Now, this is not bad for an all-season tire at all.
Advanced Noise Reduction Technology
How about the noise that this tire makes on the road? Can you drive with less noise-related stress? The answer is yes. "Piano Noise Reduction Tuning," which effectively reduces road noise. So, if you want a quiet ride, ease up your mind and let this tire do its magic on the road in this area.
How Does Michelin CrossClimate 2 Perform in Different Road Conditions
Stick around as I discuss how the Michelin CrossClimate 2 performs on ice, snow, and wet roads. Discover further the efficient traction performance of this tire on these roads.
Ice Driving Performance
Driving on the ice is always a challenge, and if your tire does not have a good grip, skidding is like to happen. And yeah, we can't avoid driving on the ice brought by weather changes. So, how does tire on focus fare on snow driving?
The tread design of the tire ensures that its grip on ice is firm. It features a unique V-shaped tread pattern that creates biting edges to make superb traction when it comes in contact with the ice. Good tire traction, as you know, is significant when you talk about ice driving.
What about the braking performance of this tire on the ice? Is it reliable? This tire boasts excellent wet braking, so since ice is a wet surface, you can be confident that it would keep you safe when applying your brakes.
Snow Driving Performance
Snow can be your worse enemy. Among the top cause of vehicular accidents is severe snow. So, I guess you would agree if I say you need to carefully choose your all-season tire so that your next snow driving becomes safer.
I am pretty sure you've tried driving on this challenging road condition in the winter. If your tire does not have working biting edges to ensure that your SUV can keep its traction on the road, you would likely hydroplane. If it happens, it is a traumatizing experience for sure.
The Michelin CrossClimate 2, the V-formation tread design of the tire, securely patches it into the snow for more excellent traction. Three-Peak Mountain Snowflake (3PMSF), which is a symbol of excellence in the field of snow driving.
Wet Roads Driving Performance
As it does on ice and snow, this tire is a good performer when driving on wet roads. How is this so? You just learned earlier the unique V-shaped tread design of the tire. This unique design helps wash away the water as it comes in contact with the tire.
You can be confident that you won't lose control of your vehicle on wet roads because of such performance. Wet roads usually cause skidding, so this tire ensures gripping performance is an assurance of safety.
We need to note again that the braking performance of the tire on wet roads is among the great features it boasts.
Dry Roads Driving Performance
As an all-climate tire, the Michelin CrossClimate 2 is simply exceptional. The advanced silica compound that Michelin employed on this product ensures safe driving on dry roads.
Shorter braking performance on dry roads is something you should note when you consider this tire. Why is shorter braking distance significant? A shorter braking distance would mean more driver control, thus, avoiding obstacles or accidents.
Moreover, this tire's noise when you drive on dry roads or highway is very minimal due to the unique tread design and the "Piano Noise Reduction Tuning." Tire noise is usually due to uneven or unbalanced tread depths of the tire. If you do get this tire, it is still crucial to employ good tire rotation to balance your tire's tread wear and minimize the possible noise your tires make.
The tire also employs the 3D siping technology for better tire responsiveness on all types of road conditions. The more responsive your tire is, the ease your handling becomes.
Price Range
As far as the price is concerned, it varies depending on the size of the tire you need.
Looking at the available data, you can get a tire for a minimum cost of around $150. Then again, the price goes up as the size of the tire goes bigger. The average price of the tire ranges between $150 to $400.
Some shops may offer a lower price for a pre-owned tire. But you would need to make sure that the quality of the tire you are getting is not compromised.
Note that the prices noted was available as of writing this review.
Check Price Now: Michelin Crossclimate 2
Warranty Statement
The warranty of the tire includes:
A 60,000 miles manufacturer's limited treadwear warranty
It also comes with the standard six-year warranty for workmanship and materials for the life of the original usable tread. This warranty begins from the date of purchase.
You may check more information on the tire's warranty detail here.
Vehicles Michelin CrossClimate 2 Will Fit
The Michelin CrossClimate 2fits on a wide range of SUVs due to is the variety of sizes.
To know whether your vehicle can have this tire, you need to look at your rim size.
Take a look at some of the SUVs that this tire would fit in from the list below. The list is limited, so if your vehicle is not on the list and wants to check if this tire is compatible, determine your vehicle's rim or tire size.
Alternatively, you can check with local auto shops the tire requirements of your SUV.
| | |
| --- | --- |
| BRAND | SUV MODEL |
| Acura | MDX, RLX |
| Audi | TT 2020 |
| BMW | X5 |
| Cadillac | SRX |
| Dodge | Challenger |
| Honda | Accord, Pilot AWD |
| Lincoln | MKZ |
| Mercedes-Benz | C300 |
| Mustang | GT |
| Subaru | Legacy |
Unlike CrossClimate +, you can find the CrossClimate 2 in a broader range of sizes (the following list is not a full list of all sizes).
RIM SIZE
TIRE SIZE
16″
205/55R16 91H
205/55R16 91V
205/65R16 95H
215/55R16 97H
17″
215/50R17 95V
215/50R17 95H
215/55R17 94H
215/55R17 94V
225/50R17 98H
225/50R17 98V
225/55R17 101V
225/55R17 101H
235/65R17 104H
18″
225/55R18 98H
235/50R18 97H
235/50R18 97V
235/55R18 100V
235/55R18 100H
235/60R18 107H
235/60R18 107V
19″
235/50R19 103V
235/55R19 105H
235/55R19 105V
235/55R19 103V
20″
245/50R20 102V
Frequently Asked Questions
1. Is the Michelin CrossClimate 2 tire good?
Michelin has successfully enhanced the performance of this all-season tire by employing a winter-ready compound and giving it a unique V-shaped tread design to ensure good traction performance.
2. Is the Michelin CrossClimate 2 tire noisy on the road?
The tire utilizes Michelin's "Piano Noise Reduction Tuning," which ensures you hear minimal noise while driving. So, if you want a quieter ride, this tire is something to consider.
3. What is the benefit of the Michelin CrossClimate 2 V-shaped treads?
The V-shaped tread of the tire creates more biting edges to make sure that the tire's traction is enhanced. With this design, the tire can perform very well on both wet and dry roads. Furthermore, the biting edges of the tire make it a safe option when you drive on snow.
Conclusion
Summing all the great features of the Michelin CrossClimate 2, I would say that this tire is quite an option for your all-season tire needs. It can be a little pricey, but the features you get would outweigh your investment.
The outstanding responsiveness performance of this tire is just something you could look forward to an all-season tire. Its superb traction ensures safety regardless of the condition of the road you are driving on. With its strong traction on the road, it is significantly less likely that you will hydroplane when driving on wet roads.
The braking performance of the tire also assures you that you are driving safely. Its good grip on the road ensures shorter and safe braking to avoid unwanted accidents.
So, is the Michelin CrossClimate 2 a good investment? Definitely. Should you get this? I would say that the things you just learned about this tire are more than enough information to back up your decision. However, you can still look around to see other options.
Related Articles
Michelin CrossClimate 2 Review