Summer driving is an exciting experience we always look forward to doing. Before you go out and have summer fun, make sure that you installed a tire that performs well for the season. Discover the Falken Azenis FK510 and its outstanding summer performance.
The Falken Azenis FK510 can give you peace of mind when driving in warm conditions. The technology used in the production of this tire and its design ensures that the traction performance of your SUV is excellent in both wet and dry road conditions.
This tire is an Ultra-High-Performance (UHP) tire that provides a stable and safe driving experience. This is one of the high-ranking tires in its class, so it is worth knowing its detailed performance.
Read on as I will present the features of this tire in detail and its performance in different road conditions.
Overview of Falken Azenis FK510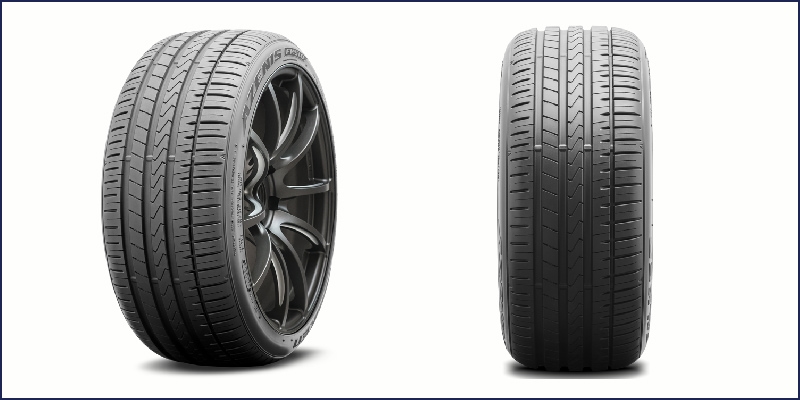 The Falken Azenis FK510 UHP summer tire from Falken Tires addresses your need for good dry and wet road traction and good maneuverability.
The tire uses a specialized tread compound to ensure that the tire can obtain a firm grip on the road in both dry and wet conditions. Yes, it has an excellent damp road traction performance due to the four circumferential grooves that evacuate water as soon as it gets in contact with the tire.
It features the 4D Nano Design tread compound molded into an asymmetric pattern or Falken's Adaptive Constant Pressure (ACP) pattern design. That ensures better pressure distribution as the tire hits the road.
Moreover, its internal construction features Falken's Tension Control Technology. This technology is responsible for making sure that the tire has better rigidity and high-speed stability.
Advanced Tread Design
Falken has incorporated advanced design features in the production of this tire to ensure that it performs very well on wet roads to avoid hydroplaning.
As Falken boasts, this tire is a top performer when talking about road traction in wet conditions. How is the tire able to achieve such an excellent performance? This exemplary performance is made possible by the higher negative tread ratio combined with high volume circumferential grooves and rounder shoulder contours.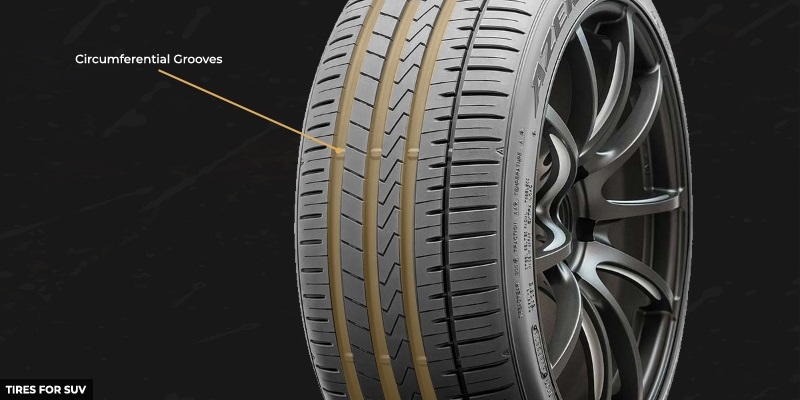 The effective sipe design of the tire ensures that it washes away the water for it to have a firm grip on the road. Because of this characteristic of the tire, it has become highly resistant to hydroplaning.
4D Nano Tread Design
Ease of handling your SUV when you roll on the road is something you want to experience. It is pretty stressful to drive with an unresponsive tire installed on your vehicle.
The Nano Design Technology incorporated in this tire ensures that your driving experience is balanced, stable, and comfortable. The longitudinal grooves of the tire ensure that these performances are delivered.
Aside from the tire's smoothness brought by this technology and the futuristic design of the tire, it is also able to deliver shorter braking distances and stable cornering performance. That is quite impressive!
Quiet and Comfortable Driving
There have been many accounts that prove the tire's quietness. The excellent tread design, the materials used, and the technology incorporated in the production of the tire have allowed the tire to be one of the quietest tires within its category.
The Falken Azenis FK510 is also a good option if you look for ease and comfort while driving. You would love how the tire aces in this area.
Tension Control Pressure Technology (ACP)
Falken Tires is arguably the leader in producing UHP tires, so it will not settle for less. To ensure a cutting-edge pattern concept, the Tension Control Pressure Technology (ACP) helps in delivering an enhanced pressure distribution when the tire comes in contact with the road.
The ACP further advances the braking and traction performance of the tire to achieve good driving dynamics and a smooth-handling experience. The Falken Azenis FK510 is a summer tire, so it is a given that the tire will also perform well on dry roads.
How Does Falken Azenis FK510 Perform in Different Road Conditions
Performance on Icy and Snowy Roads
So, probably you wonder if this tire would perform reasonably on ice and snow, knowing that this is a summer tire. The direct answer is no.
The tire is for summer driving, so it will only serve best during this type of weather. The tire does not respond very well to cold temperatures. The compound used on the tire could easily crack if exposed to cold temperatures.
Although the compound used in tire production is highly advanced, it is simply not for ice and snow driving. What could happen if you expose this tire to severe ice conditions or snow? The silica compound may have irreversible cracks. Now, that is something for you to worry about as this phenomenon is warrantable.
When you experience tire cracking, you should know that it requires immediate replacement for safety reasons. You don't want to risk your driving safety by settling with a faulty tire.
With all these facts, this tire is not perfect for your winter drives. You would need an all-season tire to handle such challenging terrain. The tire's performance on ice and snow was obviously not tested, so there is no data that we can use as a reference if the traction of the tire is good or if the handling is easy. Well, it is probably not needed. The apparent reason is its vulnerability to cold road conditions.
Performance on Wet Roads
Why should we talk about its performance on wet roads when this is a summer tire? The answer to Rod Stewart's question, "Have you ever seen the rain falling on a sunny day?" is yes. Before you start singing, let me tell you more about how this tire performs on the damp surface first.
User reviews of the tire are simply showcasing its outstanding performance on this road condition. Exemplary performance on wet roads is something this tire boasts. Traction, stability, and short braking distances are indeed delivered.
Now, you might ask why traction is significant on wet roads. It is essential because it is what keeps you safe from the risk of hydroplaning. A good-performing tire will ensure that your vehicle is securely gripping the road while you maneuver.
Similarly, a short braking distance is another important performance you need in a tire to avoid road skidding.
But wait, isn't this a summer tire or a tire for dry driving? How does this tire achieve such performance when it is for summer or dry use? Well, thanks to the advanced siping design f this tire and the incorporation of the Tension Control Pressure Technology (ACP) and the 4D Nano Tread Design. The combination of these technologies is what makes this tire a desirable tire.
Performance on Dry Roads
Finally, how is the Falken Azenis FK510 performing on dry roads? The SUV test for the tire reveals that it has a superb handling performance on dry roads.
When it comes to dry braking, the tire also performs pretty well. However, some individual user reviews reflect that the dry braking performance still needs some improvements. Well, obviously, as with any tire ratings, it is always subjective. The tire promises excellent dry road performance as this is a summer tire – we are going to leave it at that.
As you probably have read earlier, you can have smooth handling with this tire installed on your vehicle as the tire responds very well when you do sharp turns. Its impressive road traction performance will also help you have a more comfortable driving experience. However, don't push this tire to the limit because it might weaken its grip.
You are going to love this tire if you are up to comfortable, quiet driving on dry roads. It is impressive how this tire has gained the reputation of being one of the quietest tires you could ever get for summer driving. On top of the quiet ride, the tire also delivers a less bumpy experience on uneven roads.
Price Range
You could get the Falken Azenis FK510 between $120 to $350, depending on the size.
The price may also vary depending on where you will buy the tire. Some online shops offer promotions like a 'Buy 3, get 1 for Free' offer.
Check Price Now: Falken Azenis FK510
Warranty Terms
Falken Tires offer a limited six-year replacement safety warranty of its original tires for claims within six years of the production date, based on the tire Department of Transportation (DOT) serial number.
The warranty covers free replacement due to defects within the first 1.6 mm of tread wear, prorated replacement after the first 1.6 mm tread wear, and out-of-balance replacement – this happens when a tire is deemed out-of-round during the first 0.8mm of the original depth.
Not covered by the warranty are:
Cuts, snag, punctures, bruises, etc. due to road hazards
Tires that have no Department of Transportation (DOT) numbering
Tires moved to another vehicle
Tires that failed due to previous repairs
The cost of repair and re-treading
A treadwear warranty is also not offered.
SUVs Falken Azenis FK510 Will Fit
Below is the shortlist of SUVs that the Falken Azenis FK510 would fit:
| | |
| --- | --- |
| Brand | SUV Model |
| Audi | Audi Q5 |
| BMW | BMW X5 |
| Chevrolet | Camaro |
| Ford | Edge Sport |
| Jaguar | E-Pace |
| Maserati | Levante |
| Porsche | Cayenne |
| Porsche | Macan |
| Range Rover | Sport |
| Tesla | Model X |
| Volkswagen | Touareg |
brief list of Falken Azenis FK510 compatible vehicles
Below is the table for the available sizes of the tire. If you want to know more details about the tire's specifications, you can check Falken's complete specification table.
RIM SIZE
TIRE SIZE
18″
255/55R18
19″
235/55R19 255/50R19 265/50R19
20″
255/45ZR20 265/45R20 275/40R20 275/45R20 275/50R20 285/40R20
295/40R20 315/35R20
21″
265/40R21 295/35R21
brief list of Falken Azenis FK510 sizes
Frequent Asked Questions
1. Is the Falken Azenis FK510 a good tire?
The tire has ranked reasonably well during tests, and user reviews show that this tire is a good summer tire option. It boasts a short braking distance and smooth handling.
2. Who manufactures the Falken Azenis FK510?
Falken Tires manufactures this tire. The company is a sister company of Sumitomo Rubber North America Inc., based in Rancho Cucamonga, California. The tire roots from Japan launched by the Sumitomo Rubber Industries (SRI).
3. Is the Falken Azenis FK510 a directional tire?
The tire is not directional. The tire's tread design is asymmetric, so it performs equally well regardless of its rotational direction.
4. How do you know that your Falken Azenis FK510 already needs replacement?
Like the other tires, the Falken Azenis FK510 comes with the usual tread wear indicators. You will have to start looking for a replacement when your tire's tread depth reaches 2/32-inch. If you aren't sure enough or don't know how to determine when you should replace your tire, you can always ask at local shops during your regular vehicle check-up.
When you talk about the price, it probably will not fit the premium category. However, its exemplary performance is what ranks it as among the best product in its class.
Falken Azenis FK510 Review: Verdict
I would conclude that this tire is a great tire to consider for your summer driving with all the features and performance. Aside from its outstanding dry road performance, it is also among the top tires when driving on wet roads within its category. The traction on wet roads is just excellent, and the braking distance is relatively short.
Numerous reviews talk about the tire's superb responsiveness. What does this mean? This quality means everything to enthusiast drivers. Why is it so? Because the responsiveness of the tire when it hits the road is critical. This tire's responsiveness would determine how easy your handling will be and how safe and smooth your driving will become, especially when you speed up or take sharp turns.
So, should you buy this tire? Well, with its price, it appears to be a good investment. Just make sure to be mindful of your tire care routines, as the tire can easily break when exposed to cold conditions. The tire's replacement warranty is limited, and it does not offer a tread life warranty.
Related Articles: