Having to change your tires as the season changes is a little bit daunting. Why worry about it when you can install an all-season tire on your vehicle like the Falken Pro G4 A/S?
Falken employs the Dynamic Range Technology to develop a high-silica compound molded into an asymmetric tread pattern to ensure the tire's traction on dry and wet road conditions. The tire also features 3-D siping around its shoulders for the tire to handle icy and snowy roads.
The Falken Pro G4 A/S is noticeably good-looking that it would give your vehicle a sporty look when you install a complete set. On top of its lovely appearance, this tire also delivers outstanding steering and cornering performance.
Quite interesting, isn't it? Stick around because I will provide more details about the features and the performance of this tire.
Overview of Falken Pro G4 A/S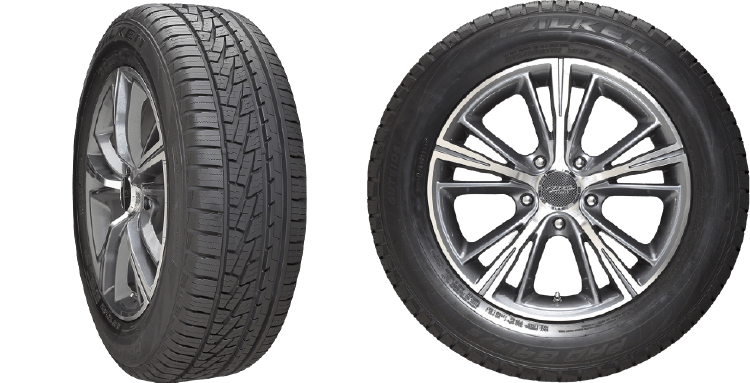 Falken has been in the tire industry since 1983 and has proven its reputation in different tire categories.
The Falken Pro G4 A/S is another offer from the company that promises performance, durability, and comfort. Let us take a look at some features of the tire that are worth mentioning.
Dynamic Range Technology
This breakthrough technology produced the Falken-exclusive high-silica compound that ensures the tire remains pliable at low temperatures. As a result, the tire has an enhanced grip on wet, snowy, and icy road conditions.
What is impressive with this technology is that the chemical bond of the silica compound remains strong in dry conditions even when the rubber heats up.
Excellent Tread Design
As mentioned earlier, the tire employs the 3-D siping technology, which creates more biting edges to deliver enhanced performance on ice and snow. Does this make the tire have the same performance as the dedicated snow tires? The answer is obviously NO. All-season tires deliver balanced performance in different road conditions.
The Falken Pro G4 A/S tire also features long tread blocks that provide better handling and cornering on dry roads. There are also channels between the blocks that effectively evacuate water as it comes in contact with the tire to ensure a firm grip on wet roads.
The interior tread section of the tire has two rows that allow the tire to deliver extra handling stability. The tire's tread also features small slits to ensure better response and provide enhanced water channeling.
Dependable All-Season Grip
We sure know how significant traction is when it comes to tires. It means safety. You don't want to end up hydroplaning when you drive on ice or wet roads.
Moreover, traction directly affects the braking performance of the tire. Thus, if the tire has an outstanding traction level, the braking distance will be shorter. It means you are not prone to unwanted accidents brought by your car failing to stop as you desired.
Good traction on both wet and dry roads and even in ice and snow is probably among the best features of this tire. How can this tire possibly deliver such impressive traction performance? Well, you already learned a few things about this tire, including its effective tread design.
The 3-D siping of the tire and the details in its tread blocks allow this tire to deliver dependable traction on all road conditions.
Superb Handling and Cornering
I can't stress enough why handling is crucial. What is handling anyway? I will make it simple: it is the tire's response to steering, accelerating, and braking. In other words, better handling means safety and comfort.
Now, back to the tire on focus, the Falken Pro G4 A/S ensures that better handling and cornering is delivered. It was possible because of the long tread blocks and the two-rows interior tread.
The tire receives considerable praise from individual users because of its excellent handling and cornering performance. The responsiveness level of the tire is above average.
Durable but Economical
Among the reasons why the tire is durable is the use of the high-grade silica compound. It makes the tire flexible to handle both cold and warm conditions. Well, maybe that is obvious because we are talking about an all-season tire.
However, the tire boasts up to a 65,000-mile tread life warranty. That is not bad at all!
Not only that this tire is durable, but this tire is also very economical. This tire is for sure among the most affordable tire in its class. You can have this tire for as low as $75 – it means more savings.
How Does Falken Pro G4 A/S Perform in Different Road Conditions
Ice/Snow Driving Performance
Being an all-season tire, the Falken Pro G4 A/S delivers satisfactory performance on ice and snow. The tire can achieve this because of the application of the 3-D siping, which creates more biting edges to effectively pick up ice or snow so that the grip is firm.
But the question is: Can it handle extreme ice or snow conditions? I would still suggest that it won't.
Light ice and snow driving is something this tire can potentially handle. However, if you talk about severe ice or snow, you might want to look for a tire for such weather conditions. There is a wide range of snow tires you can choose from in the market.
Wet Roads Driving Performance
Driving on wet pavement is usually an issue for all drivers. The water on the road typically degrades the traction performance of the tire. It is not the case for the Falken Pro G4 A/S as it secures your vehicle on the road, even in wet conditions. Thanks to the effective siping design that makes this possible.
The key to adequate traction on wet roads is the tire's ability to evacuate water. The channels between the tread blocks of the tire are responsible for the above-average wet traction of the tire.
Some individual user reviews you will find online will also point out how this tire efficiently handles wet roads.
Dry Roads Driving Performance
Just like how this tire satisfactorily performs on wet roads, its dry road performance is also commendable. Although, some users report that its traction on dry roads is not particularly excellent.
On the other hand, the cornering and stability of the tire are exceptional. The tire is very responsive when driven on dry roads, giving the driver a more pleasurable driving experience.
Moreover, the braking distance of the tire is also outstanding even on heavy vehicles.
What about the noise level of this tire? Is it quiet when driven on dry roads? Well, it looks like this tire is not the most modest tire you could get. If you look for this kind of tire, the Falken Pro G4 A/S may not be your best option.
However, minus the slight noise, the tire is ideal for dry road driving.
Price Range
The size of the tire matters when we talk about price. Based on online data, the price range of the tire is between $70 to $140.
If you want to get the tire at a lower price, you might want to check on some promotional offers by online sellers or even your local tire shops.
Warranty Terms
The tread warranty of the tire depends on its rating. For the W-speed rated tires, the warranty is 45,000 miles. For the H and V-speed models, on the other hand, the warranty is 65,000 miles.
Falken also offers a tire uniformity guarantee for the first 2/32 inches of tread wear.
Falken also provides a lifetime Materials and Workmanship warranty down to the final 2/32 inches of wear. Replacement is only available for unserviceable defects during the first 2/32 inches of wear. Then, a prorated warranty down to the final 2/32 tread depth.
Vehicles Falken Pro G4 A/S Will Fit
| | |
| --- | --- |
| BRAND | MODEL |
| Acura | MDX 2019 |
| Acura | RDX 2019 |
| Audi | Q5 2018 |
| Cadillac | XT4 2019 |
| Chevrolet | Trailblazer 2008 |
| Dodge | Journey 2018 |
| Ford | Escape 2019 |
| Ford | EcoSport |
| Honda | CR-V 2019 |
| Subaru | Ascent 2019 |
brief list of Falken Pro G4 A/S compatible vehicles
The Falken Pro G4 A/S comes in various sizes. See these sizes from the table provided below:
| | |
| --- | --- |
| RIM SIZE | TIRE SIZE |
| 15" | 175/65R15 84H BSW 185/60R15 84H BSW 185/65R15 88H BSW 195/60R15 88H BSW 195/65R15 91H BSW 205/60R15 91H BSW 205/65R15 99H XL BSW |
| 16" | 185/55R16 83H BSW 195/55R16 87V BSW 205/50R16 87H BSW 205/55R16 91H BSW 205/60R16 92V BSW 205/65R16 95H BSW 215/55R16 97H XL BSW 215/60R16 99V XL BSW 215/65R16 98H BSW 225/50R16 96H XL BSW 225/55R16 95V BSW |
| 17" | 205/50R17 93H XL BSW 215/45R17 91W XL BSW 215/50R17 91V BSW 215/55R17 94V BSW 225/45R17 94W XL BSW 225/50R17 94V BSW 225/55R17 101H XL BSW 225/65R17 102H BSW 235/45R17 94W BSW 235/55R17 99W BSW 235/60R17 |
| 18" | 225/40R18 92W XL BSW 225/45R18 95W XL BSW 225/55R18 98H BSW 225/60R18 100H BSW 235/40R18 95W XL BSW 235/45R18 94V BSW 235/50R18 101W XL BSW |
| 19" | 225/55R19 99H BSW 235/55R19 105W XL BSW 245/40R19 98V XL BSW 255/35R19 96W XL BSW |
| 20" | 235/55R20 102H BSW 245/45R20 103W XL BSW 245/50R20 102H BSW |
brief list of Falken Pro G4 A/S sizes

Frequently Asked Questions
1. Is Falken Pro G4 A/S a good tire?
This tire has exceptional handling and cornering performance on dry roads and surprisingly good traction in wet road conditions. It can be relied on as well on light ice or snow. Moreover, this tire is known for its durability due to the use of high-quality material.
2. Who makes the Falken Pro G4 A/S?
Falken Tire is a brand owned by the Japanese giant Sumitomo Rubber Industries (SRI). The company was established in Japan in 1983 and was able to join the U.S. market in 1985.
3. Is Falken Pro G4 A/S quiet?
This tire is not the quietest all-season tire you could get in the market. Individual user reviews reveal that the tire does produce a bit of noise which can be a bit annoying.
Verdict
Looking at the overall qualities of the Falken Pro G4 A/S, this tire is one of your best options for an affordable all-season tire.
It can handle light ice and snow and has superb wet road traction. Of course, don't risk driving your vehicle in deep snow, as this tire will surely fail you.
The tire also delivers enhanced handling and cornering performance. On top of this, the tire has a highly noticeable design and will surely improve the sporty stance of your vehicle.
The tire also comes with a good tread warranty. Therefore, this could be worth trying.
Related Articles: